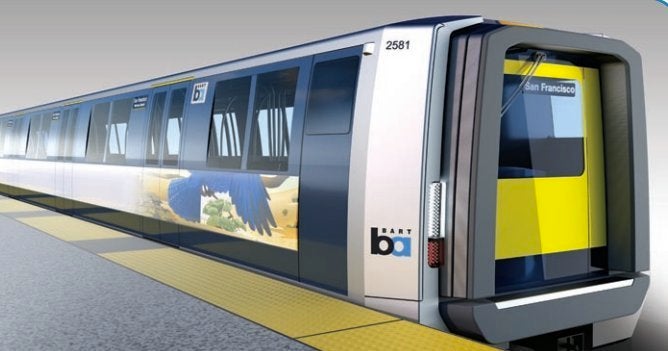 As The Huffington Post reported in July, BART is receiving a much-needed makeover from a surprising partner: BMW.
On Tuesday, BART released the following video for its Fleet of the Future trains, outlining potential plans. The plans include updated health and safety features such as wipeable seats, armrests, a third door on every car and plenty of handrails. There will also be countdown lights that indicate when doors are closing. Digital display systems on the front of each train will make navigating train lines and routes easy and efficient.
BART is considering three potential design concepts that are outlined in the video. The first, Concept A, is a classic efficiency design dubbed "commuter comfort." Window seats boast headrests, poles include branches for multiple handholds, some cars contain bike racks and digital information displays are at the top of window areas.
Concept B is the "work and play" design. Cars are airy and open with a lounge-like feel and grouped seating. Like concept A, poles contain tree-like branches.
Finally, Concept C is the "functional art" design. (Jazzy!) Seats and poles feature wavy S-shaped designs with gymnast-style rings as handrails. Some cars even contain portals so passengers can watch the track and tunnel walls whizzing by.
BART is also experimenting with color palettes ranging from warm and natural to cool and nautical to colorful and diverse. (They are having way too much fun with this.)
Waxing diplomatic, BART is even inviting the community to submit feedback forms and participate in open house forums. The press release reminds readers that "BART wants your input on these concepts!" (exclamation point included!) and that "it's not a horse race to a single 'top' choice," but that the final plan will likely be a culmination of ideas from all three plans. Read the release here, and submit some feedback of your own.
In the meantime, check out BART's nifty CGI video of the new plans below: