Family vacations in Milwaukee can be rewarding experiences or absolute disasters — it all depends on pre-trip homework. To make planning easier, we've done all the preparation. As part of a Huffington Post Travel series on traveling with children, here are recommended attractions for those planning Milwaukee family vacations.
Milwaukee Art Museum
It's impossible to walk through downtown Milwaukee without noticing the huge white "wings" soaring above the
Milwaukee Art Museum
on the lakefront. The Burke Brise Soleil, a retractable sun screen above the museum's Quaddracci Pavilion, has a wingspan of 217 feet and opens and closes twice a day. Inside, the museum's sunny and innovative modern architecture has dazzled so many visitors that it is often used for special events and televised programs, including the popular "American Idol." The museum has impressive permanent collections featuring American, German Impressionist, folk and Haitian art.
Address: 700 N. Art Museum Drive, Milwaukee, WI 53202
Phone: 414-224-3200
Hours: Mondays from Memorial Day through Labor Day, 10 a.m. to 5 p.m.; Tuesday through Sunday, 10 a.m. to 5 p.m. (Thursday to 8 p.m.). Closed Thanksgiving Day and Christmas Day
Price: Adults, $14; students with ID and seniors over 65, $12
Betty Brinn Children's Museum
Opened in 1995, the
Betty Brinn Children's Museum
offers kids the chance to touch and become part of the many exhibits. They can anchor their own news program with an interactive weather map, take on the role of a store owner, run their own railroad or just interact with the dozens of exhibits at their own pace. The museum's aim is to allow children to use their imagination and create their own unique experiences.
Address: 929 E. Wisconsin Ave. Milwaukee, WI 53202
Phone: 414-390-5437
Hours: Monday through Saturday, 9 a.m. to 5 p.m.; Sunday, noon to 5 p.m.
Price: Adults and children 1 and older, $6; seniors 55 and older, $5
Milwaukee County Zoo
One of the largest zoos in the country, the
Milwaukee County Zoo
offers numerous educational and interactive exhibits as well as restaurants. Its 200-acre campus is home to more than 2,200 animals of more than 330 species. Among the recent additions are the new outdoor exhibit space for the bonobos — who can now frolic in 500 feet of elevated mesh passageways — and the new front entrance mall, featuring a light-filled atrium with gift shops and a cafe. The zoo is noted for its effort to save endangered species.
Address: 10001 West Blue Mound Road, Milwaukee, WI 53226
Phone: 414-256-5412
Hours: November through February, Monday through Friday from 9:30 a.m. to 2:30 p.m.; Saturday and Sunday from 9:30 a.m. to 4:30 p.m.; March through May from 9:30 a.m. to 4:30 p.m. daily; end of May through early September from 9 a.m. to 5 p.m. daily; early September through October from 9 a.m. to 4:30 p.m. daily
Price: January through March and November through December: Adult, $11.75; junior (ages 3 to 12), $8.75; children under 2, free; senior citizen (60 plus), $10.25. Prices rise an extra $1.50 to $2 from April through October
Mitchell Park Conservatory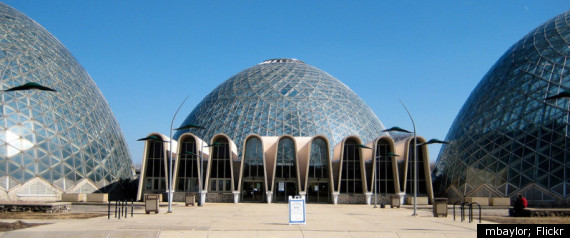 Simply called "The Domes" by locals, the
Mitchell Park Conservatory's
three huge glass domes are home to many rare examples of plant life from around the world. Each 85-foot-high, 140-foot-diameter dome holds a distinct ecosystem, like the Floral Dome, Desert Dome and Tropical Dome. The conservatory is so popular for weddings that permits have to be obtained well in advance.
Address: 524 S. Layton Blvd., Milwaukee, WI 53215
Phone: 414-257-5611
Hours: Monday through Friday from 9 a.m. to 5 p.m.; Saturday and Sunday from 9 a.m. to 4 p.m.
Price: Adults, $6.50; children 6 to 17, students with ID, county residents over 60 and disabled visitors, $5
MillerCoors Brewery
As the largest of the remaining breweries that made Milwaukee famous, a tour of the
MillerCoors
beer-brewing facility is educational, entertaining and free. All ages can tour the MillerCoors packaging and distribution centers, where visitors can walk through the brew house past its gigantic tanks. The tour makes a stop at the restored Miller Brewing Company caves where beer was stored before the advent of refrigeration. The tour ends at the Bavarian-style Miller Inn where guests — at least those of legal drinking age — can savor a free sample of some of the products of the brewery.
Address: 4251 W. State St., Milwaukee, WI 53208
Phone: 414-931-2337
Hours: Tour times vary daily. Call 414-931-2337 on the day of your visit.
Price: Free
Summerfest
For almost two weeks every summer the Milwaukee Lakefront turns into a mecca of entertainment as
Summerfest
brings major and local acts to Henry Maier Festival Park. The 2011 version offers more than 700 bands on 11 stages during its 11-day run, including major acts like Peter Gabriel, Katy Perry, Toby Keith, Britney Spears and Kanye West. Summerfest includes kid-friendly venues such as the Northwestern Mutual Children's Theater and Playzone, home to acts like Mad Science of Milwaukee and Kohl's Captivation Station, which features educational and musical experiences.
Address: 200 N. Harbor Drive, Milwaukee, WI 53202
Phone: 414-273-2680
Hours: June through July. Check online for current schedule.
Price: Adults and children over 10, $15, ticket valid all times; discounted entry Tuesday through Friday before 4 p.m., $8. Seniors over 60 and children 10 and under, $3 all times. Infants 2 and under, free
Discovery World at Pier Wisconsin
One of the city's newest attractions, Discovery World at Pier Wisconsin, offers various wet and dry experiences in its 120,000 square-foot lakefront facility. The 75,000-gallon freshwater tank at the Reiman Aquarium is appropriately filled with fish and other aquatic life found in the adjacent Lake Michigan while another 65,000-gallon salt water tank has Caribbean sea life. The facility has touch tanks where guests can get their hands wet and pet crabs, sharks and stingrays. If visitors prefer to stay dry, they can visit the Hive, an immersive virtual reality experience.
Address: 500 N. Harbor Drive, Milwaukee, WI 53202
Phone: 414-765-9966
Hours: Tuesday through Friday from 9 a.m. to 4 p.m.; Saturday and Sunday from 10 a.m. to 5 p.m.
Price: Adults, $16.95; children 3 to 17, $12.95; children under 3, free; seniors 60 and over, $14.95; college students, $9.95
What's your family's favorite Milwaukee travel destination?
CHECK OUT MORE FAMILY TRAVEL GUIDES.