UPDATE: Facebook announced on Friday that it has, indeed, been updating its Chat window. In a tweet posted on @Facebook, the social network acknowledged this tweak, though it did not address other tests noticed recently by users.
"Today, we changed #Facebook #Chat so now it shows the friends who you message most, as well as the rest of your friends who are online," Facebook tweeted.
Has the new change rolled out to your account yet? Let us know in the comments (below).
---
PREVIOUSLY: On Thursday morning, Facebook began testing a revamped Facebook chat sidebar, which is appearing on select accounts for now. The new product update could explain users' periodic issues loading Facebook pages and even logging in, problems that have persisted since August 10.
The new chat box is divided into two sections--your favorite online friends appear at the top, and "More Online Friends" are listed below. The old Facebook chat sidebar, which most users will continue to see, is sorted in one long alphabetical list. Presumably, automatically sorting friends according to the user's preference will make the chat feature more useful.
Take a look at the new Facebook chat (left) and the old (right):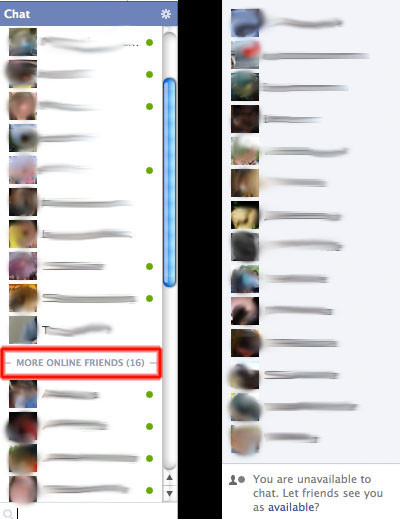 Several users, for example, have submitted reports to TechCrunch that Facebook is experimenting with a number of new features. Some have pointed out a new Facebook header that remains visible as you scroll. As with the revamped Facebook chat, this new header is apparently being tested among a limited number of users.
Digital Inspiration has published screenshots of what appears to be a mini newsfeed occupying a right-hand sidebar, which is always visible and allows users to monitor activity of friends and pages even when navigating through the network. Unlike the main newsfeed on the Facebook homepage, the mini feed updates in real-time.
A video message surfaced on August 10 claiming that hacker-activist collective Anonymous would attack and "kill" Facebook on November 5. However, individuals associated with the group have since denied involvement in "Operation Facebook." When users began having trouble accessing the social network that same day, some wondered whether the hacking rumor was connected to the outage. However, it's more likely that the new feature tests could have disrupted service.
Have you noticed any of Facebook's new features yet? If you have, what do you think of them?