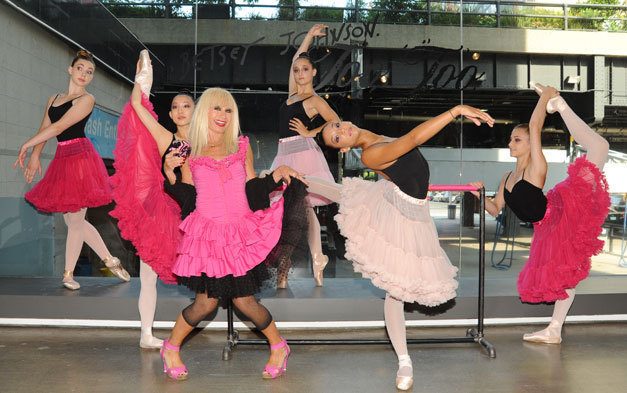 Photo: Courtesy of FactoryPR
How does Betsey Johnson celebrate her 69th birthday? The cartwheel-turning, hot pink lipstick-wearing designer, best known for her over-the-top party dresses, unveiled a new fragrance, called Too Too.
While dancing to DJ sets by Becka Diamond and Chelsea Leyland and indulging in mimosas and cupcakes at the launch event, we got a whiff of the fruity-floral scent. We've finally recovered, but remain entranced by the fragrance and it's over-the-top packaging.
The perfume is a blend of sweet passion fruit, mandarin, ginger, strawberry leaves, jasmine, patchouli and sandalwood. But there are three aromatic standouts for Johnson.
"The black vanilla is exotic, tasty and strange. The pink musk...it's heavy duty and super sexy. And the Bulgarian rose, my all time favorite," she said. "It really nails the guys love its sexiness trail."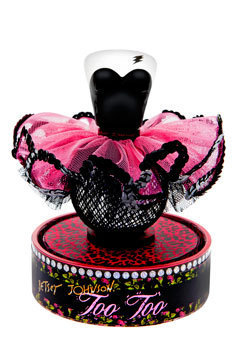 Photo: Courtesy of FactoryPR
Clearly Johnson's years as a dancer inspired her latest masterpiece, and the bottle's pink and black tutu, fishnet and curvaceous corseted top represent special moments on-stage.
"My costume was almost the same as the bottle when I danced the Sugar Plum Fairy, the Can-Can, and Cabaret," she said.
Too Too ($42-$82) will launch exclusively October 2011 through April 2012 at Sephora before hitting department store and specialty boutique counters in May.
Will you purchase Betsey Johnson's Too Too this fall?
Tell us your thoughts in the comments section and click here to find out which $1 million fragrance is on our wishlist.