Family vacations in Georgia can be rewarding experiences or absolute disasters — it all depends on pre-trip homework. To make planning easier, we've done all the preparation. As part of a Huffington Post Travel series on traveling with children, here are recommended attractions for those planning Georgia family vacations.
Stone Mountain Park
Stone Mountain Park
in Georgia isn't just another amusement park — it's an adventure park. Located just 15 miles from downtown Atlanta, visitors can rock climb, take on the
Sky Hike
, watch shows, or ride one of the many park attractions, like the
Scenic Railroad
or the
Paddlewheel Riverboat
.
Address: 1000 Robert E. Lee Drive, Stone Mountain, GA 30083
Phone: 800-401-2407
Hours: The park is generally open 10 a.m. to 5 p.m. each day, sometimes with extended hours. Be sure to check the Operating Calendar for park hours on your dates of travel.
Price: Adult (ages 12 and up), $27; children (ages 3 to 11), $21; Gold Value Family Pass (Family of four, includes food and drink), $149
The Center for Puppetry Arts
Opened in 1978, the
Center for Puppetry Arts
offers a rare, behind-the-scenes look into the magical world of puppetry. Whether guests stop in for a show, a tour of the museum (which houses a large number of Jim Henson's amazing creations) or a creative workshop, the center will not disappoint. It is the largest non-profit organization dedicated to puppetry in the United States.
Address: 1404 Spring St. NW at 18th, Atlanta, GA 30309-2820
Phone: Administrative: 404-873-3089; ticket sales: 404-873-3391
Hours: The Ticket Sales Office is open Monday through Saturday, 9 a.m. to 5 p.m.; Sunday, 11 a.m. to 5 p.m.; extended hours during evening performances. The museum is open Tuesday through Friday, 9 a.m. to 3 p.m.; Saturday, 9 a.m. to 5 p.m.; Sunday, 11 a.m. to 5 p.m.; extended hours during evening performances. The Museum Store is open Tuesday through Friday, 9 a.m. to 3 p.m.; Saturday, 9 a.m. to 5 p.m.; Sunday, 11 a.m. to 5 p.m.
Price: Family Series Tickets are $16.50 per person ages 2 and older and include performance, museum, and creative workshop admission
Imagine It! The Children's Museum of Atlanta
At
Imagine It!
, children use creative play to learn about the world around them. Kids can learn about fruits, vegetables and balanced meals by shopping in the simulated
grocery store
, or use problem-solving skills to enjoy the
Tools for Solutions
exhibit, where children hone lifelong skills while having fun. Imagine It! offers interactive, engaging year-round exhibits as well as special exhibitions throughout the year.
Address: 275 Centennial Olympic Park Drive NW, Atlanta, GA 30313
Phone: 404-659-5437
Hours: Monday through Friday, 10 a.m. to 4 p.m; Saturday and Sunday, 10 a.m. to 5 p.m. The Museum is closed all day on Thanksgiving Day and Christmas Day and closes early on Christmas Eve.
Price: Admission is $12.50 plus tax for persons aged 2 and above. Children under the age of 2 are free.
The Beaches of Tybee Island and Jekyll Island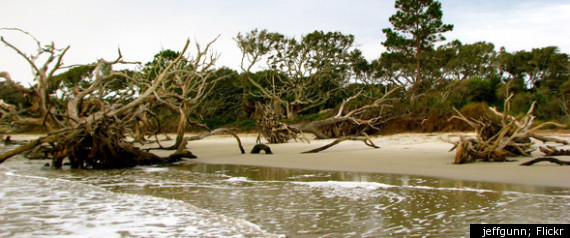 Georgia is home to a number of beautiful beaches, and Tybee and Jekyll Islands are favorites among locals and travelers alike. Tybee Island, located 20 minutes east of Savannah, boasts its own lighthouse, a museum and a number of recreational activities but is perhaps best known for its laid-back, welcoming atmosphere. Whether you enjoy eco-tours and turtle walks or golfing and kayaking, Jekyll Island may be the right spot for your family. Located midway between Savannah and Jacksonville, Fla., this barrier island is rich in history and activities.
Address: Tybee Island, 802 First Street, Tybee Island, GA 31328; Jekyll Island, 100 James Road, Jekyll Island, GA 31527
Phone: Tybee Island: 800-868-2322; Jekyll Island, 877-4-JEKYLL
Price: Both Tybee Island and Jekyll Island have a number of accommodations that are suitable for any budget.
Jepson Center - The ArtZeum
The Jepson Center
is a contemporary art museum with a range of collections to suit different tastes. Alongside exhibitions of notable artists, the Jepson Center houses the 3,500 square foot ArtZeum, an interactive art museum where children have the opportunity to learn about art by actively participating in it.
Address: 207 W York Street, Savannah, GA 31401
Phone: 912-790-8800
Hours: Sunday and Monday, noon to 5 p.m.; Tuesday, Wednesday, Friday and Saturday, 10 a.m. to 5 p.m.; Thursday, 10 a.m. to 8 p.m. Closed on some holidays.
Price: Adults, $12; students (K-College): $5; children under 5, free
Savannah Safari
The Savannah Safari
is a fun experience for the whole family. Combining a relaxing walk through historic Savannah with a guidebook full of clues, the safari leads families on a 90-minute walk to look for exotic animals in Savannah's famous architecture. Girl Scouts can even earn a badge after completing the tour.
Address: 415 Kentucky Avenue, Savannah, GA 31404
Phone: 866-709-8687
Hours: The tours are self-guided. The Safari Guidebook can be purchased in advance from the Juliet Gordon-Lowe Birthplace.
Price: $6 per guidebook
Georgia Aquarium
The Georgia Aquarium is the world's largest aquarium. Boasting more than 60 exhibits in 10 million gallons of water, patrons will be transported to various aquatic environments from around the world. Visitors can peruse the Cold Water Quest exhibit to see fish and marine mammals from cold-water oceans or the Tropical Diver exhibit to view coral reefs. This Georgia treasure is a must-see for anyone visiting the Atlanta area.
Address: 225 Baker Street NW, Atlanta, GA 30313
Phone: 404-581-4000
Hours: Regular Hours: Sunday through Friday, 10 a.m. to 5 p.m.; Saturday, 9 a.m. to 6 p.m. Summer Hours (May 31 - August 13): Sunday through Thursday, 9 a.m. to 6 p.m.; Friday, 9 a.m. to 10 p.m. (open late for Jazz Journeys); Saturday, 9 a.m. to 9 p.m.
Price: Adult, $24.95; child (age 3 to 12), $18.95; senior (age 65 and up), $20.95.
Have you been to Georgia? What are your favorite attractions?
CHECK OUT MORE FAMILY TRAVEL GUIDES.