Family vacations in Michigan can be rewarding experiences or absolute disasters — it all depends on pre-trip homework. To make planning easier, we've done all the preparation. As part of a Huffington Post Travel series on traveling with children, here are recommended attractions for those planning Michigan family vacations.
Oval Beach, Saugatuck
The Great Lakes State is filled with mile after mile of beautiful beaches, making it tough to pick just one best beach.
Oval Beach in Saugatuck
, however, was named the No. 1 beach in the Midwest by the Chicago Tribune, the fifth best vacation destination in the Midwest by Midwest Living Magazine and one of the top 25 beaches in the world by Conde Nast. Located in the southwest corner of the state, Saugatuck and neighboring harbor town Douglas enjoy picturesque sandy beaches along Lake Michigan.
Address: Oval Drive dead-ends at Lake Michigan
Phone: 269-857-1701
Hours: 9 a.m. to 9 p.m.
Price: Free; parking is $6
Detroit Zoo
The
Detroit Zoo
is a cultural and historical landmark in the city, having welcomed guests since 1924 to its sprawling 125 acres.
Rackham Memorial Fountain
, the zoo's most photographed feature, was added in 1939 and has been featured in many movies including "Coraline." The state-of-the-art Arctic Ring of Life exhibit, the largest polar bear showcase in North America, is a perpetual favorite. The exhibit showcases polar bears and seals in their natural habitat and allows visitors to view them from below in a glass-enclosed tunnel.
Address: 8450 W. 10 Mile Road, Royal Oak, MI 48067
Phone: 248-541-5717
Hours: April 1 - Labor Day, 9 a.m. to 5 p.m.; day after Labor Day to Oct. 31, 10 a.m. to 5 p.m.; Nov. 1 - March 31, 10 a.m. to 4 p.m. Closed Thanksgiving, Christmas and New Year's Day
Price: Adults, $12; children (2-14), $8; seniors and active military, $10; under 2, free
Ann Arbor Hands-On Museum
The
Ann Arbor Hands-On Museum
has been named both top museum and a top kids attraction by different sources. More than 3.5 million people have visited in the last 25 years. Offering more than 250 "it's-ok-to-touch" exhibits in a 40,000-square-foot space, this is every parent's dream.
Address: 220 E. Ann St., Ann Arbor, MI 48104
Phone: 734-995-5439
Hours: 10 a.m. to 5 p.m. Monday through Saturday, noon to 5 p.m. Sunday
Price: Ages 2 and up, $9
Cedar Point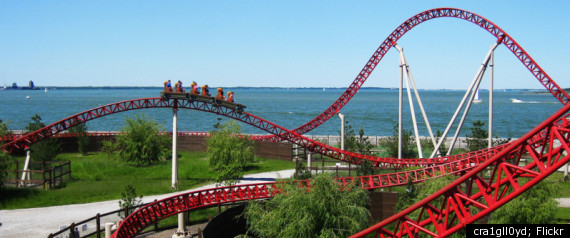 While the amusement park
Cedar Point
is technically across the state line in Ohio, many Michigan residents drive to the sleepy town of Sandusky in the summer months to ride the amazing rollercoasters and water rides. In fact, Cedar Point, which opened in 1870, is regularly named one of the best amusement parks in the world by coaster enthusiasts.
Address: 1 Cedar Point Drive, Sandusky, OH 44870
Phone: 419-627-2350
Hours: Mid-May through Labor Day, 10 a.m. to 10 p.m. daily; September and October, 6 p.m. to midnight Friday, noon to midnight Saturday and noon to 9 p.m. Sunday
Price: 48" and taller, $47.99; less than 48" $22; after 5 p.m., $29.99; military, $37.99; children under 2 are free. Guests of Cedar Point Resorts receive discounted admission
Ford Rouge Factory Tour
Henry Ford helped make Michigan what it is today and the
Rouge Plant
was one of his crowning jewels. At its peak in the 1930s , the plant rolled a vehicle off the line every 49 seconds. This tour includes a
historical overlook
of the plant as well as a walking tour through an elevated walkway to see how cars are assembled by the Ford Motor Company.
Address: 20900 Oakwood Blvd., Dearborn, MI 48124
Phone: 800-835-5237
Hours: 9:30 a.m. to 5 p.m. Monday through Saturday. Buses transport visitors from The Henry Ford to the factory, every 20 minutes from 9:20 a.m. to 3 p.m.
Price: Adults, $15; children, $11; seniors, $14; children under 2, free
The Detroit-Windsor Tunnel
If you have a passport and your family is interested in science, be sure to check out the
Detroit-Windsor Tunnel
. The tunnel is recognized as one of the world's greatest engineering feats and is still the only underwater tunnel that crosses international borders in the world. Drive your car 75 feet below the Detroit River and into Ontario, Canada; you'll be amazed at what workers could accomplish in 1930, when the tunnel was completed.
Address: Tunnel entrance off Jefferson Avenue at Randolph Street
Phone: 313-567-4422
Hours: Open 24 hours
Price: $4 each way
Detroit Science Center
If you haven't been to the
Detroit Science Center
since you were a kid, it's changed. The newly improved space offers an IMAX theater, a planetarium and more than 200 hands-on exhibits for your little scientist or engineer, including rockets, a larger-than-life human heart and a scaled-down version of the Mackinac Bridge.
Address: 5020 John R St., Detroit, MI 48202
Phone: 313-577-8400
Hours: Summer Hours (June - August): 9 a.m. to 5 p.m. Monday through Friday, 10 a.m. to 6 p.m. Saturday and noon to 6 p.m. Sunday Regular Hours (school year): 9 a.m. to 3 p.m. Wednesday through Friday, 10 a.m. to 6 p.m. Saturday and noon to 6 p.m. Sunday; closed Monday and Tuesday
Price: Ages 3 and up, $13.95; seniors, $11.95; children 2 and under are free. Includes Planetarium and IMAX; special exhibits may be additional
What's your family's favorite Michigan destination?
CHECK OUT MORE FAMILY TRAVEL GUIDES.