George Mulley, a retired investigator with the Office of the Inspector General at the Nuclear Regulatory Commission, leans across a footstool in his suburban Virginia home and pores over a draft of the last investigation he conducted before officially retiring in 2009.
A copy of a different and final report -- which the OIG cobbled together from his draft last year -- lies next to it.
"This is a total whitewash," Mulley says. "They've taken out anything that implicates anyone at the NRC."
Mulley had probed a potentially dangerous pipe leak that forced the shutdown of the Byron nuclear power plant in Illinois in 2007 -- and more importantly, the failure of NRC inspectors to adequately monitor the plant's operations and prevent the incident from happening in the first place. The investigation capped Mulley's highly-decorated, 25-year career with the inspector general's division, an independent office inside NRC charged with keeping the regulator honest and focused on its work.
Since its formation inside the NRC in 1989, the OIG has fielded thousands of whistleblower complaints and conducted a compelling list of investigations, many exposing abuse and neglect both at the NRC and within the nuclear power industry that led to Congressional investigations and subsequent agency reform. The OIG became legendary for preparing exhaustively detailed, and publicly available, reports of its investigations.
Now, Mulley -- along with numerous freelance and non-profit nuclear safety advocates who for years relied on the IG's office as a vital backstop against lax nuclear oversight at the NRC -- all say that the IG's office appears to be broken.
"This is not the same office that I worked for," Mulley says, anxiously fingering the two different Byron reports. "It's like they're afraid to take on the NRC's oversight of nuclear power, but that's exactly what they're supposed to be doing."
At a time when the safety of the nation's nuclear power industry has come under intense scrutiny -- particularly following what investigators now say was a preventable meltdown at a Japanese nuclear facility hobbled by an earthquake and flood this spring -- the absence of a robust inspector general, say nuclear-safety advocates with organizations like the Union of Concerned Scientists, Greenpeace and the Project on Government Oversight, leaves the public more vulnerable to nuclear accidents.
Some of these critics also say that a weak OIG raises questions about the reliability of other investigations beyond Byron, including its most recent investigation of the NRC's chairman, Gregory B. Jaczko, whose decision to shut down the agency's review of a long-debated nuclear waste facility at Yucca Mountain in Nevada was deemed illegal by critics. The OIG's 7-month investigation questioned Jaczko's sometimes imperious management style, but it didn't find that he acted illegally, a conclusion that Republicans heavily criticized during a June hearing on the investigation.
Clifford & Garde, a Washington law firm that represents, or has been contacted by, several current and former OIG employees, including Mulley, has laid out these concerns in letters sent over the last several weeks to the chairman of the NRC, members of Congress and various Congressional investigators.
Among other things, the letters assert that the OIG has "muddled its mission and is squandering its resources." The letters contend that the office has all but abandoned its long-standing role as an in-house watchdog that keeps NRC's oversight of the nuclear power industry honest, independent and aggressive.
Today, these critics charge, the OIG avoids deep investigations of NRC activity and busies itself instead with minor issues like employee misconduct, issues outside its purview like chasing cyberspace threats and petty personnel issues like auditing employee credit card purchases and expense accounts. Interviews with current and former employees of the OIG also suggest low levels of morale inside the office, which one recently departed investigator, who has requested anonymity for fear of jeopardizing his current job, describes as being primarily concerned with "penny-ante investigations."
One recent investigation, according to another former OIG agent who also has requested anonymity because he fears it would inhibit his ability to work in government, had an OIG investigator tracking an NRC employee's use of a government credit card to attend cat shows. Another had agents investigating a contractor who accidentally spilled diesel fuel on the roof of NRC's headquarters in Rockville, Md.
More critically, one of the Clifford & Garde letters describes the two versions of the report on the Byron incident -- Mulley's and the OIG's abbreviated final version, which the agency never publicly released and which was only obtained via a Freedom of Information Act request -- as evidence of a "dangerous, clumsy and glib rewrite of an important piece of the public's business."
Chief among the omissions from the OIG's final report: that NRC staff had known since at least 1990 that the pipes in question inside the Byron nuclear power plant had been corroding, but had consistently failed to take steps to force the plant operator to correct the issue until the pipes ultimately sprung a leak.
"When it was credible, the OIG's office played a significant role in keeping the agency itself on the straight and narrow, because they really did do significant investigations of internal wrongdoing," says Billie P. Garde, the author of the letters to Congress and a founder of the firm that bears her name, which specializes in whistleblower cases. "I didn't agree with everything they did, I didn't agree with all of their decisions," she says, "but they were a factor and a force which was serving the role that IG's are supposed to serve."
That's no longer the case, Garde says. "The office right now is completely dysfunctional. It's not doing what it should be doing."
Several advocates and former employees suggested that the IG's chief, Hubert T. Bell, has simply served too long, and that he has allowed the office to deteriorate in his dotage. Others suggested that Bell's Assistant Inspector General for Investigations, Joseph A. McMillan, who joined the office from the Department of Defense in late 2006 and who was personally trained in the job by Mulley, had become a capricious presence in the office, sowing resentment by favoring some staff over others.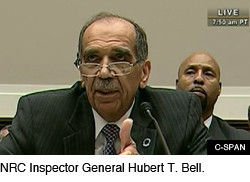 Many of those interviewed for this article suggest that the loss of Mulley himself precipitated the OIG's decline.
Bell, who has served as the NRC's inspector general since 1995, declined repeated requests for an interview, but McMillan, who heads up the investigative arm of the OIG, has offered a vigorous defense of his agency, suggesting that much of the criticism arises from stakeholders who refuse to accept that Mulley is gone and that new personalities -- and new priorities -- are a part of the natural maturation process at any agency.
"I won't speak to or read into other people's mindsets as to why they may agree or disagree with the new kid on the block," McMillan says in an interview at NRC headquarters. "What I will say is that this office, and the IG, have a high degree of confidence in the staff."
He also says that given the hundreds of tips and allegations that continue to come into his office through various avenues, including through online and telephone hotlines, any suggestion that the general public, employees at nuclear power plants -- or even NRC staff -- are reluctant to blow a whistle with his office is demonstrably false.
"I can't accept the fact of these individuals saying they don't feel comfortable," McMillan says. "Those individuals may not feel comfortable, but clearly other people feel confident enough to refer matters to this office and to ensure that they were properly investigated."
McMillan says he will not discuss the Bryon investigation in detail, adding that allegations regarding edits made to the report had been referred by his office to the Integrity Committee of the Council of Inspectors General on Integrity and Efficiency, an umbrella group that polices inspectors general offices throughout the federal government.
A spokesman for the Integrity Committee's current director, Kevin L. Perkins, who is an assistant director of the Criminal Investigative Division at the F.B.I., says: "It has long been the policy to not comment on matters before the Integrity Committee nor do we confirm whether they are looking at any particular IG."
Eliot Brenner, a spokesman for Nuclear Regulatory Commission chairman Jaczko, says his office has received one of the letters from Garde and that a response was being prepared. He declined to comment further.
Rep. Edward Markey (D-Mass.), a long-time crusader for nuclear safety who was pivotal in the creation of the OIG at the NRC, says there is some cause for concern.
"I believe that Inspectors General serve a very important function, which is why I pressed for the creation of an NRC inspector general many years ago," Markey, who received a copy of one of Garde's letters from a reporter, notes in an email. "While the NRC's IG has done valuable and important work, this letter does raise some issues about the current operation of the office which, if true, would warrant further examination."
Some experts say they already have lost faith in the OIG.
"I haven't taken a safety or security concern to OIG in years, and I haven't distributed an OIG report in years. It's not the same OIG. Their reports have become blank pages with ink on them," says David Lochbaum, a nuclear engineer and the director of the Nuclear Safety Project of the Union of Concerned Scientists, a non-profit science-advocacy group founded in 1969. It is supported largely by its membership, which includes both private citizens and professional scientists committed to "rigorous scientific analysis, innovative policy development, and effective citizen advocacy to achieve practical environmental solutions," according to the group's website.
"It's easy to count the number of times that things went wrong at nuclear power plants over the years," Lochbaum says. "But you can't count the number of times that solid OIG work prevented something from going wrong."
THE OIG, MULLEY AND NUCLEAR SAFETY
Today, according to its most recent strategic plan, the OIG employs "auditors, management analysts, engineers, criminal investigators, investigative analysts, legal counsel, and support personnel." In practice, though, the office is roughly divided into two parts: an audit group, charged with ensuring that NRC's activities are carried out with economy and efficiency; and the investigative group, which looks into allegations of fraud, waste and potential criminal misconduct.
The audit side of the operation is important, but the investigative team, where Mulley worked for more then a quarter century, is where the action is -- or at least where it once was.
The Nuclear Regulatory Commission itself opened for business in 1975 after Congress decided that its predecessor, the Atomic Energy Commission, was inherently conflicted in its dual role as both a regulator and avid promoter of nuclear power. An Office of Inspector and Auditor (OIA) was established inside the agency to keep a corrective eye on internal activities.
It wasn't an immediate success.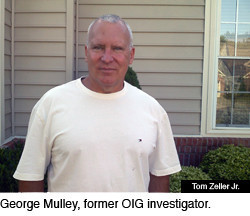 Within just a few short years, investigators from the federal Government Accountability Office were describing the OIA as having "focused too much of its attention on administrative and personnel matters rather than on the more important NRC programs."
This was a period of fervent government reform -- or at least attempts at it. The 1978 Inspector General Act had recently installed inspectors general at 12 agencies -- though notably not the NRC. Unlike internal investigators that remained under the thumb of agency chairmen, these inspectors were truly independent, enjoying in many cases independent budgets, appointment by the president himself and Senate confirmation.
Congressional investigators, led by John Glenn -- the Ohio Democrat and then-chairman of the Senate Committee on Government Affairs -- had long considered the lack of a truly independent investigator at the Nuclear Regulatory Commission a glaring oversight, given the risks to public health involved. By the mid-1980's they were calling loudly for reform.
George Mulley, meanwhile, had dropped out of the pre-med program at the University of Massachusetts more than a decade earlier and enlisted in the Army. "You'll never see two parents as disappointed as mine were," Mulley, now 62, recalls. "I was itching to see the world." His high IQ landed him in intelligence work and he spent most of the 1970's working with the Army's Criminal Investigative Division.
He arrived at the NRC's Office of Investigations and Audits in 1982 and he took to the mission with relish, such that by 1987, he found himself testifying before Glenn's committee. There, he described efforts by both the NRC management and the OIA to quash his investigation into a whistleblower retaliation case at Comanche Peak nuclear power plant in Texas. Mulley had found that an inspector at Comanche Peak was being punished by regional supervisors for identifying problems at the plant. He also testified that his supervisor at the OIA had substantially edited his report on the Comanche Peak case in a way that "downplayed the severity of the ... management problem."
A year after the hearings, Congress passed a law adding inspectors general to several federal agencies -- including the Nuclear Regulatory Commission.
David Williams, who in his role as an associate director of the Accounting and Financial Management division of the General Accounting Office had authored a scathing report on the OIA and the NRC's inability to aggressively monitor itself, was installed as the first head of the newly formed OIG. Williams, now the inspector general at the U.S. Postal Service, quickly established an investigatory protocol that included, among more mundane probes, aggressive "event inquiries" that probed the NRC's handling of crises at the nation's nuclear power plants.
The OIG submitted these reports to Congress and typically published them for all to see on the NRC's fledgling website. This practice was picked up and continued under the leadership of Hubert T. Bell, who was appointed by President Clinton as the NRC's inspector general in 1996, and who remains in that position today.
To be sure, patrolling and eliminating fraud and waste by government employees -- including comparatively ho-hum scrutiny of government credit card abuses or padded expense accounts -- was and remains part of any IG's mission, including at the NRC.
But given the potential risks associated with nuclear power, the inspector general's office at the NRC had something of a higher calling.
"It is clear from transcripts of the Congressional hearings held when the NRC OIG was created that Congress wanted the [it] to fill the traditional roles of all OIGs," says Michael T. Cash, a former engineer with the NRC's Inspector General's Office, in an open letter sent to reporters last week. "But Congress was most interested in the OIG as a watchdog over the NRC staff's regulatory oversight of nuclear power plants."
Lochbaum, the nuclear engineer and a frequent critic of the NRC who also briefly worked for the agency as a reactor technology instructor, points to more than two dozen OIG reports over the last 20 years that he says uncovered substantial problems with the agency's oversight of nuclear power plants and often led to congressional investigations -- and, eventually, substantive changes at the NRC.
Among them: A scathing report on the NRC's long-running and bungling efforts to install critical fire protection at the nation's nuclear plants; a damning 2003 investigation into a near-accident at the Davis Besse plant in Ohio, in which NRC management was found to be slavishly worrying about the financial interests of the plant operator, rather than ensuring public health and safety; and a widely-read investigation into the NRC's failure to adequately regulate spent fuel handling at the Millstone nuclear power plant in Massachusetts.
In 2007, the Union of Concerned Scientists highlighted the Millstone case, among others, as evidence of how important the Office of the Inspector General had become.
"These OIG reports were solidly investigated, well-documented and irrefutable," says Lochbaum. "Their findings were bulletproof and led to necessary reforms and upgrades. I would take an OIG report and distribute it to Hill staffers, reporters and local activists to get the word out."
"Combined, these reports speak highly about George Mulley," Lochbaum adds. "He applied an unbiased process to achieve solid results."
Indeed, Mulley's bulldog persistence as an investigator earned the respect of independent nuclear safety watchdog groups who saw him and the OIG as allies in their mission. Meetings with OIG staff and Mulley became routine among veterans of nuclear safety advocacy -- including Lochbaum; Jim Riccio of Greenpeace; Pete Stockton of the Project on Government Oversight; and Paul Gunter, the director of the Reactor Oversight Project with the group Beyond Nuclear.
McMillan says that he continued these meetings for a time -- and even sought to make them more frequent -- after Mulley retired, but that these stakeholders chose to no longer participate. "On their volition, they backed off on doing that," McMillan says. "But that didn't stop some of those same individuals from picking up the phone and calling this office regarding issues, or copying this office on issues that they may very well have taken to the Hill."
Lochbaum says the stakeholders quit meeting with the OIG because the meetings no longer bore fruit.
"We got the impression that at some point, they were just having the meetings so they could say 'Yes, we're meeting with the activist community,' so they could check off that box," he says. "But otherwise, they weren't getting back to us on issues we raised with them, and many of us decided it just wasn't worth our time."
Lochbaum says many nuclear safety groups simply started bringing their concerns to lawmakers with reputations for keeping tabs on the nuclear industry -- Markey and Rep. Henry Waxman (D-Calif.) among them.
"There are a variety of options to get a known safety issue out there," Lochbaum says. "IG used to be at the top of the list. Now it's fallen off."
Jim Riccio, a long-time nuclear policy analyst with Greenpeace, was more harsh in his assessment of the current OIG: "They're lame," he says in an email. "They seem to be collecting second pensions and not making waves."
Garde, meanwhile, says it was around 2008 that she began getting complaints from employees inside OIG. She pointed to the frustrations of one recently departed OIG agent who asked not to be identified for fear of jeopardizing future employment opportunities in government. This employee said operations inside the office had devolved into "the Keystone Cops," with copious amounts of time and money spent "investigating penny-ante stuff" like NRC employees viewing pornography on government computers or misuse of metro transit subsidies.
"They weren't working any real investigations," this former employee says, adding that Bell, the third-longest serving presidentially-appointed IG at any federal agency, was rarely seen in the office. "My peers from my federal law enforcement training class, they were all out in the field doing real investigations. We spent most of our time behind our desks."
Former employees also say that senior management avoided investigations that were too involved or too complicated, sometimes summarily closing cases that should have resulted in detailed reports to Congress and the public.
In 2007, for example, the OIG -- acting on concerns raised by nuclear safety advocates -- began an investigation into whether or not a model the NRC uses to assess the impact of airplanes crashing into nuclear power plants was truly effective in forecasting the potential damages associated with such an event. Chief among the concerns: the so-called Riera model was not rigorous enough and was based on outdated information -- including airplane models that are no longer frequently used in commercial aviation.
Mulley and another former employee worked the case, and both say that a variety of experts interviewed suggested that the models used were not sufficiently rigorous and more up-to-date models were available. Both Mulley and the other employee left while the case was still open.
Two years later, the case was closed by McMillan -- with no report issued. A memorandum describing the disposition of the case, which was recently obtained by the Project on Government Oversight, suggests that the central question -- whether the current models were inappropriate -- was never actually addressed.
"That case never should have been closed without any report being issued by OIG," Mulley says. "The question was important, and it deserved to be addressed and answered."
Cash, the former OIG engineer, also worked with Mulley on the Riera model investigation, and he says in his letter that he was perplexed at the absence of a full report on the issue.
"From the work that I had done it appeared to me likely that issues had been identified that should be reported in a public report as well as a non-public classified form," Cash writes. "I will also note there were many other issues Mr. Mulley and I were developing for possible future cases," he adds. "[B]ut as far as I can tell none of these has resulted in a public report."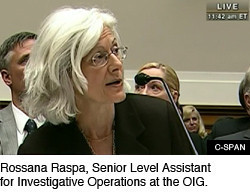 McMillan referred a reporter's query about the aircraft model investigation to his senior level assistant for investigative operations, Rossana Raspa, who says the OIG's final analysis showed the Riera model to be suitable.
"During its review, OIG reviewed relevant documents and interviewed knowledgeable individuals from government and national laboratories, as well as NRC staff, whose consensus opinion was that the Riera methodology was adequate for the purpose for which it was being applied: evaluation of aircraft impact on containments and spent fuel pools," Raspa says in an email. "In addition, OIG learned that the Riera methodology is also endorsed by the U.S. Department of Energy as an acceptable method of evaluating aircraft impact on its nuclear and hazardous facilities."
On the myriad other concerns raised by critics, McMillan says he was perplexed. He concedes that morale inside the office had experienced peaks and valleys amid numerous personnel changes, but he adds that it takes time for any team to gel.
The OIG has 58 full-time employees, of which 18 are on the investigative side, and since 2007, turnover has been substantial -- including 11 employees who left the agency to find work elsewhere in government. Two investigators left as recently as last week. Both, according to a source inside the NRC who asked to remain anonymous for fear of reprisals, were disgruntled.
Asked about morale inside the office today, McMillan says: "It's better."
He also cites statistics suggesting that the office has received a total of 973 allegations of wrongdoing from a variety of sources, including 191 anonymous tips, 222 tips from the general public, 213 from NRC employees and 74 from NRC management.
"When I look at how we get the allegations," McMillan says, "this is a pretty good indicator that there's a high degree of assurance that people have faith in pushing information to this office."
McMillan also says that critics' assertion that his office is no longer tackling the most important work -- investigating NRC's oversight activities at nuclear power plants -- or that the concerns of dedicated nuclear safety advocates were being ignored was unfair.
"When you look at the body of work, you will find that their concerns were investigated," he says. "There have been matters that we aggressively pursue. But just because they raised an issue didn't in and of itself necessitate that, at the end of the day, when the investigation was complete, it bore fruit to their concern."
He also says that without the benefit of access to the information and resources his team routinely handles, it's too easy for outsiders to make quick judgments about what issues his office is or is not investigating. And McMillan adds that he thinks too much emphasis is placed on labels like "event inquiries" -- the deep probes of NRC's oversight at nuclear power facilities that critics have complained are no longer pursued and published with the frequency they once were by the OIG.
"I try not to get hung up on the type of report," McMillan says. "People are going to clearly have their own view as to what should and should not be public. I don't begrudge them their philosophy."
Finally, McMillan suggests that much of the criticism of his office derived from an understandable but ultimately unfair reality: people who grew accustomed to Mulley over 25 years simply miss him.
"Relationships are very important, and I think in this industry of investigations we build a lot of relationships over years, some wittingly, some unwittingly. And we have certain levels of confidence in certain people, because of the relationship in and of itself," McMillan says. "But I think it's patently wrong that unless you have all the information to assess and relate to it, to summarily say, well, that person is not meeting the standard. And some of that has come into play here, because of the longevity of an individual."
Lochbaum, however, suggests that nuclear safety advocates would not abandon a partner in their mission over a mere change in personnel. "It's not like we have a thousand allies on this issue, so we're not apt to easily disregard one," he says. "We're very loathe to toss one aside."
At his home in Virginia, Mulley describes himself as fundamentally -- almost aggressively -- apolitical, and says he has never registered to vote in a single election, local or national. He also produces numerous records of his accomplishments at OIG, including a Meritorious Service Award from 1994 and an Award of Excellence issued 14 years later.
"In case anyone questions my record," he says.
While an exacting man, Mulley has a modest carriage, and he appears embarrassed at what might be construed as a boastful display of his honors. He retired eagerly in 2008, he says, and now busies himself with regular games of golf, an occasional ride on his motorcycle and doting on his dog, Benchmark.

But he left OIG with a few unfinished cases on his docket -- including Byron. The agency hired him post-retirement as a consultant to complete the Byron investigation, and he spent the next year digging into it.
His report on the Byron incident was more than 40 pages. It was the product of dozens of interviews with employees of the Byron nuclear facility, as well as with current and former NRC inspectors who had been assigned to the Byron plant reaching back almost two decades.
When a reporter filed a FOIA request for the Byron report, an 11-page document was provided.
"What bothers me most," says Mulley, whose concerns were also highlighted by ProPublica late last month, "is that it seems like we're back to where we were before the OIG was formed."
Among Mulley's plaques and awards is a mounted letter from Ed Markey. In it, the Congressman thanked the investigator for his years of service and suggested that the office was unlikely to be the same after he was gone.
"You served your agency and the American public exceptionally well by aiming higher than the low-hanging fruit of timesheet and expense report irregularities and focusing on the effectiveness of the NRC's role as guardian of public health and safety," Markey wrote. "The legacy of stellar achievements you leave behind suggests that the American public will suffer a huge loss with your retirement."
REPORTS GONE AWRY
Billie Garde, the Washington attorney, says she's been stymied for nearly two years in her attempts to trigger an investigation into issues at the OIG -- mostly concerning personnel complaints. But when Mulley came to her with concerns about his edited Byron report, she reckoned she had better ammunition, and on June 9, she fired off a 5-page letter to NRC's chairman, Gregory Jaczko, asking him to "take action to get to the bottom of this matter and insist on an OIG that has credibility and adds meaningful oversight for the Agency's mission."
Jaczko, while lacking the ability to hire or fire OIG staff, still retains supervisory status over all parts of the agency, including "general supervision" of OIG.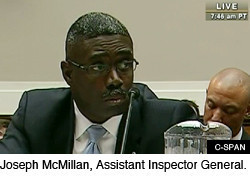 Only a day before Garde sent her letter, Jaczko himself had publicly praised the Inspector General's Office: "The IG plays an important role in enabling the American people to continue to have confidence that my focus as Chairman -- and the entire agency's focus -- is on effectively carrying out the NRC's vital safety mission," Jaczko said in a statement posted to NRC's Web site.
He had good reason for applauding his Inspector General. The IG had just completed an investigation of Jaczko himself, who was suspected of illegally terminating, in the fall of 2010, the NRC's review of the Department of Energy's license application for the contentious Yucca Mountain nuclear waste facility in Nevada.
This had angered the nuclear industry and its Republican supporters in Congress -- not least because Jaczko's moves were largely viewed as being politically motivated.
(Jaczko had once worked for Sen. Harry Reid (D-Nev.) and was elevated to the chairmanship of the NRC in 2009 by President Obama -- both of whom were vocal opponents of the proposal to turn Yucca Mountain into the nation's first centralized facility for storing nuclear waste.)
In November of last year, senior House Republicans -- led by Fred Upton of Michigan and Ed Whitfield of Kentucky -- wrote a letter to the NRC's OIG requesting a formal investigation of Jaczko's actions with regard to the Yucca review. That investigation, completed in early June, described Jaczko as a sometimes overbearing and scheming leader who strategically withheld information from his fellow commissioners, but it did not conclude that any laws had been breached.
Jaczko's quick public embrace of those findings -- and of the OIG in general -- struck Garde, who had recently been contacted by Mulley with complaints about the heavily edited Byron report, as galling, and in her letter to Jaczko, she suggested that his public statements were misplaced.
"It has now come to my attention that the actions of the OIG's leadership have seriously interfered with the mission of the Agency to protect public health and safety," Garde wrote, "by engaging in a cover-up of Staff deficiencies in connection with the essential service water system issues at the Byron nuclear power plant."
The emergency service water -- or ESW -- system at a nuclear plant like Byron cools crucial emergency equipment. Should the ESW fail, the ability of a nuclear power plant to avoid a full-scale meltdown is seriously compromised.
The ESW pipes at the Byron facility had been rusting out for some time, and the operator, Exelon, had replaced some of them over the years. But much of the system also runs underground, and a portion of the pipe protruding from cement floors at the plant had been allowed by Exelon to deteriorate to such a degree that technicians at the plant -- ironically, while scraping away rust flakes with a wire brush in order to take an accurate measure of its thinning walls -- managed to poke a hole clear through, sending water spewing onto the floor.
The same day, October 19, 2007, Exelon declared the ESW system at Byron inoperable, and the whole plant was shut down while the pipes were replaced.
According to Mulley, who was entering what would be his final year with the OIG, his office got a tip about the Byron leak from Pete Stockton, a senior investigator with the Project on Government Oversight, a nonpartisan watchdog group that monitors corruption and conflicts of interest in government.
Stockton suggested that NRC inspectors should have known about the deteriorating condition of the pipes and forced Exelon to do something about it long before they sprung a leak. After all, resident inspectors employed by the NRC are assigned to each and every nuclear power plant in the country. Had the inspectors at Byron, and their supervisors missed, or willfully overlooked, a potentially dangerous situation?
"It always seemed to me that on that one, they really had an opportunity to go after the lack of aggressiveness of the resident inspectors," Stockton says in an interview. "The resident inspectors tend to go native after awhile."
In October of 2007, an official OIG inquiry was opened, and Mulley pursued it aggressively, supervising a team of investigators tasked with poring through reams of documents and interviewing employees at Byron and within the NRC. The investigation was still open in August 2008, when it came time for Mulley to retire.
During the following year, Mulley, then working for OIG as a contractor, was in regular contact with his former colleagues, making occasional visits to OIG headquarters and exchanging regular emails regarding the Byron investigation through the late summer of 2009.
Mulley filed his final report on the Byron incident in September, 2009. He says he has never heard a single word from anyone at the OIG's office since -- even after multiple attempts to discover the status of his report. The OIG, in an exception to its typical practices, never officially published the report.
A Freedom of Information Act request filed with the OIG eventually produced a copy of the investigation, which had been downgraded from an event inquiry to an internal memorandum.
A copy of the memo was shared with Mulley. It was the first time since filing his report more than a year-and-a-half earlier that he'd been able to get a look at how his report had been edited. He was upset and decided that it was his duty to blow a whistle.
He brought his concerns to Garde, who in her June 9 letter to NRC Chairman Jaczko, laid out the discrepancies between what Mulley found and what the final memorandum reported:
The investigation, conducted by a team of experienced investigators between October 2007 and August 2009, resulted in a draft report, which was completed by George Mulley, former OIG Senior Level Assistant for Investigative Operations. It revealed serious flaws in oversight ... [and] found that the Staff was aware of the extensive corrosion in the service water system since at least 1990, but had never once entered the vaults containing the corroding piping, or questioned the licensee's actions in continually modifying the wall thickness requirements.
Many of the most damning findings were excised from the OIG's final memo on the case, and what Mulley and his team had identified as lapses by NRC staff were instead portrayed as "circumstances typically experienced by resident inspectors, who are expected to be aware of plant conditions but are dependent, to a certain extent, on the licensee's ability to identify and correct plant problems."
Garde was withering in her critique. "This apologist attitude is made up of whole cloth – there is no similar sentiment expressed in the original report," she writes. The memo "leaves out, in its entirety, the discussion regarding missed opportunities and failure of the Staff to participate in relevant inspection activity.
"It is a complete rewrite of a document intended to provide important insight to and oversight of the regulatory reactor oversight program that would require and necessitate changes and corrections in that process," she concludes.
Garde finishes her letter by imploring Chairman Jaczko to look into the matter. But in an interview she questions whether he would be inclined to do so vigorously, given that the OIG, while painting Jaczko a hot-headed manager, had nonetheless exonerated him of wrongdoing in its investigation of the Yucca Mountain issue.
Mulley says he downloaded the IG's report on the Jaczko/Yucca investigation from a Congressional website and was floored. "It was a joke," he says. "If I was still employed in my former capacity, this report would have never been issued."
He brought his concerns to Garde, who then fired off a new letter to Rep. John Shimkus (R-Ill.), the chairman of the Energy and Commerce subcommittee on Environment and Economy, and Rep. Gene Greene (D-Tex.), the subcommittee's ranking member. In the letter, Garde suggests that the OIG's Yucca mountain investigation, like the Byron report, was deeply flawed.
That report "sullies Chairman Jaczko's character with complaints about his management style -- a topic not within the jurisdiction of the OIG -- but fails to include his side of the story regarding the allegations," Garde wrote. "This obvious attempt to look as if the OIG is willing to criticize Chariman Jaczko, even while exonerating him, is transparent. I don't know if Chairman Jaczko is guilty of wrongdoing or not," she added, "but I know this memorandum doesn't clear it up."
A spokesman for Rep. Shimkus, Steven Tomaszewski, said in an email that the Congressman had shared Garde's letter with the full Energy and Commerce committee and staff, "who continue to investigate this matter."
* * * * *
In its semiannual report to Congress for the period ending Sept. 30, 2010, the OIG said that the NRC oversight at the Byron plant "was not successful in learning of the steady reduction in margin of wall thickness of the ESW piping over a 7-month period until just 2 days before pipe failure," but it also concluded that "Byron resident inspectors carried out routine oversight responsibilities in accordance with agency requirements."
In the end, NRC cited Exelon for two low-level violations, and Eliot Brenner, the NRC spokesman, has said that the agency beefed up its guidelines so that inspectors will more regularly inspect remote or difficult-to-reach areas of the plant, like those that housed the rusting pipes at Byron. Exelon has said that it learned valuable lessons from the Byron incident and that it was adjusting its procedures appropriately.
While Mulley has said that he and Cash, the former OIG engineer who worked with him on the Byron case, did not always agree on details of the investigation, Cash himself says the incident report should have been made public.
In order for the Inspector General's Office to truly fulfill its mission, Cash wrote in his letter last week, "special inquiry or event inquiry reports need to be issued to Congress, the NRC Chairman and the public."
"An apparent lack of such reports over the last several years by the NRC OIG warrants thoughtful consideration and review," Cash wrote. "I also believe a review of the disposition of the Byron and Aircraft Impact cases would be appropriate and useful."
Whether the OIG had legitimate reasons for excising some of the more damning evidence that Mulley included in the original Byron investigation remains unclear, though McMillan says he welcomed scrutiny of his work -- including a review of the Byron complaints by the IG's Council on Integrity and Efficiency.
"I look forward to them coming in and asking questions," McMillan says.
Mulley, meanwhile, said his perception was that the OIG appeared to no longer be pursuing deep investigations into NRC's oversight activities at nuclear power plants. A review of OIG's own statistics going back to 1995 on the volume of investigative activity, published twice a year in its semiannual reports, revealed no clear slowdown in event inquiries. These statistics do not, however, reveal the subject matter under investigation.
The OIG's most recent report to Congress, published in March, lists three event inquiries as open currently. When asked about the subject of these investigations, David Lee, the Deputy Inspector General, notes in an email that "An ongoing investigation, regardless of type -- i.e. event inquiry, etc. -- are open investigations, and therefore the subject or topic of the investigation is not disclosed while an open investigation."
Mulley says he believes that was untrue -- at least from his experience. "The subject of an investigation is not confidential information," he says. "If someone called to ask about what we were working on, I would tell them. Now if they asked what we were uncovering, that's a different matter, but the topic of an investigation wasn't a secret."
Lee did provide a defense of his office's work in an email.
"As reflected by the judgment of others, this OIG and its staff during the period 2003 through 2010 has received from a panel of its peers in the Inspector General community 14 Awards for Excellence for the work it has conducted during that period," he notes.
Five of the awards went to investigative staff, Lee said.
The most recent of the investigative awards, according to a semiannual report to Congress from the OIG, recognized a senior special agent in 2009 for "exceptional performance in investigating and reporting that a Fortune 500 company submitted 77 false claims to NRC in violation of the False Claims Act."
According to the Council of the Inspectors General on Integrity and Efficiency, which bestows the laurels, an Award of Excellence recognizes "achievements that are so unusual or distinguished as to be at the forefront of the community. The achievements must be significant as to the subject, scope, or outcome. The achievements are instructive and are of general interest beyond one agency."
For his part, Mulley says he fears that his complaints will register as the sour grapes of a former employee -- or worse, the ravings of retired old man who refuses to let go. But he also says he stands ready to provide testimony to anyone who will listen, and that it pains him to see the office where he toiled, proudly, for a quarter-century, run off the rails.
"This whole thing," he says in a phone call, "it's a big deal to me."