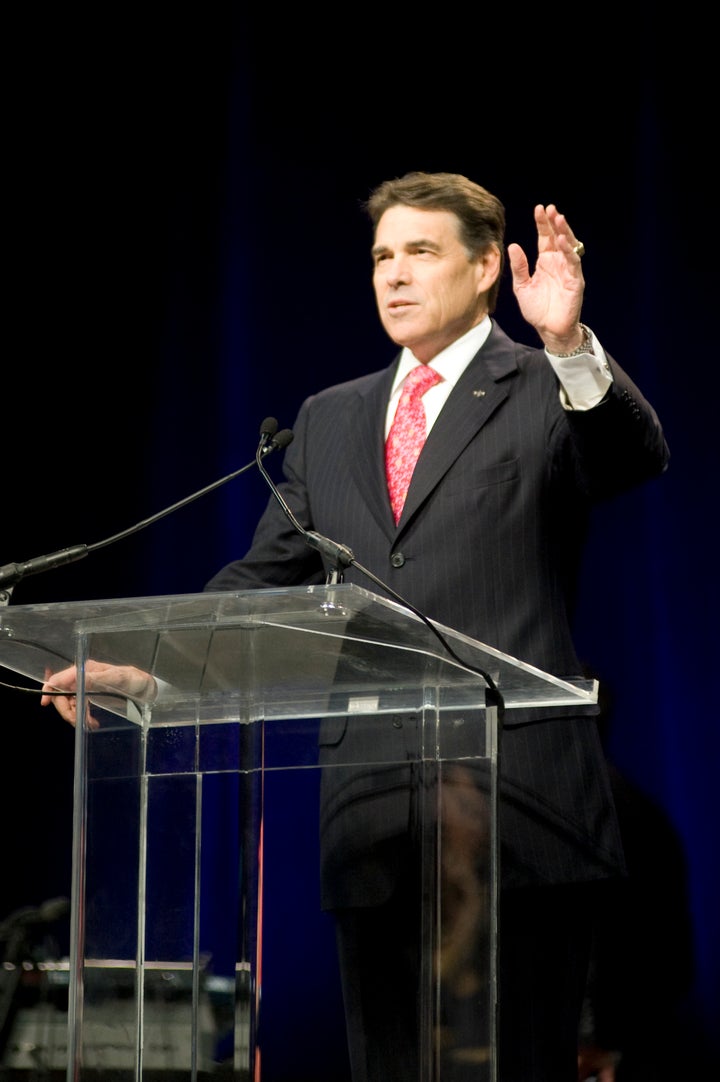 WASHINGTON -- At some point this weekend, whether on a stage in South Carolina or Iowa, Texas Gov. Rick Perry is expected step up to a microphone, put an end to months of media speculation and formally announce his bid for the presidency.
But in doing so, Perry would be violating the spirit of an amendment he proposed to the Texas constitution in 1989. Filed that March, the amendment called for "the automatic resignation from office of certain public officials seeking other elective office."
In other words, the 1989 version of Perry would probably think Gov. Perry should resign from office before hopping on that plane to South Carolina.
Perry's amendment [PDF] did not equivocate:
"The candidacy constitutes an automatic resignation of the office then held, and the vacancy created shall be filled pursuant to law in the same manner as other vacancies for the office are filled."
The forced resignation would kick in for anyone holding elected office that paid $10,000 or more per year. Gov. Perry certainly falls into that category.
But in his 1989 proposal, Perry may have left the future Gov. Perry an out. The forced resignation would only kick in if the elected official decided to run within the first 180 days of their term in office. His announcement this weekend would have put him just outside that 180 day window.
Back when he wrote the amendment, Perry was a Democrat and far removed from any consideration of national office, let alone anyone's favorite in a statewide contest. He was a just state representative from west Texas. His proposed amendment failed.
"In 1989, Dem State Rep. Rick Perry believed that if a governor of Texas early in their term wanted to run for president, they should resign," says Jeff Rotkoff, a consultant with the Back to Basics PAC, a Texas political action committee that opposes Perry. "Why doesn't he stand by that belief today? Does he stand by that belief today? If not, what's changed?"
Long-time Perry campaign strategist David Carney referred a request for comment to the governor's press office. The governor's media team in Austin did not return a request for comment.