With several failed attempts to have a baby, Giuliana and Bill Rancic have had a tough year. But with their fourth anniversary just two weeks away, the couple has decided to take their focus off of their own hardships and do something good for someone else.

"We were asking each other the other day what we wanted for our anniversary and we drew a blank," Bill tells me. "We tossed around some ideas but they felt so petty and wasteful, especially with the state of the world right now. I said to G, 'why don't we combine our gifts and give a family in need a truly meaningful present?' I thought she was going to squawk at that idea but she immediately got onboard and loved the idea!"

Giuliana, who confesses that originally she was hoping for a new handbag or pair of shoes from her husband to celebrate the event, couldn't be happier after Bill told her what he had in mind.

"I'm so lucky to be healthy, happy and in love and that's truly the best gift of all," Giuliana tells me. "We just couldn't come up with anything with meaning and that's when Bill suggested building a house in Haiti for a family we sponsor there whose home was destroyed by the earthquake. We had planned on eventually doing that but figured now felt like a great time. I loved the idea and didn't hesitate for a second. We can't wait to tell the family. We are going to call them on our anniversary day to give that day the special meaning it deserves."

Now encouraging other friends to forfeit anniversary gifts and instead give in some way, big or small, to those in need, Bill and Giuliana hope they have started a trend.

To meet the family in Haiti who don't know yet that they will be receiving a new house, as well as witness the craziness that ensues when Giuliani's Italian parents move in with the couple, watch a brand new episode of "Giuliana & Bill" at 8/7c on the Style network.
FOLLOW NAUGHTY NICE ROB ON TWITTER
Bill is all smiles, posing with children on a recent trip to Haiti: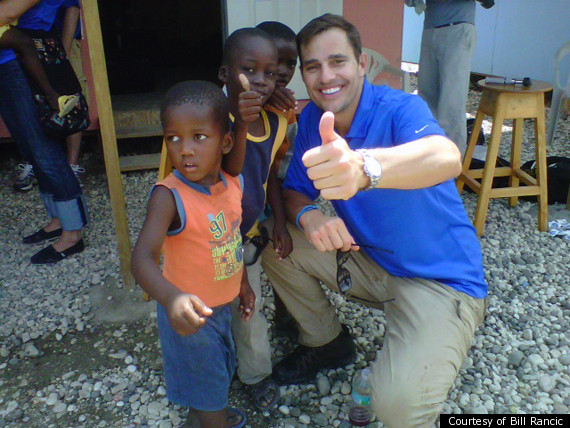 Giuliana and I pose for a quick pic: