Kim Kardashian is no stranger to sharing intimate moments and photos with the world, but we can probably file this under TMI.
The details of the 30-year-old's upcoming wedding to Kris Humphries this weekend have largely been hush-hush, but there are a few private things Kim has no problem sharing, like her skin condition.
On Saturday she tweeted:
"Kinda funny & gross but look at my heart shaped psoriasis! LOL Had to share!" along with a photo of the oddly-shaped psoriasis patch on her upper arm.
Too much information? Maybe, but is it a coincidence that not even 24 hours later the reality TV star finally accumulated more than 9 million Twitter followers? Kim clearly has a handel on what people want.
She tweeted to her fans:
"OMGGGGG I just saw I reached 9 MILLION followers!!!!!! I am so speechless! YOU truly are my world and mean everything to me! I LOVE YOU!"
Kim's been completely open about her psoriasis since her diagnosis of it aired on an episode of "Keeping Up WIth The Kardashians" last month and has tweeted about trying different creams to make it go away.
Check out Kim's heart shaped psoriasis patch: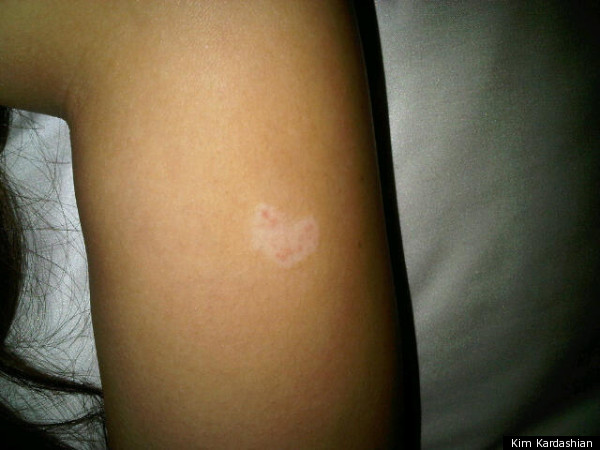 Of course Kim's not the only celeb who likes to share a little too much. Check out these slightly NSFW celebrity cases of TMI:
PHOTO GALLERY
Kim Kardashian Tweets About Psoriasis