Haven't had any luck in the online dating world? Your chances may have just immediately doubled.
DuoDater is a new website that is centered around setting people up on double dates. You grab a willing and (hopefully) single friend; you're paired (quadrupled?) with another duo; and you go on a double date. If it sounds like OKCupid2 or any of the other dating sites times two, then co-founder Andrew Flachner wants to correct your misconception:
"We're not looking to be Match.com," he told me in a phone call. "Hopefully things will click more naturally than that."
"More naturally," in this case, is all about making conversation and interaction easier on singles. DuoDater is a site for those who find the keystones of traditional dating websites -- messaging potential matches, meeting a person one-on-one, writing a lengthy profile about oneself -- "intimidating and awkward," in Flachner's words.
So how does one make a blind date more natural? By making it a double date, which DuoDater wants to help you organize.
Having a friend with you on a date can help your real personality come through, Flachner says. Actually, the way Flachner frames it, DuoDater is kind of like the bowl of porridge from Goldilocks that is "just right." One-on-one dating sites like Match.com and OKCupid are intimidating and awkward; group dating sites like the three-on-three Grouper and up-to-ten-at-a-time Ignighter are too large to make a real connection and too difficult to coordinate logistics-wise.
"To actually hope that everyone has fun [on a group date] is a longshot," Flachner says.
From the way my friends describe online dating, to hope that anyone has fun on any date is a longshot, no matter how many people are there. But anyway...
Users can sign up for DuoDater through Facebook or the traditional way, choosing a username and password and all that fun stuff. They then invite a friend (or many friends) to be in their dating duo (or duos): You and your friend form a duo, fill out brief questionnaires about your habits and interests, and choose from a selection of date locations and activities you're interested in. You are then paired with other duos whose interests and activity choices match yours. Here's a screenshot of the activity choosing feature for San Francisco, where DuoDater was developed and is based: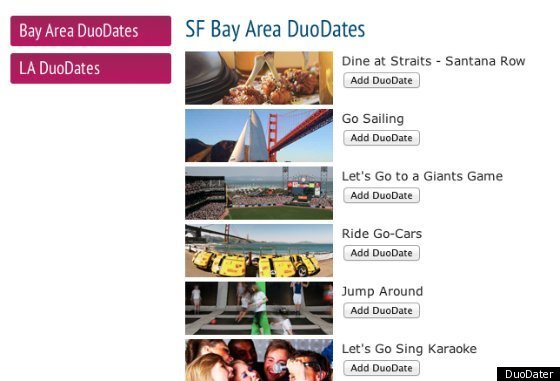 Here's a shot of the main DuoDater interface; my friend Charlie and I formed a (dashing) duo, filled out the information we wanted to be public, and are now ready to meet and greet the ladies of New York City: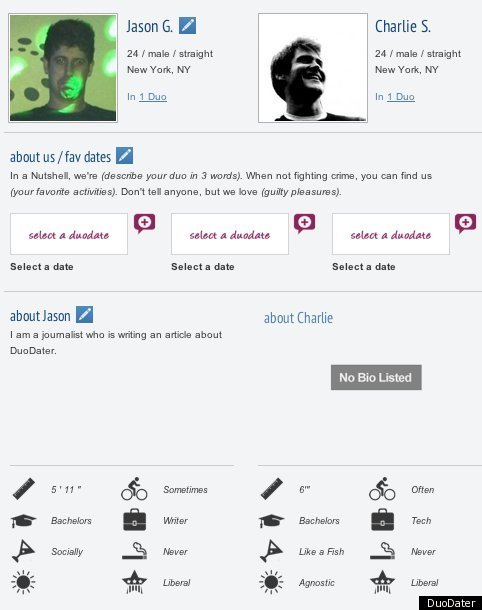 Unfortunately, we cannot meet and greet the ladies of New York City quite yet, as the service is still limited to the San Francisco/Bay Area. And while there is no definite timetable for DuoDater to spread Eastward two-by-two, Flachner does expect his site to begin its expansion "soon."
Aside from currently only existing 3000 miles from where I live, DuoDater is going to have to overcome a few other obstacles in order for it to be successful.
First, obviously, DuoDater must stand out from the heaps of other dating websites currently out there and enroll a lot of participants. I like the idea of a dating website devoted to two-on-two outings, and I agree that it is less stressful or threatening than a one-on-one blind date, and more practical than anything over 3 people per side at a time (See: Grouper). But like all other dating websites, it only works if a lot of people sign up. They've made the enrollment process easy enough; now it is a matter of attracting a large enough pool of DuoDaters that the service can actually match up pairs of singles.
Which brings me to my main hangup: How, exactly, do you and your partner choose who to pair with? How likely is it that my dating partner and I are going to be able to find two girls that we both want to date? (This is where the large pool of users plays in). And, building on that, if both my partner and I do find two girls we like, how do we decide who pairs up with whom? I know that it should be "natural" as to the pairings, but it seems like DuoDater might be setting some of its users up for getting their feelings hurt by their best friends. Now, this happens to me on a daily basis, because all of my friends are jerks, but other people might not be ready to see a friend steal away the date they were trying to make eyes at all night.
DuoDater is currently in beta and is open via invitation only. The folks at DuoDater were kind enough to offer up invites for the first 500 HuffPost Tech readers by using the code "HuffPost" to sign up. Even if you're not in San Francisco, you can still get an account and a profile and invite your friends to form duos with you; Flachner says DuoDater will notify users when DuoDater becomes available in their towns. The most popular locations for DuoDater right now besides San Francisco are Los Angeles, and New York City; so if you are in LA or NYC, you might be able to DuoDate in the near future.
And if you're wondering whether or not you might be able to double date the DuoDater co-founders:
"I have a girlfriend," Flachner says, "but I have her permission to use the site."
Watch out, DuoDater co-founder Andrew Flachner's girlfriend. Watch out.