Family vacations in Denver can be rewarding experiences or absolute disasters — it all depends on pre-trip homework. To make planning easier, we've done all the preparation. As part of a Huffington Post Travel series on traveling with children, here are answers to some frequently asked questions about Denver family vacations.
Elitch Gardens
Just what is a Mind Eraser? It's a ride at
Elitch Gardens
that allows visitors to simulate hang gliding while lying suspended from the underside of hurling cars. If that doesn't erase visitors' minds, they can try the 10-story roller coaster, Twister II, or the 220-foot free-fall, Tower of Doom. It's all in a day's play, which is probably how long it will take visitors to experience all 45+ rides this amusement park has to offer — and the water park, too.
Address: 200 Elitch Circle, Denver, CO 80211
Phone: 303-595-4FUN
Hours: The Park is open from May through October daily but closes for private parties and special events. Hours vary from month to month, please check their Web site
Price: Day pass for guests under 48 inches tall or over 62 years old, $27.99; 48 inches or taller, $37.99. All tickets include access to water park.
The Downtown Aquarium
The privately owned Downtown
Aquarium
is an entertainment and dining complex that hosts vacationing families from all over the globe. A big draw is the stingray reef touch tank and the interactive shark tank. On Saturdays, licensed guests can scuba dive and snorkel with an appointment (fees range from $75 to $175). Guests can see fish and animals in their settings including a rainforest, wharf, lagoon, beach and more.
Address: 700 Water St., Denver, CO 80211
Phone: 303-561-4450
Hours: Open year-round: Sunday through Thursday, 10 a.m. to 9 p.m.; Friday and Saturday, 10 a.m. to 9:30 p.m.
Price: Adults, $15.99; seniors 65 and over, $14.99; children 3 to 11, $9.99; children 2 and under free
The 16th Street Mall
One of the best people-watching places in downtown Denver, the
16th Street Mall
is an indoor-outdoor pedestrian mall that runs for over a mile. It has restaurants, shops, hotels, outdoor vendors and street entertainment. A free shuttle traverses up and down the street and the area is lined with trees, flowers and plants, seating, fountains and outdoor cafes. Family vacationers often use the area as a gathering place after a day of sightseeing.
Address: 16th Street from Wewatta St. to Broadway in Downtown Denver, CO 80211
Phone: N/A
Hours: Open daily; hours vary depending on type of business
Price: N/A
The Butterfly Pavilion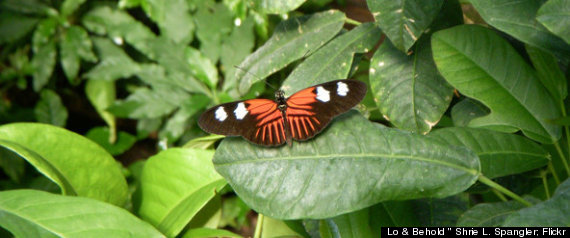 The Butterfly Pavilion allows visitors to walk through a continual light mist, and if they stand very still, a butterfly might land on them. This conservatory is home to over 1,600 free-flying butterflies of over 50 different species. The pavilion also houses tarantulas, cockroaches and other native Colorado insects encased in easy-to-view bug displays, and some are also available to touch and hold.
Address: 6252 West 104th Ave., Westminster, CO 80020
Phone: 303-469-5441
Hours: Open year-round: 7 days a week, 9 a.m. to 5 p.m.
Price: Adults, $8.50; seniors 65 and up, $6.50; kids 2 to 12, $5.50; kids 1 year old and under free
The Tattered Cover
The Tattered Cover
is one of the largest independent bookstores in the country. It is located in a historic Denver theater that is the perfect setting for over 150,000 tomes, a cafe and plenty of nooks and crannies to curl up and read. Many well-known authors attend book signings here, and children can enjoy a half hour of story telling on Tuesdays at 10:30 a.m. at the Colfax Avenue location. There are two other locations, including one at the end of the 16th St. Mall in
LoDo
(lower downtown).
Address: 2526 East Colfax Avenue, Denver, CO 80211
Phone: 303-322-7727
Hours: Open 7 days a week: Monday through Saturday, 9 a.m. to 9 p.m.; Sundays, 10 a.m. to 6 p.m.
Price: N/A
The U.S. Mint
Money doesn't grow on trees; it grows in Denver. At the
U.S. Mint
, families can take a guided tour of the top-secret money making process. Denver Mint is one of only two mints in the nation that allow tours, which take about an hour. Reservations are necessary, and there is a gift shop on the premises to purchase some unique coins and books for souvenirs.
Address: 320 West Colfax Ave., Denver, CO 80211
Phone: 303-405-4761
Hours: Guided tours start on the hour and are available from 8 a.m. to 2 p.m. daily. Reservations are necessary and hours can change. The tour is not recommended for very small children. Security instructions will be given to participants when they make reservations
Price: Free
The Children's Museum Denver
If visiting children are budding artists wanting to finger paint or create noodle art, the Children's Museum Denver is the place to go. The museum has a giant magnetic wall to experiment with alphabet letters and create stories to tell. There is also a kids' supermarket experience that will have tots shopping, checking out, mixing and baking. An assembly plant and a junior-sized veterinary clinic can get kids thinking about what they want to be when they grow up.
Address: 2121 Children's Museum Drive, Denver, CO 80211
Phone: 303-433-7444
Hours: Open 7 Days a Week: Monday through Friday, 9 a.m. to 4 p.m.; Wednesday, 9:00 a.m to 7:30 p.m.; Saturday and Sunday, 10 a.m to 5 p.m.
Price: Children, age 1 free; age 2 to 59, $8; seniors 60 and up, $6
Have you been to Denver? What's your favorite destination?
CHECK OUT MORE FAMILY TRAVEL GUIDES.