Family vacations in Mississippi can be rewarding experiences or absolute disasters -- it all depends on pretrip homework. To make planning easier, we've done all the preparation. As part of a Huffington Post Travel series on traveling with children, here are recommended attractions for those planning Mississippi family vacations.

Longwood Plantation
Longwood Plantation
is an octagonal home -- the largest one in the United States -- that is worth seeing from both a historical and an artistic perspective. Construction was never completed on Longwood. Ground broke in 1860, and the 30,000-square-foot mansion saw construction halted in 1861 with the outbreak of the Civil War. Still, though only nine of the 32 rooms were ever finished, it is a marvel to see. The completed first floor contains original furnishings, while the upper levels offer a glimpse into the architecture and construction of what was to be one of the grandest homes in the South. Currently owned by the city of Natchez, Longwood is a National Historic Landmark where visitors can walk on a guided tour while learning about the rich culture of the antebellum South.
Address: 140 Lower Woodville Road, Natchez, MS 39120-4412
Phone: 601-442-5193
Hours: Tours every 30 minutes 9 a.m. to 4:30 p.m. Last tour begins at 4:30 p.m. daily
Price: Adults, $12; youth (six to 18), $12; children under six, free
Gentle Waters
Gentle Waters
is a beach-goer's utopia. The water here on the Mississippi Gulf Coast is docile, while the unofficial nickname "Gentle Waters" is an apt description of the idyllic beach. The beach is rarely crowded, and is located near a chain of barrier islands -- those islands are what prevent the surf from becoming too rough. That's makes the beach so appealing to families -- the water is perfect for children due to the gentle flow. Located on Highway 90, or Beach Highway, Gentle Waters also has plenty of beach room for throwing a Frisbee or just taking a long stroll. And moonlight picnics are encouraged, as the moon is often bright enough to light up the beach.
Address: E. Beach Boulevard, Gulfport, MS 39501
Hours: 24 hours, year-round
Price: Free
Mississippi Children's Museum
The
Mississippi Children's Museum
is a 40,000-square-foot interactive imagination station. Visitors will encounter exhibits based on the heritage of the area and all of the Magnolia State. Exhibits focus on the importance of literacy, arts, technology, health and nutrition. Adults can create collages with the children in the "Express Yourself" exhibit and role-play in the "World at Work" exhibit, which explores common careers in the area.
Address: 2145 Highland Dr., Jackson, MS 39202
Phone: 601-981-5469
Hours: Tuesday through Saturday, 9 a.m. to 5 p.m.; Sunday, 1 p.m. to 6 p.m.; closed Mondays
Price: General admission, $8; children under 12 months, free
Dentzel Carousel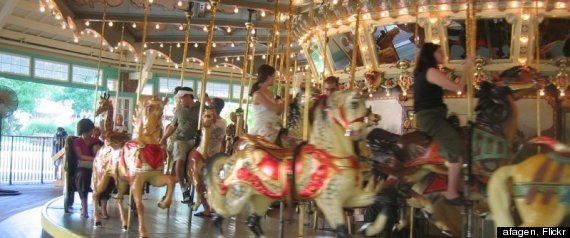 The historic Dentzel Carousel is a perfect specimen from America's rich woodworking heritage. The carousel, manufactured in 1904 by Gustav Dentzel, was bought by the city of Meridian in 1909. The carousel is one of only 11 in the nation to be placed on the National Register of Historic Places, and the only one in the South. Visitors have the opportunity to ride on the original hand-carved basswood animals in Highland Park. While kids enjoy the ride, parents will be able to appreciate the beautifully restored oil-based paintings that adorn this two-row merry-go-round.
Address: Highland Park, 8th Street, Meridian, MS 39302
Phone: 601-485-1904
Hours: November through March, Saturday, 1 p.m. to 5 p.m.; August through October, Saturday and Sunday, 1 p.m. to 5 p.m.; April through May, Saturday and Sunday, 1 p.m. to 5 p.m.; June through July, daily, 1p.m. to 5 p.m.
Price: Ride: 50 cents per person; tours: $1.50 per person; children three and under, free with paid adult
Mississippi Museum of Natural Science
The
Museum of Natural Science
is one of the country's premier natural-science centers. The 73,000-square-foot facility is home to one of the largest aquariums in the South, 100,000-gallons strong and featuring 100 aquatic species. In the 1,700-square-foot swamp area, visitors can view alligators and other creatures indigenous to both the marshes in the state and around the globe. Through interactive exhibits, children can learn to preserve their natural surroundings and leave a smaller carbon footprint. The museum has more than 870,000 specimens of vertebrate animals and freshwater mussels on display. In addition, the museum grounds have a 2.5-mile hiking trail where families can learn more about Mississippi's natural resources.
Address: 2148 Highland Dr., Jackson, MS 39202
Phone: 601-354-7303
Hours: Monday through Friday, 8 a.m. to 5 p.m.; Saturday, 9 a.m. to 5 p.m.; Sunday, 1 p.m. to 5 p.m.; closed New Year's Eve day, New Year's Day, Easter, Memorial Day, July 4, Labor Day, Thanksgiving, Friday after Thanksgiving, Christmas Eve and Christmas Day
Price: Adults, $6; children (three to 18) $4; seniors (60 and up) $5; children under three, free
Cottonlandia Museum
The Cottonlandia Museum is a heritage center that delves into the rich history of the Mississippi Delta region. The extensive exhibits cover a variety of topics, including military traditions, art, Native American regional history and agriculture. While the cotton industry is understandably a significant topic, Cottonlandia also explores other industries important to the Magnolia State. This interactive museum is perfect for allowing visitors to see -- and touch -- an integral part of Mississippi's vibrant past.
Address: 1608 Highway 82 W., Greenwood, MS 38930-2725
Phone: 662-453-0925
Hours: Weekdays: 9 a.m. to 5 p.m.; Saturday, 10 a.m. to 4 p.m.; closed Sundays, all major holidays and holiday weekends
Price: Adults, $5; children (3 to 18) $2; college students (with valid ID), $3; seniors (65 and up) $3.50
Tupelo Buffalo Park and Zoo
The Tupelo Buffalo Park and Zoo is an interactive, hands-on zoo. Home to the white buffalo Tukota, the entire park is a haven for animal lovers. At 175 acres, Tupelo is Mississippi's largest zoo, and it has a variety of species with which visitors can get up-close and personal -- either on an open-bus or personal-vehicle tour. The park has ponies and horses for riding and a petting zoo. The playground is equipped with real teepees, and camping is available.
Address: 2272 N. Coley Rd., Tupelo MS 38801
Phone: 662-844-8709
Hours: Year-round (weather permitting): Monday through Saturday, 9 a.m. to 4 p.m.; closed Christmas
Price: Adults, $10; children (one to 12), $8; children under 12 months, free; seniors (65 and up ), $8; family rate (two adults, four children), $29.95. Tours, pony rides, trolley: additional cost.
Have you been to Mississippi? What are your favorite attractions?
Check out more FAMILY VACATION GUIDES.