Family vacations in New Mexico can be rewarding experiences or absolute disasters — it all depends on pre-trip homework. To make planning easier, we've done all the preparation. As part of a Huffington Post Travel series on traveling with children, here are answers to some frequently asked questions about New Mexico family vacations.
Albuquerque International Balloon Fiesta
The
Albuquerque International Balloon Fiesta
is the largest gathering of hot air balloons in the world, according to Fiesta planners. It is held every year in early October for 9 days. There are typically more than 750 balloons and the festival consists of a mass-rising of balloons at sunrise, glow-in-the-dark balloons, contests, a parade, races, balloon rides and more. Many unusual balloons float in the sky as participants try to one-up each other and entertain the crowd in the process.
Address: 5000 Balloon Fiesta Parkway NE, Albuquerque, NM 87113
Phone: 800-733-9918
Hours: Runs for 9 days in October, usually during the first week of the month.
Price: Adults, $8; children ages 12 and under, free
The Georgia O'Keeffe Museum
This museum has the largest collection of
Georgia O'Keeffe's work
in the world. Over 1100 paintings and sculptures depicting her signature style of sparse Southwest images, often consisting of a single flower, are housed in an old adobe-style church. O'Keeffe eventually moved to Santa Fe, the subject of much of her work.
Address: 217 Johnson Street, Santa Fe, NM 87501
Phone: 505-946-1000
Hours: June through October: Monday through Thursday from 10 a.m. to 5 p.m., Fridays from 10 a.m. to 8 p.m. November through May: closed Tuesdays.
Price: Adults, $8; students and children under 18 years old, free; Friday evenings from 5 p.m. to 8 p.m., free for everyone
The Santa Fe Children's Museum
The
Santa Fe Children's Museum
has a 16-foot climbing wall that kids can safely climb — wearing a helmet and harness, of course. There is also a horticultural garden that depicts Southwest growing conditions, complete with a greenhouse and wetlands. There are many interactive exhibits that families can take part in together.
Address: 1050 Old Pecos Trail, Santa Fe, NM 87505-2688
Phone: 800-748-2142
Hours: Open Tuesday, Wednesday and Saturday from 10 a.m. to 5 p.m.; Thursday from 10 a.m. to 6 p.m.; Friday from 9 a.m. to 5 p.m.; Sunday from noon to 5 p.m.
Price: $8 for non-resident adults, $4 for residents, $4 for children
Taos Pueblo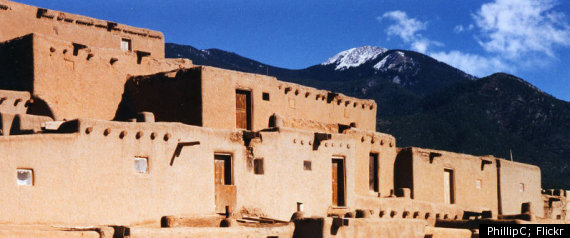 Taos Pueblo
is a living Native American community and a National Historic Landmark. It is a multi-storied adobe complex that has been inhabited for more than 1000 years. The structures that the present Tiwa Tribe members live in are stacked and look similar to Taos Mountain. Visitors are allowed to explore certain areas of the Pueblo and can sample bread made in ancient ovens among many other opportunities. There is also a casino complex nearby. Note: Photos are not permitted on feast days and permission is necessary to use certain types of professional photo equipment.
Address: Veterans Highway, Taos Pueblo, Taos, NM 87571
Phone: 575-758-1028
Hours: This is a living community so hours can vary, but it is generally open daily from 8 a.m. to 4:30 p.m. It is closed for more than a month during late winter.
Price: Adults, $10; students, $5; kids under 10 years old, free; camera fees, $6; fees for professional photographers and artists will vary.
The Rio Grande Zoo
What could be a better setting for a zoo than 64 acres along the Rio Grande River? The
Rio Grande Zoo
is a combination of a zoo, botanic garden, biological park and aquarium with natural habitat exhibits. Visitors can walk the zoo or take the Rio Line train than runs in a continuous loop around the zoo. Polar bears, koalas and sea lions with underwater viewing are the stars of the most popular exhibits.
Address: 903 10th St. SW, Albuquerque, NM 87102
Phone: 505-764-6200
Hours: Open 7 days, year-round, from 9 a.m. to 5 p.m. In the summer, open until 6 p.m., except for Wednesdays, open until 8 p.m.
Price: Zoo/Bio Park combo: Adult, $12, children 3 to 12 and seniors, $5. Free beach access.
Bien Mur Indian Market Center
This center is home to the
Sandia Pueblo's craft market
, which offers handmade treasures for sale right on their reservation. The market sells ceremonial kachina dolls, hand-woven rugs, handmade baskets, pottery and silver and turquoise jewelry. This is the real deal and is quite different from the mass-produced souvenirs travelers see everyday.
Address: 100 Bien Mur Dr. NE, Albuquerque, NM
Phone: 800-365-5400
Hours: Monday though Saturday, 9:30 a.m. to 5:30 p.m.; and Sunday, 11 a.m. to 5 p.m.
Price: Entry is free
White Sands National Monument
White Sands National Monument is 275 square miles of white gypsum sand dunes. The sand is as fine as powder and the entire environment is a sea of white. Kids often sled on it and even the plant life and creatures found in this desert landscape take on a bizarre light color. The gypsum dunes were formed by millions of years of the Sacramento and San Andres mountains' run-off, which included sandstone, limestone and gypsum.
Address: 19955 Highway 70, Alamogordo, NM 88310
Phone: 575-479-6124
Hours: Memorial Day to Labor Day: Dunes Drive is open 7 a.m. to 9 p.m. The rest of the year it is open 7 a.m. to sunset. Visitor center: 8 a.m. to 7 p.m. daily in the summer. The rest of the year: 8 a.m. to 5 p.m.
Price: Adults, $3; children 15 and under, free
What is your family's favorite New Mexico destination?
Check out more FAMILY TRAVEL GUIDES.