Family vacations in Missouri can be rewarding experiences or absolute disasters — it all depends on pre-trip homework. To make planning easier, we've done all the preparation. As part of a Huffington Post Travel series on traveling with children, here are recommended attractions for those planning Missouri family vacations.
The Gateway Arch
The Gateway Arch celebrates St. Louis's historical significance as "The Gateway to the West" as the city was once an important pioneer stop and river port. From this literal gate that stands 630 feet high, tourists can gaze upon Missouri, Illinois and the Mississippi River. For many, the highlight of the
arch
is the elevator ride up — it's not exactly a straight ride, and sideways and crooked adjustments must be made to safely arrive at the top.
Address: 1 N Leonor K Sullivan Blvd, Saint Louis, MO 63102
Phone: 877-982-1410
Hours: Early September to late May from 9:20 a.m. to 5:10 p.m.; Summer from 8:20 a.m. to 9:10 p.m.
Price: Adults, $10; children ages 3 to 15, $5; National Parks Passport, $7
The Magic House
Children can experience a hair-raising experience with a static electricity ball and visit the bubble room at
The Magic House
, a St. Louis tradition. The museum also includes an area for children under two, a climbing apparatus, an outdoor play garden and a water play area.
Address: 516 S. Kirkwood Rd., St. Louis, MO 63122
Phone: 314-822-8900
Hours: Summer hours for Monday, Tuesday, Thursday and Saturday, 9:30 a.m. to 5:30 p.m.; summer hours for Wednesdays and Fridays, 9:30 a.m. to 9 p.m.; summer Sundays, 11 a.m. to 5:30 p.m. Call for non-summer hours.
Price: All adults and children older than 1, $8.75
The Laura Ingalls Wilder Historic Home and Museum
An hour east of Springfield, Mo., is the
Laura Ingalls Wilder Home and Museum
, dedicated to the author of the famed L
ittle House on the Prairie
books. Literary fans will enjoy seeing the place where most of the books were written, as well as Laura's home and some of her belongings.
Address: 3068 Highway A, Mansfield, MO 65704
Phone: 417-924-3626
Hours: March 1 through Nov. 15: Monday through Friday from 9 a.m. to 5 p.m.; Sunday from 12:30 p.m. to 5 p.m.; Closed Easter Sunday.
Price: Adults ages 18 and over, $8; seniors, $6; children ages 6-17, $4; children under 6, free
St. Charles Oktoberfest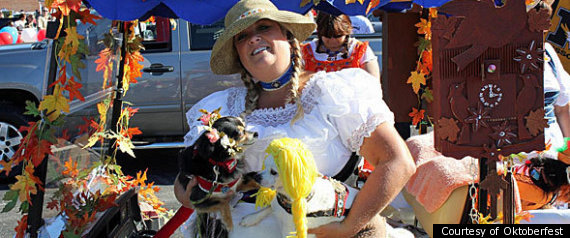 Every autumn, the historic town of St. Charles, located just outside of St. Louis, presents Oktoberfest. The festival provides activities for the entire family, including face painting, magic shows, live local and German music, a 5K run and cultural demonstrations. The local scenery on the Missouri River also provides a serene locale for those seeking to just sit back and enjoy the day with a frosty beer in hand.
Address: Frontier Park, 500 S. Riverside Dr., St. Charles, MO 63301
Phone: Missouri Division of Tourism: 573-751-4133
Hours: Exact dates vary yearly, but takes place in early October or late September. Check the website for details.
Price: Most events are free.
St. Louis Zoo
If the children are begging to see penguins, cheetahs and elephants, take them to the
St. Louis Zoo
, located in the beautiful Forest Park area of St. Louis. A petting zoo is also onsite for the kidds, and picnic areas to enjoy a home-packed lunch are located just outside the grounds.
Address: 1 Government Dr., St. Louis, MO 63110
Phone: 314-781-0900
Hours: Summer hours: Friday through Sunday from 8 a.m. to 7 p.m.; Monday through Thursday from 8 a.m to 5 p.m. After Labor Day, from 9 a.m. to 5 p.m. daily
Price: Admission to the zoo itself is free; some attractions inside the zoo do charge a fee
Harley-Davidson Plant Tour
Harley-Davidson enthusiasts will swoon over the opportunity to sit on a Harley motorcycle and see how they're made at this
Harley plant
. Visitors will see the welding process and get a look at frame-bending firsthand.
Address: 11401 N. Congress Ave., Kansas City, MO 64153
Phone: 877-883-1450
Hours: Monday through Friday from 9 a.m. to 1:30 p.m; Saturday from 10 a.m. to 2 p.m.
Price: Free; tickets are first come, first served
Silver Dollar City
Rollar coaster enthusiasts and history buffs alike will enjoy this romp into the past. An adventure park built around the theme of the days of pioneers, blacksmiths and glass blowers, Silver Dollar City is nestled in the heart of the beautiful foliage of Ozark country in Missouri. Numerous musical shows and wild water rides offer fun for all ages.
Address: 399 Silver Dollar City Parkway, Branson, MO 65616
Phone: 800-475-9370
Hours: Hours vary monthly, weekly and daily. Check the here for information
Price: Adults age 12 to 61, $55 plus tax; seniors, $53 plus tax; children ages 4 to 11, $45 plus tax; under 4, free
Have you been to Missouri? What are your favorite attractions?
Check out more FAMILY TRAVEL GUIDES.