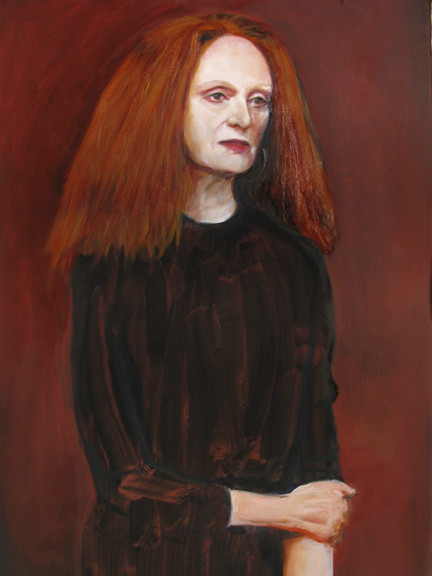 Contemporary American artist Kimberly Brooks is a painter who also works in new media. In an article last year, Brooks revealed that fashion has always been a topic of interest: "As a young girl, I thought of fashion and color as a means to make myself more attractive to the opposite sex. My grandmother once told me, 'Red and yellow, catch a fellow; pink and blue, keep him true.' My entire sense of fashion was about sexualization and objectification. I essentially wanted to make myself look pretty for the boys I had crushes on." As she matured past the bright colors of her tweenage years, through the grungy San Francisco days of wearing GAP and all black, Brooks has now rediscovered her love for fashion. Her recent work, a series of paintings of stylists, took her deep into the world of fashion, showing the beautiful people behind the scenes like Janie Bryant and Grace Coddington.
Take a look through her "The Stylist Project," which includes paintings of Arianne Phillips, Rachel Zoe, Jamie Bryant and more:
Kimberly Brooks has a new show opening at Taylor De Cordoba Gallery called "Thread" at Taylor De Cordoba in Culver City. If you are interested in attending the opening please submit your email to www.kimberlybrooks.com.
Full disclosure: In addition to simply being one of our favorite painters, Kimberly Brooks is an Arts Editor at the Huffington Post.