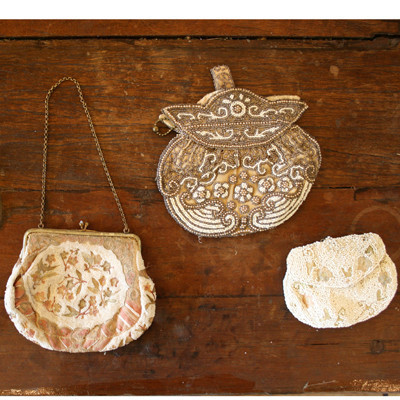 Photo by Bobby Doherty
Most closet spaces are usually filled with items that fit into our current lives - some of which should have never really been there in the first place. There are some things however, that totally deserve their rightful spot in your special haven. Not to be missed are the clothes and accessories we hold on to from the past — a beaded handbag passed down from your mother, a 1970's crochet dress from your grandmother, a worn leather belt or watch from your grandfather. These treasures are not only items that make or break an outfit, but tell a story, whether blissful or heartbreaking.
This week, we've asked jewelry designer Melissa Joy Manning, known for her earthy, eclectic gems, to share her grandmother's collection of delicate evening bags with us. We visited her studio to find out how they inspire her and why they are some of her most prized possessions.
Tell us a bit about your grandmother.
She was from practical and stoic Arkansas farm stock and never went anywhere fancy...so imagine my family's surprise when they found a stash of exquisite bags she had collected over her life at flea markets and various travels. No one knew she had them- not my grandfather, her daughters, not anyone. I can imagine them being her special secret, looking at them and dreaming of another life. When they were eventually found I was lucky enough to inherit them.
What do these handbags mean to you?
To me, the bags are symbolic of the changing times of women. I imagine my grandmother collected them as an escape from her daily existence of farm chores and isolation. To acquire such exquisite (and needless) bags were a form of fantasy for her. The fact that she hid them away, just as she hid her dreams of another life, indicated that, on some level, she felt trapped by the limited opportunities life afforded her. As a modern artist who travels the world, I often think of my grandmother's life of limited choices and feel immensely grateful that our society has come so far. Unlike my grandmother, I am free to be who I want and pursue my dreams- and I will never have to hide them.
Do you have anything that you collect and would eventually like to pass down?
I collect sculpture, mostly 1970's electro-formed metal and some modern, designer jewelry from contemporaries like Lucifer Vir Honestus, illustrations by Don Carney, and, of course, rocks-loads and loads of rocks! All of these things are special to me, maybe just as special as my Grandmother's bags, and I would love nothing more than to see them passed down to another generation, so that they really do last forever.
Check out our gallery below to see the rest of Melissa's elegant handbags.