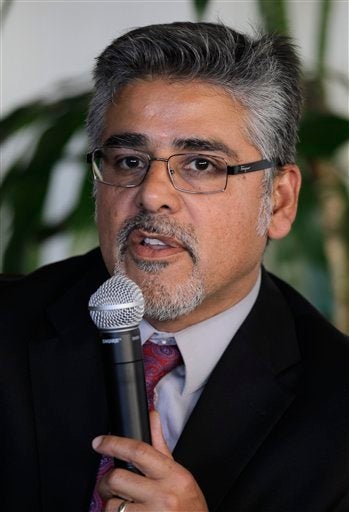 The San Francisco Democratic Central Campaign Committee, the organization in charge of the city's Democratic Party, issued its endorsements on Wednesday and the results are sure to turn some of the city's highest profile races upside down.
Instead of endorsing favored incumbents Mayor Ed Lee and District Attorney George Gascón for reelection, the party gave its blessing to the progressive candidates in each race—Supervisor John Avalos for mayor and former Police Commissioner David Onek for District Attorney.
Supervisor Ross Mirkarimi was given the nod over former Police Officers Association President Chris Cunnie to replace long-time Sheriff Michael Hennessey, who is retiring this year after 31 years on the job.
While Mirkarimi, who is about to be termed out of his position on the Board of Supervisors, has Hennessey's support, Cunnie, who just entered the race last month, came in with a strong list of party bigwigs behind him, including Lieutenant Governor Gavin Newsom and Attorney General Kamala Harris.
The DCCC consists of 12 elected members from each of San Francisco's two state Assembly districts as well as a representative for each statewide elected official who is registered to vote in San Francisco. That means Senator Dianne Feinstein, House Minority Leader Nancy Pelosi and California Attorney General Kamala Harris all have a say in the local proceedings (as did Lt. Gov. Gavin Newsom until he moved to Marin).

In order to win the endorsement, a candidate needed a majority of votes from the 32-member body, some of whom abstained from the proceedings (or, in the case of Pelosi's rep, some of whom did not show up).
Voting was held in two rounds because no member received enough votes to cross the mandated threshold on the first pass. Each member of the committee was able to pick their first, second and third choices in a nod to San Francisco's ranked choice voting model.
Between the first and second rounds, party stalwart Jane Morrisson, National Women's Political Caucus President Alix Rosenthal and Supervisor Eric Mar switched their first place endorsements from Board of Supervisors President David Chiu to Avalos and former District Attorney Arlo Smith switched his vote from Chiu to "no endorsement."
While preventing this exodus from Chiu wouldn't have been enough to tip the scales in Chiu's favor, it's interesting because, as a voting members of the committee, both Chiu and Avalos were in the room when it all happened.
At the end of the second round of voting, Avalos had more than three times the number of votes as his closest competitor.
The votes for second place were even more lopsided, with a majority of Avalos supporters putting Herrera in their second spots and nearly all the rest declining to endorse anyone. The only other candidate to even get a single vote for second place was State Senator Leeland Yee. Yee received the most votes of any candidate for third place; however, he got significantly fewer votes than did "no endorsement," which is why the committee only endorsed two mayoral candidates out of the possible three.
The only other candidates to receive any votes were Lee and Supervisor Bevan Dufty.
"This is like the big enchilada," Avalos told the San Francisco Chronicle after the vote. "It's a very important endorsement and can have the most influence in elections."
Voting in the District Attorney race was similarly lopsided with Onek far out in front, although second place finisher Sharmin Bock had nearly three times as many votes as presumptive front-runner Gascón.
Bill Fazio, who repeatedly failed in his attempts to become the city's District Attorney, cheekily wrote in himself for the position even though he isn't actually running.
The committee also favored the pension reform bill supported by Lee over the one proposed by public defender and newly-minted mayoral candidate Jeff Adachi. Supervisor Scott Weiner's measure allowing the Board of Supervisors to amend or repeal measures approved by voters did not receive the party's support.
While the Democratic Party's endorsement is highly sought after in an essentially one-party town like San Francisco, being the party's favored choice isn't always a surefire road to victory. Beyond Chron reports:
The San Francisco Democratic Party is the most closely watched and fiercely contested endorsement vote in local politics. In June 2008, progressives won enough seats on the DCCC to endorse their slate of local candidates. With voters turning out for Obama that November, they parlayed that to sweep the 3 toughest races for Supervisor. After that election, it was obvious how important the official Democratic Party endorsement was in affecting local outcomes.

In 2010, however, the DCCC's progressive majority again endorsed a slate of local candidates – Janet Reilly for District 2, Debra Walker for District 6, Rafael Mandelman for District 8 and DeWitt Lacy for District 10. Despite the Democratic Party endorsement, all four of them lost. But those who crow about last year's results are mistaken if they think DCCC backing is a liability. It's better to have the Democratic Party endorsement in San Francisco than not.