Family vacations in Arkansas can be rewarding experiences or absolute disasters — it all depends on pre-trip homework. To make planning easier, we've done all the preparation. As part of a Huffington Post Travel series on traveling with children, here are answers to some frequently asked questions about Arkansas family vacations.
Arkansas State Capitol Complex
The
Arkansas State Capitol Complex
is the center of all government activities in the state. When touring this large, beautiful building, visitors will notice the homage to one of Arkansas' own — former governor and 42nd President of the United States, Bill Clinton, whose portrait hangs prominently near the entrance. When the Arkansas State Assembly is not in session, visitors can walk through the senate and house chambers where the 35 lawmakers usually legislate. Visitors can also explore the halls where prominent lawmakers and politicians once sat.
Address: 425 W. Capitol Ave., Ste. 1620, Little Rock, AR 72201
Phone: 501-324-8900
Hours: Monday through Friday from 7 a.m. to 5 p.m.; Saturday and Sunday from 10 a.m. to 3 p.m.
Price: Free
Magic Springs & Crystal Falls
Magic Springs
is an amusement and water park all in one. There are rides for visitors of all ages, ranging from the 150-foot-tall corkscrew X-Coaster for thrill seekers to the Kit 'n Kaboodle Express for the litte ones. Summer kicks off the park's entertainment concert series where popular music acts perform at no extra charge. Visitors can explore the park via the antique gas-powered cars of the Ozark Taxi Company. Both parks offer a V.I.P. package at an additional cost that includes private cabanas and front-of-the-line privileges.
Address: 1701 E. Grand Ave., Hot Springs, AR 71901
Phone: 501-624-0100
Hours: Hours and days vary throughout the season
Price: General admission, $44.99; seniors ages 50 and older, $29.99; under 48 inches, $29.99
The Children's Museum Of Northwest Arkansas
Located in the hometown of mega-super chain Wal-Mart,
The Children's Museum of Northwest Arkansas
is an initiative by a group of educators and business owners to provide a first-class museum that is both educational and fun. Providing an interactive environment for all its visitors, the museum offers unique experiences. Families are encouraged to get their hands dirty with some of the exhibits, and clean up with others. From dirt to bubbles, the museum is sure to leave a lifetime of memories for each visitor.
Address: 902 A S. Walton Blvd., Ste. 1 PMB 289, Bentonville, AR 72712
Phone: 479-696-9280
Hours: 10 a.m. to 6 p.m., Monday through Saturday
Price: Free
Beaver Lake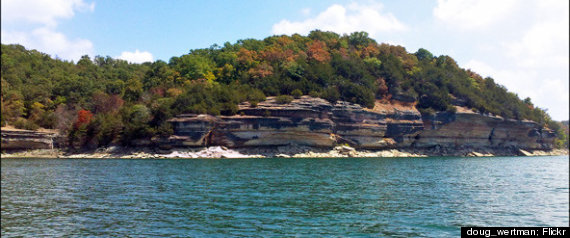 Beaver Lake sits in northwest Arkansas' Ozark Mountain Region. The lake offers beach-goers and fishing lovers an abundance of fun. The lake itself is over 28,000 acres wide and packed with smallmouth and largemouth bass, striped bass, crappie, bream and catfish. There are picnic shelters, boat launches, swimming and an amphitheater for visitors to enjoy. Swimmers and beach-goers have 487 miles of shoreline to relax and enjoy making memories.
Address: 2260 N. Second St., Rogers, AR 72756
Phone: 479-636-1210
Hours: daily, year-round
Price: Free
Arkansas Museum Of Art
Arkansas Museum of Art
is a multiplex which cannot be fully appreciated in one day. It hosts a children's museum, theatre and school where visitors can learn more about the arts on exhibit. The museum also boasts a restaurant as well as free parking.
Address: 501 E. Ninth St., Little Rock, AR 72202
Phone: 501-372-4000
Hours: Tuesday through Saturday from 10 a.m. to 5 p.m.; Sunday from 11 a.m. to 5 p.m.
Price: Free
Turpentine Creek Wildlife Refuge
Turpentine Creek Wildlife Refuge is home to the big cat rescue of Arkansas. Tours and feeding time is the main draw to this exotic cat refuge center. Visitors can experience the power and intensity of the cats up close — hear the screams of the cougar, growling of the tigers, and roaring of the mighty lions. Watching these large cats consume their food is a must-see event. Guided tours are available where guests are educated on the big cats' habits as well as the purpose behind the refuge. Visitors can watch the cats play as if they were in the wild.
Address: 239 Turpentine Creek Lane, Eureka Springs, AR 72632-9185
Phone: 479-253-5841
Hours: 9 a.m to 6 p.m. daily
Price: Children under 3, free; children ages 3 to 12, $10; general admission, $15; seniors, $10; veterans, $10
Have you been to Arkansas? What are your favorite attractions?
CHECK OUT MORE FAMILY TRAVEL GUIDES.