Family vacations in Omaha can be rewarding experiences or absolute disasters — it all depends on pre-trip homework. To make planning easier, we've done all the preparation. As part of a Huffington Post Travel series on traveling with children, here are answers to some frequently asked questions about Omaha family vacations.
The Henry Doorly Zoo
Families can visit the jungle and the desert in the same day at Omaha's
Henry Doorly Zoo
, which boasts an interactive gorilla exhibit and a 13-story desert dome. The indoor-outdoor Hubbard Gorilla Valley habitat even has pop-up bubbles so kids can get up-close and personal with the gorillas who roam free. The
Desert Dome
exhibit brings the deserts of the Southwest U.S., southern Africa and Australia to Omaha. It features indigenous plant and animal life in a desert landscape inside a 13-story glazed geodesic dome spanning an acre.
Address: 3701 S. 10th St., Omaha, NE 68107
Phone: 402-444-4750
Hours: March 1 through October 31, 9 a.m. to 5 p.m.; November 1 through February 28, 10 a.m. to 4 p.m.; open year-round daily, except Thanksgiving and Christmas
Price: Kids under 2 are free; children ages 3 through 11, $9; adults ages 12 and over, $13.50; seniors ages 62 and over, $12
Omaha's Old Market
The
Old Market
in downtown Omaha is a restored warehouse district in downtown Omaha filled with historic architecture, brick streets, galleries, coffee shops, restaurants, pubs and one-of-a-kind shops. Visitors can wander through this cultural hub in search of antiques, art, candy or an outdoor cafe.
Ted and Wally's Ice Cream
is a popular spot and the street musicians keep locals and vacationers entertained.
Address: 1000 Howard St., Omaha, NE 68107
Phone: 402-341-7151
Hours: Open all year every day. Hours vary by type of business.
Price: Free
Durham Museum
Housed in a beautifully restored Art Deco train station, the
Durham Museum
highlights Nebraska's culture, history, science and industry. At the Baright Home and Family Gallery, visitors can see a 1915 storefront grocery store and reproduced workers' cottages, highlighting typical housing of blue collar workers in Nebraska from the 1880s to 1915. The O-scale model train set and a fully operating soda fountain are two popular attractions.
Address: 801 South 10th St., Omaha, NE 68108 (in the Old Market district)
Phone: 402-444-5071
Hours: Sunday from 1 p.m. to 5 p.m.; Monday closed; (summer hours: June through August, the Durham is also open Monday, 10 a.m. to 5 p.m.); Tuesday from 10 a.m. to 8 p.m.; Wednesday through Saturday from 10 a.m. to 5 p.m.; closed major holidays
Price: Adults, $7 ; children ages 3 to 12, $5; seniors ages 62 and over $6
Cabela's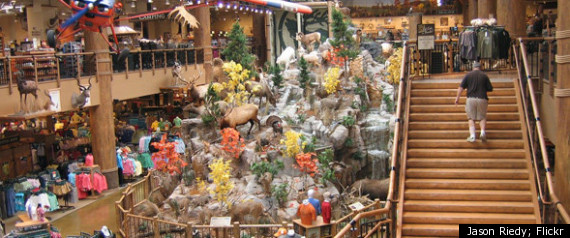 With one look at this outdoor retail store's mammoth parking lot filled with buses, RVs and cars, visitors can see that it's a destination for families on vacation. Not everyone goes to
Cabela's
for their wild boar, bison and elk sandwiches, but gazing at the trophy animal displays and large aquariums are a must. Whether visitors are into boating, camping, fishing, hunting, hiking or just want to know how to make beef jerky, this is the place. It's located in the Omaha suburb of La Vista.
Address: 12703 Westport Parkway, La Vista, NE 68128
Phone: 402-861-4800
Hours: Monday through Friday from 9 a.m. to 9 p.m.; Saturday from 8 a.m. to 9 p.m.; Sunday from 10 a.m. to 6 p.m.
Price: Free entry
Omaha Children's Museum
The
Omaha Children's Museum
is all about hands-on activities and exhibits. From a science and tech center bubble show to Sandy's Splish Splash Garden and an Imagination Playground, the 45,000-square-foot museum caters to any child looking for fun. A popular exhibit is Recollection, where a projector puts kids' image on a large screen surrounded by high-definition patterns and color.
Address: 500 South 20th St., Omaha, NE 68102
Phone: 402-342-6164
Hours: From Memorial Day to Labor Day: Tuesday through Friday from 10 a.m. to 5 p.m.; Thursday, open until 8 p.m.; Saturday from 9 a.m. to 5 p.m.; Sunday from 1 p.m. to 5 p.m. Winter hours: Tuesday through Friday, closes at 4 p.m. Closed on Mondays and major holidays.
Price: Kids under 2 free; kids ages 2 to 15, $8; adults, $8; adults ages 60 and over, $7
The Amazing Pizza Machine
Don't let the name fool you.
The Amazing Pizza Machine
is not really a giant pizza machine but a 60,000-square-foot family entertainment center that churns out pizza, games, wild rides, bumper cars, go-carts, glo-golf, mini-bowling, movies, cartoons, themed dining rooms and a buffet. It's big, it's loud and based on the large daily crowds of locals and vacationers that visit, it's safe to say it's fun, too.
Address: 13955 South Plaza, Omaha, NE 68137-2916
Phone: 402-829-1777
Hours: Monday through Friday and Sunday from 11 a.m. to 8 p.m.; Saturday from 10:30 a.m. to 10 p.m.
Price: The buffet price is your admission; adults, $8.79; kids ages 8 to 12, $5.49; kids ages 3 to 7, $4.99; kids under 3, free. All rides, games require the purchase of additional tickets.
Jazz On The Green In Turner Park
Who doesn't like music in an outdoor setting? Jazz on the Green in Turner Park in Omaha is a popular music venue for locals and family vacationers alike. The concert series is for jazz lovers who know a good saxophone when they hear one. Concertgoers bring their own chairs and blankets for lounging. Jazz groups featured are both local and from around the state.
Address: 3110 Farnam St., Omaha, NE 68131
Phone: 402-342-3300
Hours: Jazz on the Green runs from July 7 to August 11. It is held on Thursday evenings at 7 p.m.
Price: Free
What's your family's favorite Omaha destination?
Photo: akasped/Flickr
CHECK OUT MORE FAMILY TRAVEL GUIDES.