A magnitude 5.8 earthquake struck in Virginia on Tuesday afternoon, with tremors felt as far away as New York City, Washington D.C., North Carolina and Ohio, CNN and the USGS report.
The Associated Press reports that the epicenter was in Mineral, Va., northwest of Richmond, and was 3.7 miles deep.
No injuries have have been reported, according to the Associated Press.
WABC-TV reported on its Twitter feed that as a precaution, the control towers at John F. Kennedy International Airport and at Newark Liberty International Airport were evacuated.
According to Reuters, the Port Authority is reporting that as of 3:03 P.M. EST, flights at both airports have resumed.
In a statement, the Federal Emergency Management Agency (FEMA) asked that people use text messages rather than make phone calls as cellular networks in Washington, D.C. and New York are reportedly congested.
Governor Andrew M. Cuomo said in a statement that the Indian Point nuclear power plant has not been damaged:
The State Office of Emergency Management continues to monitor effects in New York State from the earthquake that originated in Virginia this afternoon.

Currently, there have been no reports of damage to buildings, bridges, roads, power grids, the Indian Point nuclear power plant, or other infrastructure.
In March, Gov. Cuomo called for Indian Point to be closed after a report from the Union of Concerned Scientists said the plant had engineering vulnerabilities. Indian Point is about 24 miles north of The Bronx.
New York Mayor Michael R. Bloomberg said in a statement that "there are no reports of significant damage or injuries in New York City at this time."
From Mayor Bloomberg's statement:
"Like people up and down the East Coast, New Yorkers across the five boroughs felt the effect of this afternoon's earthquake in Virginia. I've spoken with our Police and Fire Commissioners, and we've activated the Office of Emergency Management's Situation Room and spoken to other city agencies, including the Department of Buildings. Thankfully, there are no reports of significant damage or injuries in New York City at this time. As ever, we urge New Yorkers to call 911 only in cases of actual emergencies."

"Shortly before 2:00 PM, we evacuated City Hall briefly, but quickly returned to work. As we await more news from Virginia and elsewhere, our thoughts in New York are with those who were more directly affected by this natural disaster."
There was a partial chimney collapse at one of the buildings in the Red Hook West Houses, a public housing development in Brooklyn, the mayor said at a press conference on Tuesday afternoon. There were no injuries reported, and the building was deemed safe for re-entry after the city's engineers inspected it.
Mayor Bloomberg also said that the subway did not experience any delays. He also reported a large spike in calls to 311 and 911 directly following the tremor.
Cy Vance, the Manhattan district attorney, was interrupted while he was giving a press conference about the Dominique Strauss Kahn case.
WATCH: Vance press conference interrupted by earthquake:
In February, Won-Young Kim, a seismologist at Columbia University, said that New York City is long overdue for an earthquake.
Earthquake ShakeMap showing the tremor's epicenter, via USGS: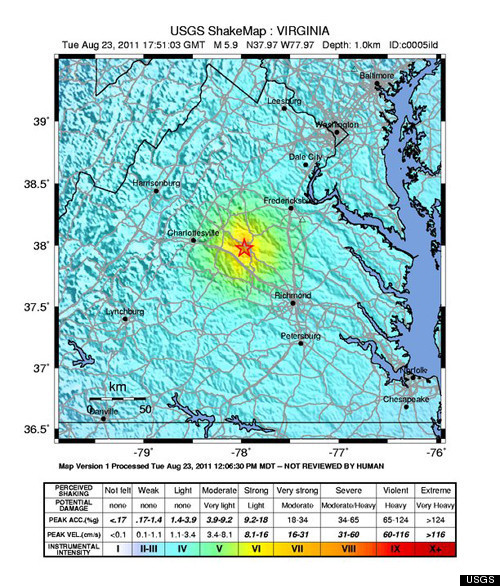 For the latest on the Virginia earthquake, check out HuffPost's live blog:
10/12/2011 11:06 AM EDT
Tessa Jowell says She Is Certain Ed Miliband Will Ask About The Economy
:
On BBC 2's The Daily Politics
10/12/2011 11:00 AM EDT
Test post with big content
:
WASHINGTON — House Republicans rolled out their plan to fund disaster relief in Majority Leader Eric Cantor's (R-Va.) district, but at the cost of almost half of remaining loans set aside to help the American auto industry. Included in their plan for a continuing resolution to fund the government past Sept. 30 is a provision to cut $1.5 billion of the $3.4 billion in remaining funds for low-cost loans — sometimes referred to as "Section 136 loans." The money would be reused to pay for aid to states as they clean up after recent natural disasters like Hurricane Irene and the rare east coast earthquake — both of which greatly affected Cantor's Virginia district. The cost of disaster assistance is usually added to the budget deficit instead of offset with cuts. Democrats and an auto industry expert warn the funds Cantor picked to pay for disaster aid is currently supporting a successful program that has pulled manufacturing jobs back from other countries and helped keep the industry alive around the eastern Midwest. Taking the money away would jeopardize that program. "We absolutely need to fund disaster recovery assistance in Eric Cantor's district and all areas affected by Hurricane Irene and the recent earthquake, but that doesn't make it ok to kill American manufacturing jobs," Rep. Gary Peters (D-Mich.) said in a statement to The Huffington Post. "The Greater Detroit area that I represent has been hit the hardest by the recession and I strongly oppose the Republican plan to kill our jobs and delay our recovery."
10/12/2011 10:47 AM EDT
Auto post #2
:
Test text for Dmitry with html
10/12/2011 10:47 AM EDT
Labour Have Released A Statement On The Economy After Clegg's Speech
:
Nick Clegg says that the Government is not going to sit on its hands while the economy falters, but that is exactly what he and George Osborne are doing." Shadow Chief Secretary to the Treasury Angela Knight Said.
08/23/2011 10:35 PM EDT
Closer look at Cathedral damage
The Atlantic has posted new photos of damage done to the Washington National Cathedral in today's earthquake, including fallen statues and damaged spires. The photos can be found here.
08/23/2011 9:31 PM EDT
Washington Monument is cracked
08/23/2011 8:12 PM EDT
4.2-Magnitude Aftershock In Virginia
According to USGS, preliminary 4.2-magnitude aftershock in Mineral, Virginia
08/23/2011 8:11 PM EDT
Aftershock In Mineral, VA
08/23/2011 8:10 PM EDT
Another Aftershock Reported
| | |
| --- | --- |
| | @ jdickerson : Quake just hit again. Kids furious they've missed it twice This time they were jumping around house-- couldn't distinguish. |
08/23/2011 8:06 PM EDT
'I Felt The Whole House Coming In From Underneath Me'
HuffPost's Christina Wilke reports:
MINERAL, Va. -- Residents of this small town in Central Virginia's farming county began repairing the damage to their homes and businesses Tuesday after an earthquake struck their close-knit community. The quake measured 5.8 on the Richter scale, a force not seen in this part of the country in more than a century.
"I felt the whole house coming in from underneath me, and everything flew off the shelves," said Dot Payne, a lifelong resident of Mineral. "It felt like it lasted forever, but it was probably only 40 seconds."