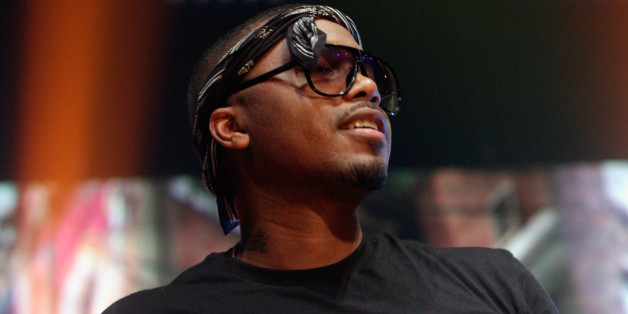 As one of hip-hop's most influential and prolific MCs, Nas (born Nasir bin Olu Dara Jones) has always defined the genre more than it has defined him. Seventeen years since his classic 1994 debut, "Illmatic," the Queensbridge, New York, native is gearing up to release his latest offering, "Life Is Good," which he plans to have out by the end of the year.
In a recent interview with The Huffington Post, Nas discussed his latest philanthropic efforts as part of UNICEF's "Month of Giving" and their support of children in Somalia, as well as his new music, fatherhood and marriage. [Warning: Some explicit language.]
Can you speak on your involvement with UNICEF's "Month of Giving" and what inspired you to reach out to them?
I'm all about what they're all about, I'm happy to work with reputable people. I reached out to them and the immediate concern was the heart of Africa, because it was just everywhere about how bad it had got ... So that was like the first thing. It was like a no-brainer. Just go over there.
So are you planning on physically going over there?
Nah, I've been there before. There's enough people going out there already. I don't think they need myself, Nasir Jones, going out there. I don't see it at this moment of time. But if in the near future ... you know, when something that happens just grabs you and you just got to go there because you can't go to sleep. But at this point, I don't see what I can do physically.
How was it to reunite with DJ Premier, Pete Rock and AZ during the kick off of this year's annual "Rock the Bells" concert in California?
Oh my god, it was crazy! I couldn't help but feel like the moment was just on a timeless space. I felt honored to be there, and I also felt good for the audience to see an album that came out before most of them were born. And the way they tuned into the different cultures, Pete Rock, AZ, and (DJ) Premier. I was just blown away.
A few days ago AZ tweeted a picture of you, your brother Jungle, and himself in the studio. Have you guys completed any material?
Me and A definitely hit the studio, even when we're in New York. While me and him were planning this tour, that just made us start building. Just recently we've been messing around with ideas here and there, so we're just getting started.
From my recollection, the last song that you guys released was "Serious" in 2004. Are you working on a collaborative album?
You know, we were talking about it. And like I said, it's just ideas. We're just putting down little ideas here and there. Nothing is set in stone. We don't know yet. We're just dipping the brushes in the paint right now to see what we want to do.
Do you plan on having AZ or anyone else featured on the new album?
I'm knee-deep into the album now. I definitely have some spaces for some guests. It just has to be right for the track, or whatever. It just got to sound right. So whatever happens, it'll be for the best. I have some pretty good ideas as to who I want to put on certain songs. So we just have to see if some of these dudes will be with it, if they have time to do it, or whatever. We'll see what happens.
The title of the album was originally Life Is Good, but you've since said that you were thinking about changing it.
Yeah, when I first initially said it, of course it came as a shock to some of the people around me. Actually it was just one person around me. Jungle is pro-Life Is Good. He's one of the main riders for that title, along with everybody else. It was really just one dude, but everybody else overstand [sic] it. Life Is Good -- there's nothing better than that. There's nothing touching that. And that's real.
Outside of No I.D., what other producers have you reached out to?
It's all about who got it. I'm not reaching out to any specific person, really. I did reach out to No I.D. But other than that, people already know that we want to work together. Almost every producer in the game, I had a conversation with. We're just going to see what fits, what makes a marriage together.
A few weeks ago you shot the video for your current single, "Nasty," out in Queensbridge. When are you planning on releasing the video?
That's coming ASAP. It's going to be a little something to hang out there for the people while I get ready for the next one to drop. That should be out any day now. I think maybe a week from now. Hopefully before my New York show on September 3.
In terms of style, you have always been one of the very few rappers to have your own distinct look. Who would you consider to be some of your old-school hip-hop fashion muses?
Slick Rick, Eric B. & Rakim -- I mean, all of them. Some of the people in hip-hop think that the look isn't important. To me, the look is almost 60 percent of killing it out here, because the look is everything. So I think of Run-DMC and EPMD, with the bucket hats. The Dapper Dan sh*t, that was out. Heavy D kept it fly. LL (Cool J) was super on top of his A-game with the super-crispy fly sh*t. And even NWA, they came in with their sh*t that introduced us to how they do it in Watts, South Central and Compton. So the look is everything, man. If you sound amazing and you look like a burger, I don't care what's coming out your mouth, you're a cornfield! Especially on your debut (album), when you first come out. Your look reflects what's happening in your mind. You gotta have some swag to you.
In 2011, what's the one essential fashion staple that you need before you hit the stage or a night out on the town?
The illest thing about that is, I got a birthday coming up and I was thinking do I want to go out and celebrate or do I want to just chill at home. And if I celebrate, what kind of celebration? Party, dinner, what are we doing? So I was kind of thinking about if I did go out on my birthday how to do that. I mean it's different ways to go about it. I don't really go that hard to do anything special. It's just find things that look good on you. That feel-good, quality stuff that really just lay on you right. And it's about your movement when you're wearing it. So it doesn't matter: Whatever I put on, it's probably some sh*t that's hard to find. Or some of it is probably vintage, or some of it is right there in an everyday store where everybody can find it. So it's all about how you put it on, how you lay it together.
Being the father of two children, can you talk about the importance of fatherhood?
All fatherhood is very important because single mothers shouldn't have to raise sons or daughters, they need that help. A lot of times, men may feel like the baby mother is so crazy, "I can't deal with her, I'm going to let it all go." I've been through it. Or they're playing games with the kids, or whatever. But you know what, you gotta be that man. You gotta be that man for those kids, and even for the crazy baby mother --- speaking for all the people out there with the crazy baby mothers. You just gotta do what you gotta do. Just because they're crazy, that don't got sh*t to do with what's going on with your life and you keeping the lights on. And you doing what you gotta do every day. So you gotta do what you gotta do as a man, don't make excuses.
Any advice for the married folk, or the people who are considering it?
No, and don't take anyone's advice, that's what you do. Everyone has their own walk, everyone's relationship is different. But don't take too much advice, even from a parent sometimes. You know, weed it out and see what stuff makes sense to you. But no, I don't have any advice. I think marriage is a beautiful thing. I'm still a supporter of it.
Any other upcoming projects or films?
As far as movies, I've always been a film fan. So yeah, I can see that in the works. I touched on the movie thing a little bit but never really gave it a lot of me. I'm feeling it more these days, getting back into it a little something. I did a small scene on a TV show ("Hawaii Five-0") and it got me open again and excited, so I'm looking forward to that.
For more information on how to contribute to UNICEF's "Month of Giving" and the efforts to help the citizens of Somalia and the families near the Kenya-Somalia border, please visit their official site.