Sleeping Beauty and company will be moving to a new Disneyland hangout. Come 2013, the princesses will have their own storybook village, dubbed Fantasy Faire, to call home.
The princesses have been holding their meet-and-greets in the Fantasyland Theatre since 2006. Construction is expected to begin this fall on the re-imagined princess experience built up around this venue.
According to Disney's official blog, guests will be transported to a village square surrounded by fairytale cottages and pavilions. At the heart of the square will be Tangled Tower, inspired by the Disney film. Visitors will be invited to participate in a daily Royal Ribbon Parade around this tower maypole.
In the medieval village, a Fairy Tale Hall will serve as a meet-and-greet and autograph location for the bevy of beautiful princesses.
The new themed land will reside in a corner of the park that houses the Carnation Plaza Gardens Stage, next to Sleeping Beauty Castle, reports the Los Angeles Times. The theater hosts big band orchestras and swing dancers on the weekends. This is expected to continue after Fantasy Faire opens.
Walt Disney World in Florida is also revamping its fantasy experience, with an expanded Fantasyland set to open in phases beginning late 2012. It will feature Princess Fairytale Hall, where the princesses will be receiving autograph seekers in a royal court.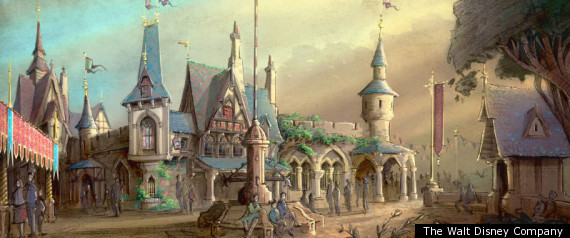 Artist's rendering of the new Fantasy Faire.