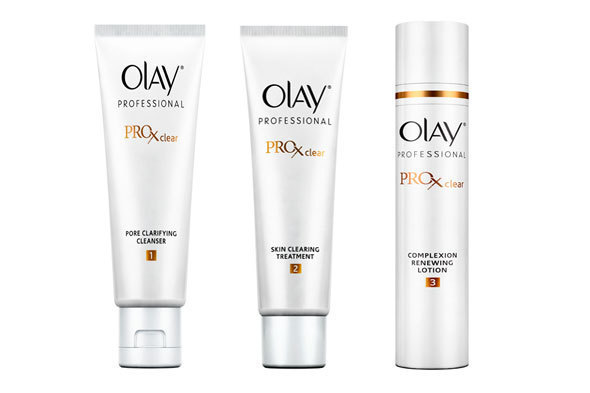 Olay Professional Pro-X Clear Acne Protocol. Courtesy Photo.
When you're well beyond your zit-filled, teenage years, acne is downright embarrassing.
Thankfully, Olay understands your frustration and has designed a new line, Olay Professional Pro-X Clear, that addresses the skin care needs of women over 18. The Acne Protocol kit ($42) includes a clarifying cleanser, clearing treatment and renewing lotion that works to zero in on pimples and reduce the appearance of enlarged pores.
While spot treatment is a popular way to address blemishes, New York City-based dermatologist Dr. Diane Berson, recommends treating the entire infected area to prevent future breakouts and hyperpigmentation.
She adds, "Don't go and chase a pimple because you will ignore what's brewing next door."
Dr. Berson encourages her clients to use this 3-step daily system because traditional over-the-counter acne medications are for adolescent skin, which tends to be much more oily. With it's non-comedogenic and oil-free formula, Olay Pro-X Clear's regimen treats acne withstanding "barrier issues that arise when getting older" like slower skin turnover, hormonal fluctuations and aged appearance.
Do you suffer from adult acne? What do you look for in breakout care?
Tell us in the comments section below and check out how a new skin tone perfecting serum improved our beauty editor's complexion.