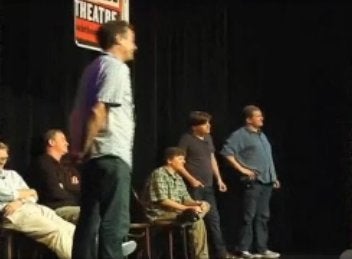 On Sunday, August 14, during the Del Close Marathon in New York City, an audience member, identified as Eric Angell, told an anecdote during the show ASSSSCAT 3000 that many have perceived as a public admission of sexual assault.
After a lengthy description of the performance was provided by blogger Poupak Sepehri, a firestorm of controversy has erupted, from rape accusations to condemnation of the performers for not outright denouncing the monologist's actions.
At the August 14 show, an audience member volunteered to share an anecdote, traditionally expected to be humorous. According to Sepehri's account, Angell, a cook and host at Second City in Chicago, described an encounter he had with a female customer who expressed interest in one of the waiters at the theater. The waiter was uninterested, but passed along the woman's number to Angell, who traveled to the customer's hotel. Upon his arrival, the customer asked him to leave, but Angell insisted on remaining, despite the woman's plea for Angell to leave her room. Angell had sex with the woman, who, in his words, "just lied on her back and I did my work." This declaration prompted widespread audience booing.
Samantha Pitchel, an audience member, told The Huffington Post:
At first, everyone was kind of just rolling with it. The guy wasn't the most compelling storyteller, but an auditorium filled with mostly comedians can empathize with awkwardness -- even the first time he said, '...then, she asked me to leave,' we still hoped there'd be some absurd twist.
As the story proceeded, the improv cast, which included original UCB members Matt Besser, Ian Roberts and Horatio Sanz, as well as Andrew Daly, Kevin Dorff, Chad Carter and Michael Delaney, frequently made jokes that appeared to be attempts at diffusing. "There's not a woman in the theater who could resist you right now," Roberts sarcastically interjected at one point.
The intermission came shortly after, and people immediately started whispering about it and tweeting "Well, that happened" sort of stuff -- the #DCM13 tag blew up for a bit. I was a little surprised that nobody approached the guy, who was just sitting there joking around with his friends. He was also wandering around the after party, later, and looked like he was having a great time.
ASSSSCAT 3000 is a long-running improvisational comedy show at the Upright Citizens Brigade in which a monologist tells a story that improvisers use as fodder to develop short, humorous extemporaneous scenes. The show is considered UCB's flagship and one of the most high-quality demonstrations of improvisational comedy in America. Its alum include UCB co-founder Amy Poehler as well as Tina Fey, Andy Richter and numerous other comedy masters.
WATCH: (Warning, graphic content. The offending monologue begins at 38 minutes.)