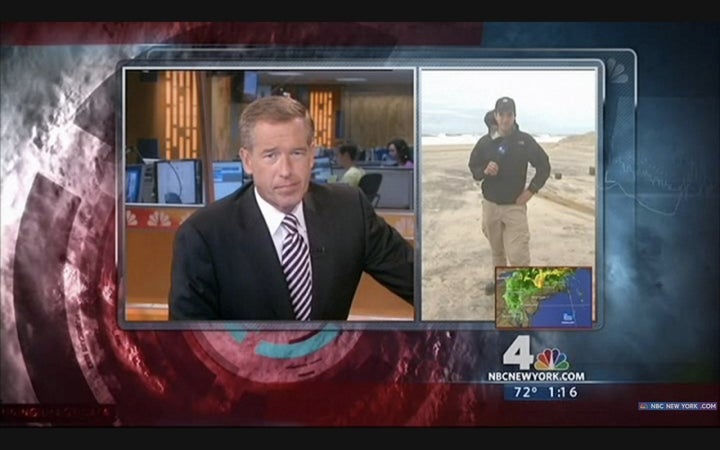 Amid all the bizarre images given to us by Hurricane Irene, here's one for the media-obsessed: Brian Williams anchoring the local news.
The NBC "Nightly News" host had to skip his vacation this weekend to lead the network's Irene coverage. He stayed busy at it and, on Sunday alone, anchored WNBC in New York, a cable-news hour on MSNBC, an NBC special report for President Obama's remarks at 5 p.m., the NBC "Nightly News" and a halftime weather update during the NFL preseason game between the New Orleans Saints and the Oakland Raiders.
"The best way to keep my mind off of the churning surf while it was chewing up my beloved Jersey Shore," Williams told The Huffington Post, "was to keep working."
Williams was an anchor and reporter for the CBS New York affiliate early in his career and said he volunteered to do the hour on NBC's New York affiliate to give the local anchors a break.
"It was a blast doing storm coverage in a newsroom where I know the reporters, and a place where I already know the geography and terminology," he said.
He seemed to be having fun all day. His time on MSNBC was notably relaxed -- he called Ray Kelly, the New York police chief, "that sleep-deprived Irishman in a polo shirt" and at one point read Twitter messages about delivering pizzas written by Newark Mayor Cory Booker, whom he called a "Twitter action figure."
Still, Williams said he likes to be in the thick of the storm, not just in the studio.
"What an odd, excruciating irony of these past few days," he told HuffPost. "I normally travel to every major hurricane. The one time a hurricane comes to me, and I'm trapped in the studio. All of my rain gear is hanging in my office, and now it will go home dry."
At least it will go home, though. Williams spent Saturday night at the office, after boarding up his house on the Jersey Shore on Friday and driving into the city at about 3 a.m. Saturday.
WATCH Brian Williams on WNBC Sunday afternoon: