Yes, you can paint kitchen cabinets...and not be left with exposed brush marks or peeling paint. Kate from Centsational Girl shows us how she achieved these amazing results on her kitchen island.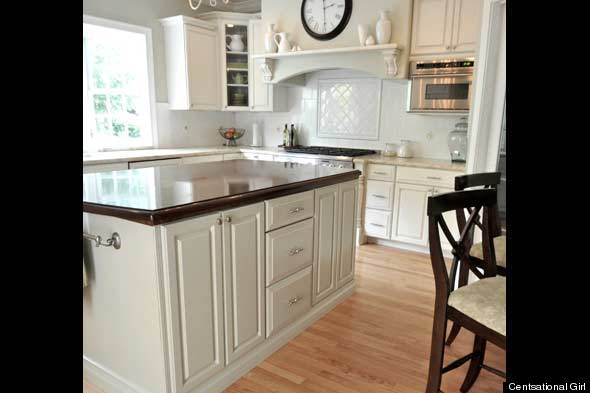 The right way to paint kitchen cabinets has always been a mystery to me, one that I've always been too intimidated to undertake by myself. That's why I was thrilled when DIY home remodeling genius Kate from Centsational Girl has done gone through the tough task on her kitchen's center island. And it turns out that the task isn't so tough anyway. Here, check out her before...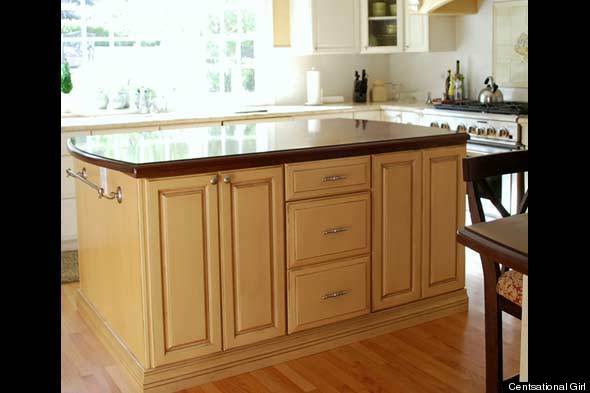 It's impressive to see that the new white coat of paint is just as smooth as the original finish. You would really think that she had bought the island new. So, how did she do it? First, lots of sanding. While we always know to clean off the cabinets before painting, some of us (maybe even me) neglect to thoroughly sand the finish. Kate also recommends light sanding between paint coats as you work. (This is what prevents brush strokes.)
Another hint is to use an oil-based primer, which has a bonding agent and dries to a hard finish. Kate says that it's also helpful to use a conditioning additive like Penetrol to lengthen the time you have to work with the primer and to also minimize brush strokes.
Once the primer coat completely dries (and you've sanded away any rogue brush strokes), apply two coats of oil-based paint. While latex does dry quicker, an oil-based paint tends to be more durable over time. (Just be careful of white and paler shades, since oil-based formulas in these hues can yellow as they age.) For more tips, check out Kate's post on how to paint kitchen cabinets.
Want to read up on painting cabinets before you bring out the brush? Check out...
Replace, Reface or Refinish?
Painting Kitchen Cabinets
The Daily Fix: Cover a Scratch on Your Painted Cabinet
And to see another way to paint kitchen cabinets...