Family vacations in Washington state can be rewarding experiences or absolute disasters -- it all depends on pretrip homework. To make planning easier, we've done all the preparation. As part of a Huffington Post Travel series on traveling with children, here are recommended attractions for those planning Washington state family vacations.
Washington State International Kite Festival
During the third week of August,
the Long Beach Peninsula hosts this amazing festival
that brings kite enthusiasts from around the world to the southwest corner of Washington. Marvel at the sight of huge kites turning slowly in the wind and performing in the stunt kite displays.
Address: 303 Sid Snyder Drive, Long Beach, WA 98631
Phone: 360-642-4020
Hours: Occurs during daylight hours during the third week of August.
Price: Free admission
Long Beach
Located on the Southwest coast of Washington,
this beach is aptly named
, spanning more than 28 miles along the Long Beach Peninsula. Either hike on the sand itself or take a stroll on the Long Beach Boardwalk, a raised wooden walkway that runs for almost half a mile along a gorgeous stretch of beach.
Address: Long Beach, WA 98631
Phone: 360-642-4421
Hours: Daylight hours only
Price: Free admission
Wild Waves
Wild Waves
is Washington state's most well-known water and amusement park. It features a variety of water slides -- both fast and slow -- to accommodate careful swimmers and thrill seekers, as well as some incredible amusement rides for people of all ages.
Address: 36201 Enchanted Parkway S, Federal Way, WA 98003
Phone: 253-661-8000
Hours: Open May through October with varying hours of operation (check the Wild Waves website for more information).
Price: Tickets range from $19.99 to $39.99, depending on the height of the attendee.
The Space Needle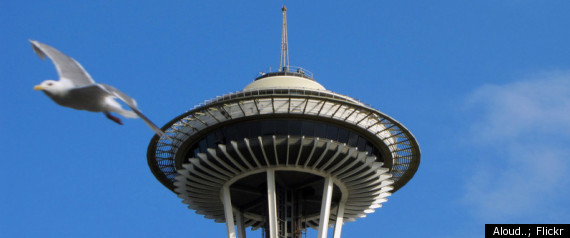 No trip to Washington state would be complete without a stop at this iconic landmark. The family-friendly attraction offers a panoramic view of the city and nearby Puget Sound. If you're feeling peckish, it also offers a restaurant that revolves a full 360 degrees as you dine.
Address: 219 Fourth Ave., Seattle, WA 98109
Phone: 206-905-2100
Hours: Open daily, 9 a.m. to midnight.
Price: Adults, $18; children, $11; seniors 65 and older and active military, $16.
Pacific Science Center
The Pacific Science Center
is Seattle's premier science and education destination. It provides interactive exhibits, an IMAX theater and a planetarium. Don't forget to stop by the Tropical Butterfly House while you're there for a glimpse into the lives of butterflies from around the globe.
Address: 200 Second Ave. N, Seattle, WA 98109
Phone: 206-443-2001
Hours: Open daily from 10 a.m. to 6 p.m.
Price: Adults, $16; children, $7 to $9; seniors, $10.
Washington State History Museum
The Washington State History Museum
walks visitors through the storied past of this Northwestern state via interactive exhibits, dazzling artifacts and more. Be sure to spend some time with the museum's amazing 1,800-foot model railroad, which depicts the rail line that ran from Tacoma through the Cascade Mountains.
Address: 1911 Pacific Ave., Tacoma, WA 98402
Phone: 888-238-4373
Hours: Open 10 a.m. to 5 p.m. Wednesday through Sunday.
Price: Adults, $8; children and military, $6; seniors, $7.
Woodland Park Zoo
One of the most vibrant zoos in the Pacific Northwest, the Woodland Park Zoo resides in the heart of the city, offering an amazing array of creatures big and small. Visit during the summer to catch one of its ZooTunes concerts or during the fall to avoid the crowds.
Address: 750 N. 50th St., Seattle, WA 98103
Phone: 206-548-2500
Hours: Open 9:30 a.m. to 6 p.m. early May through late September and 9:30 a.m. to 4 p.m.
early October through late April.
Price: Admission ranges from $9.50 to $17.50, depending on age and the time of year you visit.
What's your favorite vacation spot in Washington state?
Mid photo: Aloud../ Flickr
Check out more FAMILY TRAVEL GUIDES.