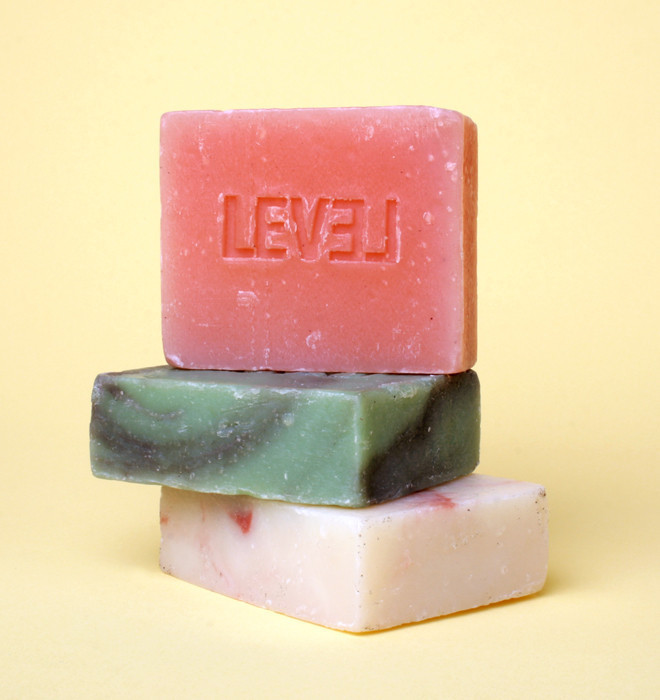 Photo: Bobby Doherty
I've been off soap for awhile. I always found it too drying (especially in the winter), and hated having to overcompensate with an overdose of body cream after the shower. But these new soaps from Level Naturals are a total game changer: They're super moisturizing (each bar is packed with coconut, shea, olive, sunflower and jojoba oils), they lather up like crazy and the scent sticks with you all day (in a subtle-but-lasting-maybe-skip-the-perfume way).
The Los Angeles-based line -- which also sells body scrubs, shower bombs and candles -- includes 16 different, awesomely-scented soaps. A few standouts include Active, which contains activated charcoal and tea tree oil, particularly good for acne-prone skin (face or...elsewhere) and Forest, an earthy, slightly manly (but still very appealing) mix of rosewood, ylang ylang and cedar oils. Meanwhile, the unexpectedly delicate-smelling Jasmine Rose is lovely, pretty and not at all overpowering (which one might expect from a combo of these two scents). And then there's Blood Orange, a zesty, invigorating citrusy blend that (cliche as it sounds) really wakes you up in the morning. But to be honest, the whole line is great: Not only are they sulfate- and paraben-free, the packaging is made with 100% recycled paper.
Level Naturals Soap in Blood Orange, Forest and Jasmine Rose, $10 each, levelnaturals.com