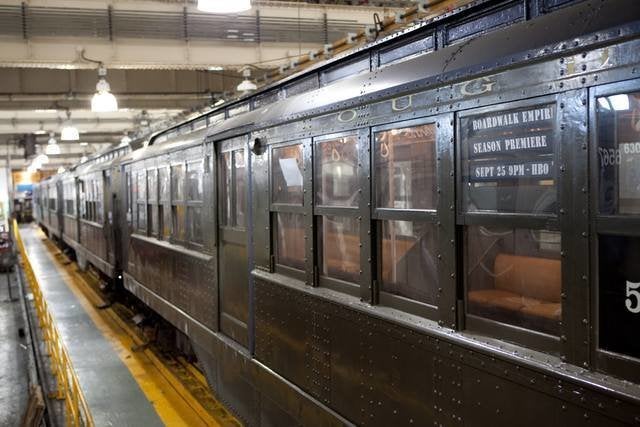 Boardwalk Empire returns for its second season September 25th and HBO's promoting the prohibition era drama with a literal trainload of advertising.
Starting on Saturday, September 3rd an authentic vintage 1920's train will run on the express 2/3 track in Manhattan throughout September (specifically, from 12 to 6 p.m. on Saturdays and Sundays). Originally operated by the Interborough Rapid Transit (IRT) system, the train began service back in 1917 and will once again be operational. Customers who have the opportunity to ride the vintage train will be transported back in time to the Prohibition era with authentic details such as rattan seats, ceiling fans and drop sash windows, as well as a custom branded interior featuring Boardwalk Empire-inspired period artwork.
The nostalgia ride will be around for four weekends, running through the 25th of September, and will stop at 96th, 72nd, and Times Square-42nd street stations only.
The Village Voice, reluctantly seduced by the gambit, is also excited to learn that "brand ambassadors" will be giving complimentary MetroCards away on the weekend of the show's premiere.
This is what the train looks like inside: