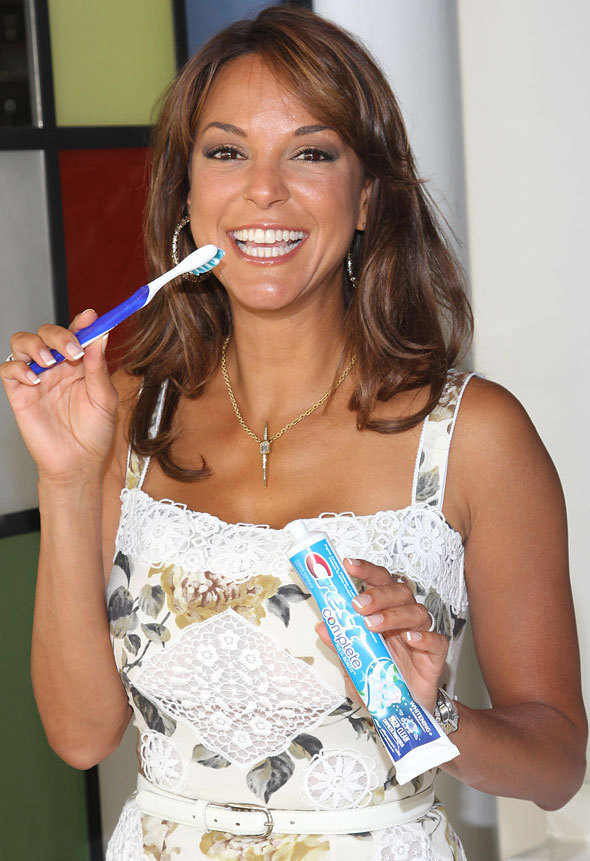 Actress Eva La Rue celebrates Crest Complete Deep Clean launch. Photo: Rob Kim/FilmMagic
When you're a soap opera star, maintaining a bright smile (and fresh breath) comes with the territory. And "All My Children's" Eva La Rue knows this all too well. She takes pride in her pearly whites so much that she brushes while in the shower.
"I figure I get as much done as I can, so I brush while the hair conditioner is in," La Rue tells Stylelist.
The 44-year-old actress, who currently portrays Detective Natalie Bosa Vista on "CSI: Miami," flew into New York this week to launch the Crest Complete Deep Clean collection. La Rue praised the dental care brand's newest toothpaste for its fresh, minty taste and immediately-visible results.
She adds, "With my daughter going back to school, working on 'CSI' and 'All My Children' and awards season, I do like to keep my routine. If my goops, creams and elixirs don't work for me, my day becomes longer. But this works!"
Crest Complete Multi-Benefit Whitening and Deep Clean toothpaste is packed with 33 percent more silica than regular toothpaste and a unique Polyionic Complex that help to fight cavities and remove stains.
While she's perusing the shelves at her local drugstore for toothpaste, La Rue likes to toss anti-aging skin care from Olay's Regenerist line, cheap lip liners and CoverGirl Lash Blast into her shopping cart.
"You can draw the liners all on your hands and the mascara is not $25 like all those stupid ones that are so expensive and dry out immediately," says La Rue.

But that's not her only stop. She heads to the department store to cop her go-to concealer, Yves Saint Laurent's Touche Eclat, and favorite eye cream by Astara.
Eliminating shine from her T-zone is another challenge La Rue faces as she refers to her greasy complexion as "letting the Puerto Rican out."
"It's great to have oily skin, but when you're on camera you don't want to glow in the dark," she says.
But when it comes down to the best beauty advice she's received, La Rue took direction off-set.
"My mom always said moisturize, moisture and moisturize. And sunblock, sunblock and sunblock. I try to do that as best I can because now that I'm older, I can't lay out in the sun like I use to."
Well, we can agree that mother knows best.