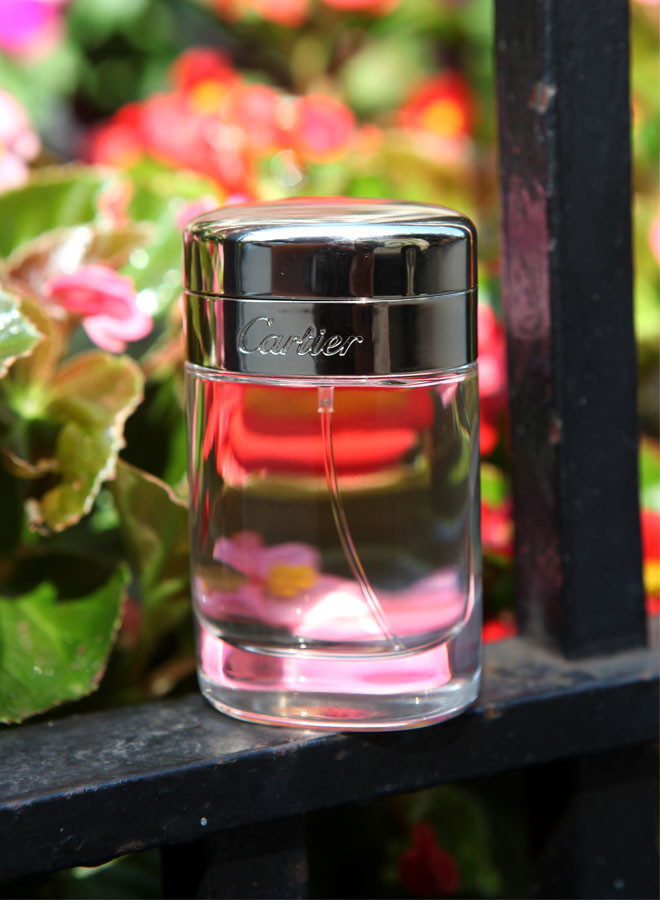 Photo: Bobby Doherty
With descriptions like "reflective" and "high-pitched" alongside equally hard-to-imagine ingredients like frozen morello cherry and floral woody chypre, fragrance reviews can be... a little hard to grasp. In our series, Top Notes, our editors road test new and classic perfumes, and report back about what they really thought. This week, we're wearing Cartier's new fragrance -- Baiser Volé -- which is entirely lily-based, and contains the pistil, petals and leaves of the flower.
--
Alana Kornfeld, Senior International Editor at The Huffington Post
What were your initial thoughts of the fragrance?
Very floral, wasn't sure I was going to enjoy such a floral scent, but it didn't bother me or make me nauseous or itchy.
How did it compare at the end of the day?
It settled in really nicely and became more subtle and sweet-smelling. Mixed really well with my skin oils.
Does this fragrance seem more appropriate for day or night?
I think it works really well for day. It's not too aggressive for the office. Plus, you can run around all day, and it leaves a really subtle trail. Definitely not overpowering.
Would you wear this in the warmer summer months or is it better suited for cooler, crisp fall weather?
The scent is pretty light, so I'd say it's better for warmer months, but it's also nice on these cooler, early fall days, as well.
How did it compare to other scents you've worn?
I tend to be drawn to spicier, heavier scents. This one -- being floral -- was quite a change. But I loved it. It wasn't soapy or powdery.
What did others think about the way you smelled?
My friends really liked it. One of them said it smelled sophisticated, like a woman, not a girl.
After wearing it for a week, how do you feel about it now?
I totally love it and am happy to have a lighter, floral alternative to accompany my spicy go-to scents.
Will you continue to wear this fragrance?
YES!
Cartier Base Volé, $100, nordstrom.com