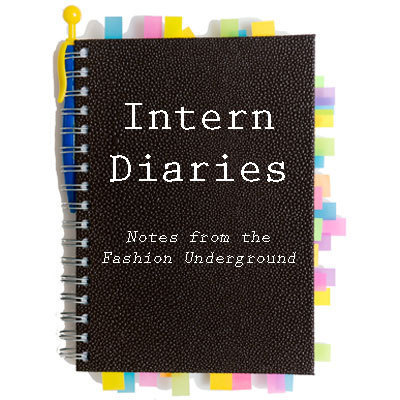 Intern Diaries: Notes from the Fashion Underground is a column that goes straight to the source of the fashion industry--the free labor. In this column, anonymous interns tell all about their terrible bosses and entitled coworkers as they endure ridiculous tasks which include, but are not limited to, fetching dry-cleaning, going on coffee runs and acting as a substitute nanny. This week's intern is a female college student working part-time at a handbag company in New York City.
DAY ONE
8:45 A.M. I wake up. Still need more sleep. I lazily make my way to the bathroom to start my morning rituals.
9:20 Showered and dressed, wearing loose, high-waisted black slacks rolled up above my ankle, a thin belt with a grey crop top and cork heeled sandals.
9:25 Run downstairs to get some coffee and a bite to eat.
9:45 Running late and need to catch the train to work. Need to start taking quicker showers. About to panic but luckily I got a ride. Phew.
10:45 Finally get to work, 15 minutes late (whoops). The receptionist "forgets" to let me in (again), so I have to stand in the lobby awkwardly for like 5 minutes. Get to the office and immediately am assigned projects.
11:00 Of course I get the most tedious jobs: I have to scan books and magazine sheets and send it to boss. I mean, it's alright except for the fact that everyone keeps interrupting me because they need to scan something as well. There are 5 scanners in the office, leave me alone!
11:30 Moved on from scanning to filing, alphabetizing and hole punching swatches to put in massive binders.
1:00 P.M. After all the filing, organizing and alphabetizing I finally go out to lunch. Sandwich and lentil soup for me please!
2:00 Back to work, afternoon projects are more strenuous. Today I get to organize "the closet." Throw hundred dollar bags on the ground like they're worth two bucks.
2:15 Found samples from last season that no one wants them anymore (score!). Get excited until an editor walks up and "calls it."
3:30 My back aches from bending down a hundred times and my feet hurt, but I'm finally done… Start organizing boss's personal closet. She has so many cool bags that she bought from her shopping trip to London.
3:45 Thought I was done with organizing, but apparently boss is particular on which shelf a satchel goes on, so now I have to re-do everything.
4:00 Boss and the creative director decided to clean out the closet and ended up pulling everything out. There went all my hard work.
4:45 No one in the office has anything for me to do so I leave. Run across the street for some Starbucks- I am literally exhausted.
5:00 Too tired to do any kind of shopping, so just hop on the subway.
DAY TWO
8:00 A.M. I'm up, though I'd rather be asleep.
9:00 Downstairs having coffee contemplating whether my outfit for today was too simple: Zara top and pants with sandals, but I'm too lazy to think of another outfit.
10:30 At work and the receptionist "forgets" to let me in yet again. I've literally worked at this place for the whole summer and it keeps happening. What did I do wrong?
10:35 I'm filing yet again.
11:00 Still filing.
12:00 P.M. On one of the huge office Mac desktops printing out next season's designs that needs to be filed.
12:15 More filing.
12:45 Boss needs me to buy feathers and beads. She said she wants to make a keychain for next season's bags and needs inspiration. I can buy whatever I want on her credit card.
12:50 On the street with a huge folder full of magazine sheets. Everyone's giving me that I-know-you're-an-intern-doing-dirty-work-for-your-boss look. Great.
1:00 Friend calls saying that he's done with class and has nothing to do. Asked him to help me shop.
1:15 Figuring out how many yards of feather trim I want. The guy that's helping me is so nice, he gave me free samples!
1:45 Run back to the office to drop off the stuff that I bought and then tell them I'm taking lunch.
1:50 Sit down to catch up with friend. It's nice to not run while eating.
2:15 Someone needs to do something about this receptionist- I'm locked out again. Grab a diet coke to kill time.
2:20 I see someone opening the door! Now's my chance. RUN!
2:30 Boss gives me her "book" which basically has magazine tears, photos and scans that she uses for inspiration for the next season. I have to make 3 copies of this editorial beast.
3:00 Still copying, people keep cutting in front of me saying that they only have "one scan to make." People, must I repeat myself, there are 4 other copiers in this office!
3:15 Finish copying and assembling the other books. Guess what my next assignment is? More scanning!
5:00 Spent the rest of the day scanning orders, the one of my boss's colleagues told me I can go home (yes!)
5:15 Treat myself to a mocha and some macarons from a café near by. No calorie counting for me.
5:45 Sitting on the subway flipping through a magazine. Even after a whole day, I still enjoy this. Know I am in the right industry.
6:15 Get home and collapse on the sofa.
7:00 Too lazy for any kind of cooking, Chinese it is. Ordered Singapore mei fun, yummm.
DAY THREE
8:00 A.M. Ugh, it's raining outside so I have to rethink my outfit for today.
8:30 Showered and decide to wear a dark gray pleated dress that ends 2 inches above my knee paired with a thin belt. I also am wearing an over-sized cardigan (because I get chilly easily) and black 4 inch mid calf boots.
8:45 Downstairs eating raisin bread and coffee while watching the weather forecast on the news. Wish I was wearing my wellies.
9:00 Run back to grab my umbrella and head out.
10:20 The elevator door opens up and I see the glass door to the office slowly closing. Run like a mad woman to catch it so I can bypass the rude receptionist.
10:30 Sitting in a desk (don't have a desk of my own, typical New York city office that doesn't seem to ever have enough space) processing more orders.
11:00 Orders.
11:30 Packing bags in the showroom.
11:45 Bags are ready to go to the department store now. Go me.
12:00 P.M. Scanning more books for boss.
12:30 Orders.
1:15 Lunch time, thank God! I needed to get out of the office. It's sprinkling so I guess this will be quick.
1:40 Back in the office to finish processing orders.
2:00 Scanning magazines and books for interesting hardware to make a reference boards.
3:00 I am the master of cutting and gluing!
4:00 Done. I can never pick up a scissor ever again. Boss is pretty impressed with my boards. I get an A+ in Arts and Crafts 101.
4:30 Boss lets me go early. She also gave me one of her samples of a bag that I have been obsessing over. Thank you!!
4:45 Mom called and said her friends are in town and that she wants to meet up and have dinner. Called my favorite place and make a reservation.
5:30 Waiting around for my parents until a woman comes up to me and asks me for my picture. It must be my hair, I've been getting a lot of attention after I dyed it ombre. It's brown on the top and gradually gets lighter where my tips are platinum blonde.
5:45 After a couple of poses, the woman tells me she's an art major and that she lives in the area. I tell her my part time job is around the area, as well. We exchange info. New friend?
6:00 I can't wait anymore, my feet hurt!
6:45 Seated at the restaurant drinking ice tea waiting for my dad and his friends
9:00 I am officially full and happy that tomorrow's my day off. Even a fashion intern needs sleep sometimes.
Are you a fashion intern? Interested in contributing? Please email sarah.leon@huffingtonpost.com.