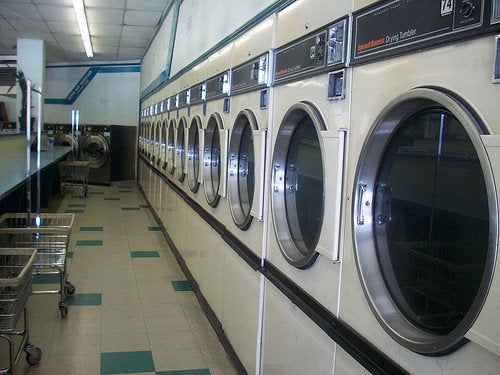 UPDATE: Well, I'm back from what LG calls its Laundry Lounge, a pilot laundromat that aims to change the way people "experience" doing laundry in public; and honestly, I can't say I was as overly impressed or excited as I was when I read the press release. Perhaps my expectations were too high; when I heard 'luxury laundromat' I pictured champagne bottles, gold bathtubs and chimps wearing tuxedos. And while the all-white-and-pink laundromat is certainly much swankier than most laundromats in New York City (not a huge accomplishment), it does not have as much flair or swag as one might have expected.
First, the televisions: The flat-screen TVs on the wall are small, about 19-inchers, and there are only about four. These TVs are the real differentiators in this laundromat, and frankly, I either imagined they would be bigger or that there would be more. There is no seating in front of these televisions, which means that this laundromat isn't so much a 'lounge' as it is a 'bar without chairs or booze.'
Second, the complimentary computers. Yes, LG's laundry lounge is probably the only public laundromat in the country with free-to-use Internet-connected laptops available for patrons. However--and this was the press preview of the place, mind you, when the venue is being sold to journalists as something worth writing about--the laptops I saw looked to be older model Dells, and what's more garish, they were black, which totally clashed with the color scheme. Again, the seating was really shockingly minimal, with only a few back-less stools up against the laptop bar, and none else that I can see (perhaps they are bringing in some folding chairs at some point?).
The overall interior design, by a Korean company called DAEHAN, is sleek, eye-catching and gives a strong, branded experience; but technologically, LG could have done more. Simply adding WiFi and a new paint job to a laundromat is not revolutionary. Calling something a 'lounge' when it has nowhere to do so--well, perhaps that is a bit revolutionary.
Right now, the best thing the LG Laundry Lounge has going for it is the relative newness of the machines and its cleanliness. But even here there were red flags raised: When I remarked to an LG executive that I was impressed with how clean it all looked, he laughed and said, "Come back here in a week and see how clean it is."
Perhaps LG should also be investing in mops.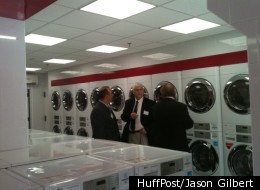 When LG asked if I wanted to be at the grand opening of a luxury 'laundry lounge' they were opening in New York City's West Harlem, I replied that there was nowhere I would rather be at that moment in time on the planet earth than in attendance at their fancy new laundromat.
In an attempt to share the overwhelming emotions I am sure to feel during my tour of the new Harlem luxury laundromat, I will be live-blogging the entire event, from the chauffered town car LG is sending to pick me up, to photos of the HD televisions mounted on the walls, to reviews of the plush leather furniture that has apparently been installed for maximum comfort for the lux laundry-going set of NYC. I will also be chatting with executives from LG and Coinmach. What do you want to know? I will try to ask them any of the questions you leave in the comments.
Below, the LG luxury Laundry Lounge live-blog of 2011: