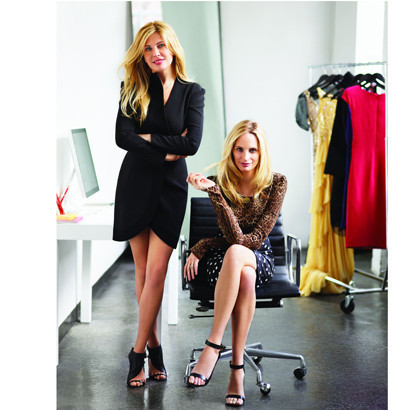 Courtesy Photo
When Lauren Santo Domingo and Aslaug Magnusdottir launched Moda Operandi earlier this year, they promised an incredibly innovative service that would do away with the leisurely gap between a designer's runway show and the physical delivery of their pieces to the market-place. Now, after many high-fashion trunk shows offered to their members-only clientele, Moda Operandi is finally turning their online shopping mecca into a real-time game and sharing the wealth of the runway with more than those lucky enough to get an invite to join the site.
Santo Domingo and Magnusdottir are announcing their collaboration with Vogue today that will begin this week with the New York Spring/Summer 2012. Within hours of each runway show, readers of Vogue.com will have the ability to click on several individual looks from a selected designer that will lead them to a revamped Moda Operandi page and there, they'll be able to buy. While there's still a wait time for most items, there are some pieces that will ship right away — within three days to be exact.
While it definitely all sounds way too good to be true, this concept is one that's been in the works for years. We got a chance to chat with Moda's two impossibly chic founders, who are without a doubt, changing the game of fashion one click at a time.
Check out our interview with Lauren and Aslaug below and visit Moda Operandi to get your exclusive shopping invite, which is valid through the duration of New York Fashion Week.
How did this idea to collaborate with Vogue.com come about?
AM: Since our launch, Moda Operandi has collaborated with select businesses that attract a similar customer base. We have always considered Vogue to be an ideal collaborator in this regard. During Fashion Week, Vogue.com attracts many users from around the world who are interested in seeing the latest styles off the runway. We are the only online retailer that specializes in selling the latest styles off the runway and we will provide a unique service to these Vogue.com users, allowing them to click through to the M'O site to immediately pre-order their favorite styles. Given the clear customer synergies between M'O and Vogue, as well as Lauren's longstanding role with Vogue as a Contributing Editor, a collaboration between the two entities seemed like a natural fit.
Are there any specific items or designers you are particularly excited about? Or preparing to hit 'buy' for?
LSD: I have attended shows for work and pleasure for many seasons. Perennial favorites include Proenza Schouler, Alexander Wang and Prabal Gurung, but the excitement of this season comes from the ability to reserve looks straight from the runway.
AM: M'O works with many of the world's best designers and I am excited about all of them (and tempted to buy from each and every one!). I am particularly thrilled to be featuring Marc Jacobs ready-to-wear for the first time on the site this season. I am also looking forward to ordering pieces from top vendors we have worked with in the past, including gorgeous cocktail dresses from Matthew Williamson and Prabal Gurung.
What do you hope will come from this collaboration?
LSD: I hope women feel embolden to order those pieces they absolutely fall in love with from a runway collection and not rely on the edits of a retailer to dictate their options.
AM: I hope that designers will feel like they have more freedom to design for their specific consumers instead of feeling as if they need to broaden the appeal of their collections to fit into the needs of traditional retailers. I do love the idea that M'O's unique shopping experience will be made available to a broader group of women through our collaboration with Vogue.com. Many Vogue.com readers are fashion lovers who would love to pre-order tomorrow's fashion today, but may not be familiar with M'O.
How do you think this will affect retail and how people shop?
LSD: Women will be able to build the ultimate closets because they'll be able to secure the pieces that really resonate with them.
AM: I think the success of Moda Operandi and the announcement of this collaboration reflect a movement already in process. People are no longer just looking for discounted product through flash sales sites. I think they're increasingly looking to e-commerce to offer them unique shopping opportunities and product that they can't obtain anywhere else.
How do you think this will affect how others look at the runway?
LSD: At shows there has always been a small group of women who were seated front row who were "shopping." They could be seen discretely circling the looks that they had their eyes on. Now that fashion coverage is more accessible on Vogue.com, it makes sense that more women receive the opportunity to shop from the runway. To offer pre-ordering through an online model like ours is just keeping current with the times.
AM: I think a runway show is now looked at as shopping event, rather than as just a press or trade event, as it was in the past -- the runway is now looked at as a store window. With this change in perception of the runway, customers are beginning to expect designer product to be made available for pre-order immediately off the runway, and M'O is glad to help meet this demand. There is nothing more satisfying than calling up a designer right after a runway presentation to say, your collection is amazing and – by the way -- here are the five items you need to start making NOW.
Do you think this will affect how designers present their shows in the future?
LSD: Designers have become keenly aware that digital presents opportunities to engage their consumers. I think we will see many more designers live-streaming their shows and offering immediate ordering in the years to come.
AM: The majority of designer brands currently do not finalize pricing and various production decisions in advance of their shows. I believe many more designers will start finalizing these decisions in advance to capitalize on the opportunity and demand for immediate purchasing. In time, I think high end designers will shorten the production cycle so that product can be delivered sooner to satisfy customer excitement.