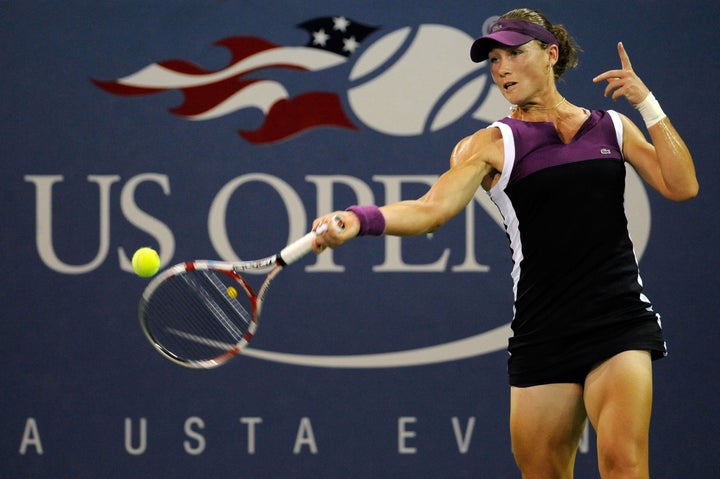 Samantha Stosur [9] vs. Angelique Kerber

We thought that a German woman might do something in this tournament. Andrea Petkovic, perhaps; Julia Goerges, maybe. But nobody thought it would be this German, Angelique Kerber, currently ranked 92nd in the world, who we would see on the final weekend. She's used her heavy ground strokes to carve her way to her first Grand Slam semifinal. She'll face another relative surprise, Australia's Sam Stosur, who has never been this far in Flushing Meadows. To get here, Stosur has used her usual forceful serve and forehand, along with an unusual calm.
Stosur and Kerber have never played. On form and history, you have to take Stosur, except for one nagging question: Can she win on this stage, when she's supposed to win. The Aussie has never thrived in that situation—she was upset by Francesca Schiavone in the French Open final last year, and took a disappointing loss before her home fans in Melbourne this year. But whatever nerves she may feel on Friday, Stosur's reliable serve and forehand should carry her past them. —Stephen Tignor
Peter Bodo's Pick: Stosur. Stosur survived two three-set matches against quality players to get this far. Her big-match experience (she played in the Roland Garros final in 2010) will also prove to be a real asset in this one.
Steve Tignor's Pick: Stosur. Stosur is the favorite, the question is whether she can win a match at this stage that she's supposed to win. That's not her specialty, but her superior serve and forehand should be enough to get her into the final.
Ed McGrogan's Pick: Stosur. Stosur will be playing with all the pressure, something she hasn't always handled well. Saying that, she's been mentally strong so far, winning two close three-setters before rolling Vera Zvonareva. It's tough to pick against that.
For more in-depth tennis coverage visit tennis.com.