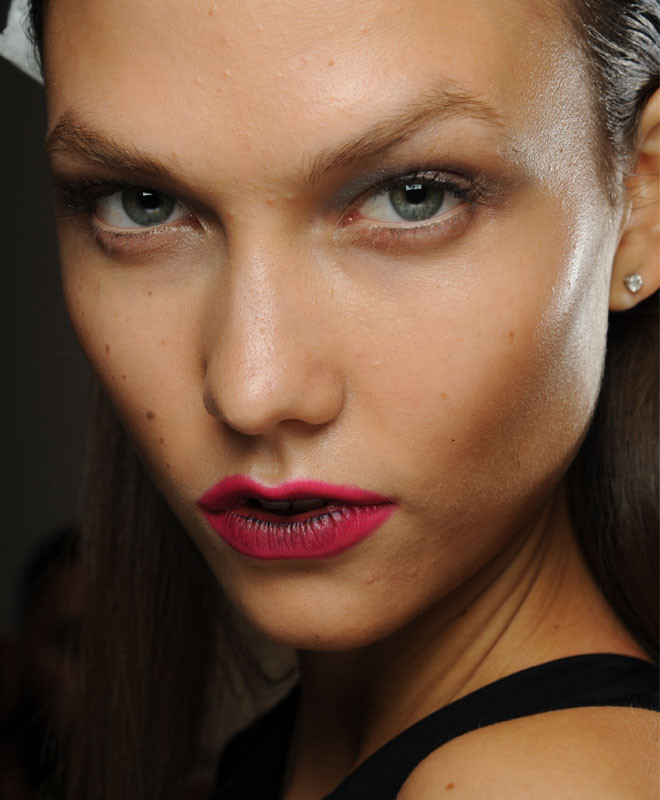 Photo: GoRunway.com
The inspiration: Neo-feminist. Inspired by Nobuyashi Araki's photographic series, "Sensual Flower."
Makeup: Lead artist Charlotte Tillbury (for MAC Cosmetics) focused the look around a matte fuchsia lip. "Prabal wanted the lips to feel like there was an orchid growing out of them," says Tilbury. "Dreamy, but in an intoxicating way." She started by lining the lips with MAC PRO Lip Pencil in Process Magenta, then filled them in with a blend of Lipmix in Fuchsia, Burgundy and Black -- creating a gradation effect that was darker on the inside, like a flower. Tilbury wanted the rest of the skin to have a high-shine effect: "Almost sci-fi looking," she says. MAC Metal-X Cream Eyeshadow in Young Venus and Warm Thunder (available next spring) was then applied to the eyes, followed by a bronze sculpting powder below the cheek bones to give slight structure and definition. Tilbury then added MAC Strobe Cream in Pearl right above the cheeks to create even more sheen. She finished the look by adding a swipe of mascara to the outer lashes and gelling up the eyebrows.
Hair: Fekkai hairstylist Didier Malige wanted the models to look like they'd done their hair themselves: "Like they just washed it, and combed it back," he says. To get the slicked-back, still wet-looking style, Malige prepped the models' hair with Fekkai Coiff Extra Control Styling Gel. Then with a fine comb, created a center part. He then added Fekkai Brilliant Glossing Sheer Shine Mist to enhance the sleek, gelled style. The bottom half was flat-ironed straight and left dry.
Nails: Jin Soon Choi partnered with Sally Hansen to create three custom colors for Prabal's Spring 2012 collection: A minty, seafoam green (Barely Bluebell), a deep fuchsia (Purple Posy) and a dark, dark gleamy-metallic purple (Loves-Me-Not). For the show, this last shade was applied over Sally Hansen Lacey Lilac -- allowing a sliver of lilac to show -- creating a two-tone, reverse half-moon effect.