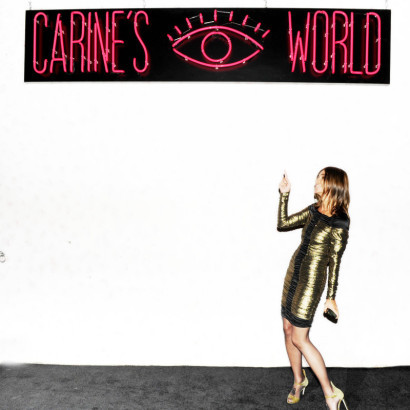 Photo by Billy Farrell
Last night, two very important people threw two very different soirees, with two very different atmospheres — one, a makeshift fraternity house and the other, a re-vamped stripclub with karaoke, both nearly across the street from one another. The two people worth noting were Alexander Wang and Carine Roitfeld, both known both for their array of famous friends and their ability to throw a killer party.
While it's normally Alex Wang who steals the limelight during Fashion Week, this season a European invasion seemed to swoop in and take away the designer's usual hype. In fact, many didn't even know if Wang was going to have a party this year, and all the talk in the weeks leading up to last night revolved around the Barneys fete for Carine Roitfeld and her new book Irreverent.
With the words "Carine's World" emblazoned in neon lights outside Westway club, editors, designers, socialites and models all piled into the intimate event space to celebrate the former Editor-in-Chief of French Vogue. As Anna Dello Russo told us, "this is the perfect way to celebrate Carine — singing and dancing and drinking and having good time!"
Good time it was indeed. The night opened with Carine and Anna Dello Russo's rendition of George Michael's "Careless Whisper", followed by a duet starring W's Stefano Tonchi and stylist Giovanna Battaglia, with a little cameo by Simon Doonan. Julia and Vladimir Restoin-Roitfeld took tequila shots with their mother, while Margarita Missoni and the Clarins Sisters belted out "Like a Virgin." Even model Karolina Kurkova got up the guts to impersonate Lady Gaga. Then came the biggest moment of the evening — Valentino and Giancarlo Giacometti sang their version of Frank Sinatra's famous tune "My Way," followed by Valentino's solo of "Unforgettable."
As other guests like Rachel Zoe, Brian Atwood, Tamara Mellon, Andrea Dellal, Bruce Weber, Alberta Ferretti and Karlie Kloss sipped cocktails, danced, sang along and laughed endlessly, it was clear that Carine's World was the one to live in, at least last night. As she told us toward the end of our evening, "I hope you had fun and you were irreverent tonight. That's what this party was all about."
Though we do give props to Alex Wang for attempting to meld fraternity culture and keg stands with fashion, it's tough not to give Carine the award this season for best New York Fashion Week extravaganza. Check out the pictures below and tell us which stylish rager would you have loved to crash.