Pro wrestling legend Hulk Hogan is expecting big things from his latest project: A reality show where he mentors a troupe of "micro-wrestlers," none of whom is taller than four feet.
The show, "Hulk Hogan's Micro Championship Wrestling," debuts Sept. 14 on TruTV and focuses on the Hulkster's attempts to help lift -- both literally and figuratively -- a Florida-based group of little wrestlers to the same level of success as bigger wrestlers, such as The Rock, John Cena or Hogan himself.
To do that, Hogan said the key was going behind the scenes and telling the truth, rather than use the scripted storylines of WWE and other leagues.
"My old friend [former professional wrestler] Johnny Greene was doing shows with these guys and he asked me to help them get to the next level," Hogan explained to HuffPost Weird News. "I watched them and said, 'There is a TV show here!'
"These guys are great performers in the ring, but then you see them struggling to open a car door."
There have been TV shows focused on "micro" or "midget" wrestling in the past, such as "Half-Pint Brawlers," which aired last year on Spike TV. The TLC series, "Little People, Big World" gained popularity focusing on the day-to-day issues facing little people (the preferred term for people of short stature).
But Hogan, who is a veteran of reality TV thanks to his VH-1 program "Hogan Knows Best," says the key to this series is showing the action as well as what goes on behind the scenes.
"We get to see how they handle normal-sized doors and cars, as well as watching them deal with their wives or helping their kids doing their homework," Hogan said.
Interestingly, this approach has its roots to the days when Hogan was the biggest name in wrestling -- but not the biggest wrestler.
"I spent 20 years around [7-foot, 4-inch] Andre the Giant and he couldn't sit in a first class seat," Hogan said. "People would walk behind him in the airport and you'd hear comments. They'd say cruel things.
"In these guys' cases, you might see one go into a hotel lobby front desk and the clerk can't see them."
But rather than concentrating on their height, Hogan really sees his role as showing the members of MCW, which includes two females, how to get to the big time.
"I'm trying to get them to function on a higher level," he said. "How to handle themselves in the ring, being more professional and, basically, reinventing yourself."
Hogan is getting no arguments from the members of the tiny troupe, such as Demo, who helps manage the team with Greene's help.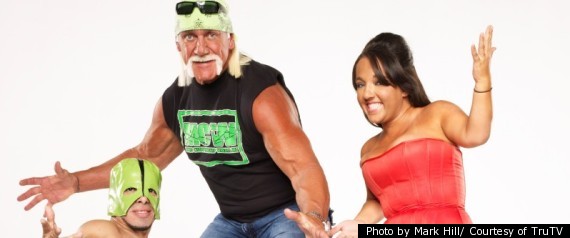 Demo stands 3 feet, 4 inches -- shorter than most of the other wrestlers -- and has a dwarf son from a previous marriage, as well, as a normal-sized three-month-old baby.
"This show is portraying us as individual humans," he told HuffPost Weird News. "This is important, because most people think people like us are either disabled or leprechauns. We're out to show people we are athletes."
Demo had big dreams when he started MCW with Greene back in 2009, but admits that working with Hogan has made him think about things on a much larger level.
"He is a legend for a reason," Demo said. "I never had any idea of the magnitude of production -- things like production credits. I'm still in shock, but I'm learning the business. I'm picking it up."
But while Demo also has pride of ownership and suspects Hogan didn't expect the micro-wrestlers to be as they were.
"To be honest, I think he thought it would cute and looked at us as a favor to Johnny," he said. "I don't think he realized how good we were."
Demo realizes the reality show gives him a big opportunity, but also a responsibility to show the world what it is like to be smaller than most kids, much less adults.
"Many people go a lifetime without every seeing a little person," he said. "We're not a circus act though. We want people to say, 'Holy s--t! It's badass!'"
But while Demo feels a responsibility to represent for all those other little people, he refuses to kowtow to political correctness.
Exhibit A: Although the show is called "Micro Championship Wrestling," and "little person" is the preferred term for most adults of short stature, Demo is sticking to his guns and calling it "midget wrestling."
"The term 'midget' carries a lot of weight," he said. "'Little People Wresting' sounds stupid and it's three words instead of two."
While the show's goal of depicting the wrestlers' real athleticism and experiences has other little people like Clinton Brown III cautiously optimistic, he says the use of words like "midget" or "micro wrestling" is disappointing.
"The focus of the show sounds like a move in the right direction," said Brown, who at 3 feet, 3 inches, is not only a successful financial analyst in Long Island, N.Y., but also manager of the New York Towers, an all-dwarf basketball team that just won its second national championship (and went 3-2 against teams with normal-sized players).
"To me, the use of the word 'midget,' regardless of marketing, is a sign they're selling themselves out," Brown told HuffPost Weird News.
Although some might consider the term "micro wrestling" to be a good compromise, Brown disagrees.
"I don't have a problem with a term like 'dwarf wrestling,' because people suffer from dwarfism. It's a real condition. No one has 'midgetism' or 'micro-ism.'"
Terminology notwithstanding, Hogan believes that audiences will see all the folks on the show in all their human-ness, but predicts that two wrestlers -- a 65-pound wrestler named "Blixx" and a 292-pound behemoth appropriately nicknamed "Meatball" -- are likely to be breakout stars.
Being singled out by Hogan is a big honor to Meatball, who started out in pro wrestling 10 years ago as a sidekick.
"Whatever [Hogan] tells you, it's wisdom," Meatball told HuffPost Weird News. "For instance, I love heavy metal music and I play air guitar when I come out on stage. He told me that it's OK to play it up, but know when to cut it off."
Like Demo, Meatball believes the show will provide plenty of entertainment with some actual reality on the side.
"It will give everyone a perspective on what life is like for us," he said. "We're short so shopping or adjusting a shower head has its challenges for some of us. Personally, I just have to stand on the tub."
Because of a tight editing deadline, the nine members of Micro Championship Wrestling won't see the first episode until the premeire date. However, Hogan feels like a proud papa when he says they are going to like the results.
"I want to see them hit main event status," he said. "They've done a great job and they'll be proud when they see how far they've come."