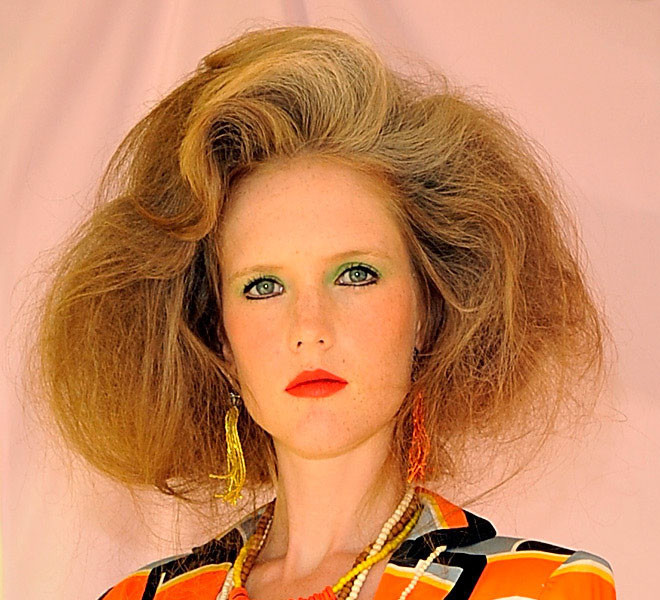 Photo: Wire Image
The inspiration: The Warhol All-Stars. Relaxed, trashy glamour.
Makeup: Daniel Martin for Lancome wanted the girls to have a Candy Darling appeal: "Andrej Pejic (who shot the makeup test for the show) is the Candy Darling of today," says Martin. He started by prepping the models eyes with a chartreuse cream shadow to cancel out any redness. He then built on the green color with Lancome Color Design 5 Pan Palette in Vert Tendresse, creating a gradiated effect as he extended toward the brow. Lancome Rouge in Love Lipstick in Sequence of Love, an orangey red, was blotted on to create a soft, but bold lip; Martin didn't want a defined lip line. A light layer of Teint Miracle Foundation gave the models a lit-from-within effect, while Blush Subtil in Tangerine Tint gave their cheeks a slight flush.
Hair: "We want it as dirty and big as possible," says DJ Riggs, TIGI creative director and lead stylist for the show. "Like, old Elizabeth Taylor hair. Tousled up, really trashed-out hair." Riggs began by spraying in tons of TIGI Catwalk Sessions Series Transforming Dry Shampoo to create texture, volume, and a bit of grittiness. This was essential in keeping the curls in place. He then wrapped strands either around a 3/4" curling iron or hot rollers (depending on the fineness and texture of each model's hair). If some of the girls had longer hair, he braided it and hid it underneath, creating the illusion of short, bobbed hair. Riggs finished with a blast of TIGI Sessions Series Work It Hairspray "Chris doesn't want it to be too pretty or romantic."
Skin: Clarisonic pitched in backstage, helping to clean and prep the models' skin before makeup was applied. Aestheticians used the delicate brush head, keeping in mind that the models have been getting their makeup applied and removed all week.
Nails: Manicurist Anna Maria (along with Lancome) worked with Benz to create two custom colors for his Spring collection: Green Almond, a soft milky green with hints of grey, and Rose Macaroon, a creamy rose.
See more New York Fashion Week coverage.