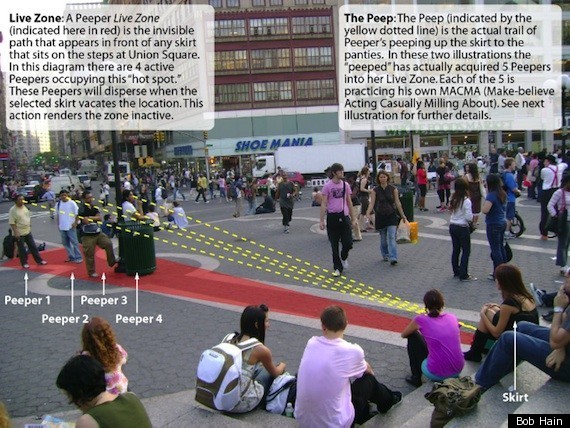 Photo courtesy of Bob Hain.
Bob Hain, a Bushwick graphic artist who goes by the moniker Normal Bob Smith, has been documenting the characters of Union Square for years. There's the Dog Molester, Ramblin' Bill, Wendell and Signs the Bum. And then there are the different groups--the Fundies, the Gravers, the Griswalds, the Skaters, the Scenesters and the Junkies.
Hain's fun, cartoonish take on these "Amazing Strangers" has gained him some internet fame and even a New York Times profile. And most recently, his video chronicles of Union Square "peepers"--men who stare up the skirts of women sitting on steps in the park-- peeked the interest of Inside Edition.
In August, "Inside Edition" sent a team of people with hidden cameras to stake out the regular peeping sections. They shot footage of a handful of men who looked — often for hours at a time — under the skirts of women on the steps, said Larry Posner, a producer of the segment.

"It was shocking to learn how prevalent it was in the park," Mr. Posner said. "We had heard about it, but to see it day in and day out, our staffers were equally disgusted."
The IE crew and Hain confronted three men about peeping on film. All three denied the accusations. The episode, which aired Monday, also features "two young female researchers on the steps dressed in short skirts — with shorts underneath — and using cameras tucked in their purses to shoot the peepers."
These peepers, it seems, come to the park specifically to peep, and they've all developed different methods.
"Yes, there are serial Peepers at the Square who come there again and again," Hain told The Huffington Post. "Mostly it's regulars there, not passersby just once. That's how they get names at the park like The Preppy Peeper, The Portrait Peeper, Passenger-window Peeper, and so on. The park is known amongst them as being a better place to peep than other parks."
Take a look at The Picture Peeper for example, who will casually walk around the park while dangling a video camera at crotch-level:
IE producer Larry Posner also told The Times that although his crew didn't contact police about the creeper peepers, he hopes "by showing this, we'll bring awareness to this issue and action will be taken."