WHITESBURG, Ky. -- On a July morning four years ago, Charles Scott Howard left his home in the mountains of Southeastern Kentucky and drove his pickup truck 150 miles to the Crowne Plaza Hotel in Lexington. A career coal miner, Howard was headed to the posh hotel to testify at a public hearing held by the federal Mine Safety and Health Administration (MSHA), a regulatory arm of the U.S. Department of Labor. Howard bore a reputation throughout much of Kentucky coal country as a stubborn and fearless whistleblower, and just about any miner in the area who hadn't already heard his name would hear it by the following morning.
Up for discussion was the subject of faulty mine seals -- a safety problem that had brought considerable grief to the mining communities of Appalachia. Mine seals are meant to keep certain atmospheres within mines separated from one another in the event of a blast. When they fail, blasts can turn deadly. In January 2006, an explosion at the Sago Mine in West Virginia trapped 13 miners, ultimately killing 12 of them. Four months after that, an explosion at the Darby Mine in Harlan County, Ky., claimed the lives of five more. Reports later cited weak seals as factors in both tragedies. At the hearing in Lexington, the widows of three Darby miners urged officials to adopt strict seal regulations and resist any entreaties by the coal lobby to loosen them.
Howard was the only working miner to appear before officials that day. His testimony came in the form of a video he'd shot in his own mine, which was run by the Cumberland River Coal Company, a subsidiary of the second-largest coal producer in the U.S., Arch Coal. Before Howard aired his video in front of a packed room, his attorney, Tony Oppegard, noted repeatedly for the record that what Howard was about to do should be considered protected whistleblower activity under federal law. Indeed, what Howard's video showed were mine seals so fractured that water spurted out through their cracks. (The video can be viewed here.)
Many attendees were agog -- not just at the potentially dangerous scenario at the mine, but at the gumption of Howard, who seemed to be showing video of his own mine. (Although Howard refused to disclose the name of the mine publicly, officials could later determine the mine by listening to the video with the audio turned on.) The company, Howard said according to a news report at the time, had built the seals "the cheapest way to do it," with "the least man hours" possible, putting the lives of miners in danger.
The Sago disaster was very much on Howard's mind at the time. "They were allowed to build old, crappy seals," he'd later say of the Sago mine operator. "And it's a shame them fellers had to be smothered to death."
After Howard aired his video, an MSHA official said, "I want somebody at that mine right now."
The response to the video was swift. In the meeting sat a safety manager from another mine run by Arch, according to court documents. The manager called his superior and relayed the news: Scott Howard had shown video of leaking seals, and the footage would probably make the evening news. Up the chain it went until it finally reached Gaither Frazier, then the general manager of Cumberland River. Frazier, who'd stepped out of a management meeting to take the call, told his team what Howard had done. Inspectors would soon be blitzing the mine.
At that point, Howard had already hustled out of Lexington -- he had a shift to work at the mine, and he didn't want to be late. But the MSHA inspectors beat him to the scene. During the next two weeks, the investigators would visit the mine several times, ultimately citing Howard's employer for two alleged safety violations related to seals. The morning after the MSHA hearing, Howard's airing of the video made the front page of the Lexington Herald-Leader.
For Howard, the video incident is only the most public of his many tussles with Big Coal over the years. Having worked in the mines for three decades, he's been disciplined, fired, and otherwise branded a troublemaker for speaking out about unsafe conditions. His troubles have all sprung from the simple but rigid code that he works by: He refuses to do anything that he believes may endanger himself or his fellow miners. Under the relentless pressures to produce coal, upholding such a code comes with great personal risk.
"There's no other miner like him in the United States," says Oppegard, who's been representing Appalachian miners against coal companies for more than 20 years. "He's done things that no one else has done."
Despite significant safety improvements in modern times, coal mining remains one of the more dangerous jobs in America. Last year 48 miners died in the country's mines -- the most in nearly two decades -- largely because of the disaster at West Virginia's Upper Big Branch, where 29 perished. Aside from death and maiming, miners take serious long-term health risks in doing their jobs, as thousands of miners continue to suffer from black lung disease. And although Upper Big Branch prompted hearings on Capitol Hill, Congress still hasn't produced a mine safety bill for the president to sign, even though a year has passed since the tragedy.
For Howard, the video incident marked the beginning of a long and still-unresolved battle, one that pits the miner against his benefactor and, ultimately, safety against profits. Howard has filed five whistleblower discrimination complaints against his company in as many years. (A spokesperson for Arch said the company could not comment on Howard's complaints for this story, due to ongoing litigation.) Howard has lost his job twice -- both times because of his safety advocacy, his lawyers have maintained -- and he has twice been reinstated at work by a federal judge. He doesn't lose his lawsuits; he either wins or settles them -- and settles them only reluctantly.
His work and his advocacy come with stress and danger. Last summer, he suffered a traumatic brain injury while working underground at his mine in an accident that he says has never been fully explained to him.
"Outside, safety is first," Howard likes to say. "But when you go underground, coal is all that matters."
* * * * *
Howard lives in a double-wide trailer set on 12 mountainside acres outside Whitesburg, Ky., population 1,600. It's the kind of coal town where tractor trailers rumble down narrow mountain roads hauling coal, and the pickups roll by with bumper stickers that read "Coal Miner's Daughter" or "Save a Miner -- Shoot a Tree Hugger."
Howard's reputation here as a health and safety activist is an unlikely one, considering he plucks Marlboro Lights from his breast pocket throughout the day and has a bad habit of driving without his seat belt fastened. But his constant battling with his employer has as much to do with miners' rights as with miners' well-being.
"It's hard to be biting the hand that feeds you," Howard said one recent morning. "But I guess that's what I'm doing, the way they see it. It's hard to fight against the people you depend on for the income to feed your family."
Howard was driving his GMC pickup through the Kentucky mountains, a depiction of Christ wearing a crown of thorns in his rear window. Fifty-one years old and with a slight paunch, Howard wore a black cap advertising Stihl chainsaws and a leather belt with a gold plate spelling out his name.
"I've had workers say, 'Why do you work here? Why do you fight the company?' " he went on. "Well, I don't fight the company. They fight themselves."
Regardless of who instigates it, the fighting has been nearly constant for five years. Not long after he aired his video, Howard became concerned with blocked escapeways in his mine. These are the pathways that miners travel down to leave the mine in the event of an emergency. Howard says that the passages were strewn with rocks as large as refrigerators and water up to his waist, and that no one in management addressed the situation. So he reported his own mine to the feds, via MSHA's tip hotline.
Four MSHA inspectors descended on the mine that day, according to court documents. Howard spoke openly with the inspectors in front of his managers, and they wound up issuing Cumberland River two citations for alleged safety violations. Although the MSHA hotline is anonymous, Howard owned up to the call so that suspicions wouldn't fall on any of his colleagues. He then filed a grievance against his superiors for failing to keep the escapeways clear.
Soon after that, Howard came to blows with a supervisor over ventilation problems at the mine. Miners need to hang ventilation curtains to keep the good air separated from the bad; not only is excessive coal dust dangerous to breathe, it can lead to an explosion. Howard felt the curtains weren't being hung as needed, and his supervisor wouldn't provide Howard with the mine's ventilation plans. Howard ended up filing a freedom of information request with the federal government to obtain the safety plans to his own mine, according to court documents. Management then reassigned Howard to a position where he had nothing to do -- "enforced idleness," as his lawyer alleged.
When the ventilation problem wasn't rectified, Howard filed another complaint with MSHA, detailing a number of safety issues at his mine. Inspectors again showed up at Cumberland River's Band Mill No. 2. The mine was given a citation for allegedly violating its own ventilation plans, according to court documents.
"Scott has paid a toll for all this, in terms of stress," said Oppegard. "Your boss doesn't like you. It's unsafe. You lodge a complaint and people dislike you even more. You have to look over your shoulder."
"Scott has to do everything by the book or he'll be disciplined," Oppegard went on. "Other miners aren't held to that standard."
In May of 2009, Howard was laid off.
He was let go as part of a mass layoff at the mine, according to court documents. Miners lost their jobs according to seniority. Howard was the most senior rank-and-file employee to get his walking papers, an MSHA investigator later said. He and Oppegard thought this highly coincidental. They filed a complaint with MSHA, and a judge considered the layoff suspicious enough to order Howard temporarily reinstated. The MSHA investigator later determined that Howard had been laid off "because of his role as a safety advocate." (The court case has not yet been resolved.)
After he was reinstated, Howard continued to make noise about the ventilation problems he saw, according to court documents.
For Howard, the ventilation issue is deeply personal. His grandfather suffered horribly from black lung disease -- a wretchedness caused by years of breathing in tiny coal dust particles -- and Howard himself was diagnosed with it years ago. A doctor told him it's advanced to somewhere between the first and second stages. Certain pockets of Southeastern Kentucky have been designated as black lung "hotspots," due to the rise in black lung diagnoses in these areas since the late 90's. As Howard says, "You don't wanna retire out and choke to death."
So when Howard felt the mine wasn't ventilated as needed, he saw to it that the mine wasn't producing coal.
Howard was assigned to drive the ram car, which hauls the coal from inside the mine to a conveyor belt that then carries it outside. Whenever he deemed the ventilation insufficient, Howard started blocking the roadway with his car to stop production, according to court documents. It was an exceptionally gutsy move, given that every minute a mine doesn't run coal is a minute the mining company doesn't make money. Howard was literally standing in the way of profits.
"You give me air," he'd say, "and I'll give you coal."
* * * * *
As a young man, Howard had no intention of going into the mines, until one day in the late 70s when he found himself short on cash and needing to support his mother. He went underground reluctantly, having seen how the work destroyed his maternal grandfather. A Kentucky coal miner who gave his career to the industry, "Pappo," as Howard knew him, lived the last 30 or so years of his life in physical misery, choking in bed throughout the night. Along with an awareness of mining's dangers, Pappo instilled in Howard an acute sense of righteousness, particularly as it relates to the workplace.
"My grandfather's theory was that an employer should treat his employees as if they were his children," Howard said. "If you work for someone you ought to appreciate them, but they ought to appreciate you back."
Howard eventually learned that the appreciation isn't always reciprocated. Working at a mine in Harlan County in the late 80's, Howard one day refused to bolt a mine ceiling with a machine he considered unsafe. His boss was displeased. "If you don't do what a boss says, then you don't work for me," Howard remembers the boss telling him.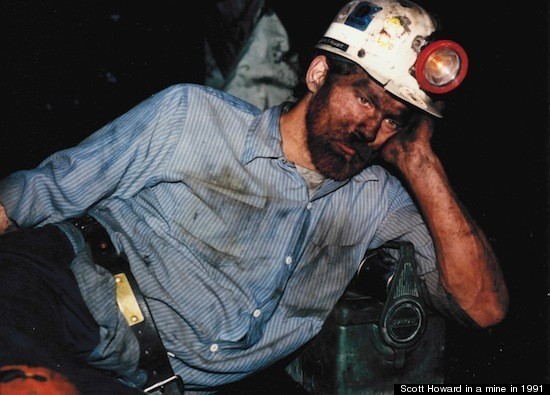 Howard reached out to Oppegard, who by then had earned a reputation as a lawyer fighting for miners' rights. They filed a complaint with MSHA. Howard soon realized he'd been labeled a troublemaker, and he was unable to find work elsewhere in Harlan County. Oppegard says the incident is one of only three instances of countywide blackballing that he's seen in Kentucky's mines during his law career.
But in Oppegard, Howard had found an attorney willing to back him in his countless brushes with management; in Howard, Oppegard had found a working miner who was willing to highlight the dangers of the job.
"He was fighting for the miners, so I decided I'd let people know they got rights," Howard said. "When I saw something wrong, I'd tell the boss."
Over the course of his journeyman's career, Howard has worked in more than forty mines, most of them south of Harlan and Letcher counties, and he and Oppegard have filed around 10 MSHA complaints with the help of Oppegard's colleagues, Stephen Sanders and Wes Addington of the Appalachian Citizens' Law Center, a public-interest law group in Whitesburg. Howard's career has coincided with the decline of unions in mining and other American industries, so he generally has no one but his lawyers behind him when he takes on his employer.
"Scott is extremely rare," says Celeste Monforton, a former MSHA official who's investigated the mining disasters at Sago and Upper Big Branch. "It takes a certain level of social consciousness to recognize the power struggle between a worker and an employer."
The mining community in Letcher County certainly recognizes the power struggle, as well as the risks Howard takes in entering it. Howard's wife, Susie, said she occasionally gets stopped at the supermarket by other miners' wives who quietly thank them for his latest spat.
"I've always backed him," said Susie, who used to work at a medical clinic that handled a lot of mining injuries. "I've seen too many injuries that probably could've been prevented."
"I've had coal miners say, 'He's got guts -- I wish I could do it, but financially I know what will happen to me,'" she went on. "As far as him being a whistleblower, I still have a hard time calling him that. But they've put a whistleblower tag on him. If he would've done this in the 70's or early 80's, he'd probably have done been dead. The operators would have made sure he couldn't blow a whistle or anything else."
"I've put one foot on a banana peel and my neck in a noose," said Scott, "but it's worth it when you do the right thing."
Scott may be more comfortable with the whistleblower label than his wife is. Having spent so much time in court, he's come to accept that he's as much an activist as he is a miner.
When the Appalachian Citizens' Law Center petitioned the federal government to tighten coal-dust regulations in 2009, Howard was the miner who put his name on the petition. And when Congress held a hearing on mine safety in 2007, Howard was the miner willing to discuss the job's dangers, delivering written testimony with an Appalachian pride:
"I am a Southeastern Kentucky coal miner. I am not a hillbilly. I am a mountain man forged from an ancestry of hardworking men and women who wake up or did wake up day after day to survive. I was raised to believe not only in God and his Word, but that there is a standard for a man: To work, to take care of family, to respect others, and to stand up for your rights."
Howard's rights as a whistleblower are spelled out in section 105(c) of the Mine Safety & Health Act of 1977 -- the section that protects miners against retaliation for reporting safety concerns. Passed in the wake of the Scotia Mine disaster, which killed 26 miners in Letcher County in 1976, the law calls for the temporary reinstatement of any miner whose claim of retaliation was not "frivolously brought" before the agency. MSHA then investigates.
For years the mining act has provided Howard with a tenuous hold on employment, as it did in the wake of the video incident in Lexington. Two weeks after the MSHA hearing, Howard was told that a written disciplinary infraction would be going into his record -- for the unauthorized use of a video camera on mine property. Such a ding on one's personnel file is more significant than it sounds, as it brings a miner one step closer to a legitimate firing.
For Howard, the infraction oozed with irony, as it accused him of creating a "hazardous situation" at work:
"You potentially created an unsafe work environment at the Band Mille #2 mine by using a non permissible video camera underground. This action is not only an unsafe mining practice, but it is a violation of company policy to take photos or video tape... without the prior written approval from the General Manager."
According to court documents, when the mine superintendent broke the news to Howard, he said, "They're making me do this. I told them you're one of the best workers we've got."
With Oppegard, Howard filed a retaliation complaint against Cumberland River. It took nearly three years for the case to work its way through court. Then last summer a federal judge ruled that Cumberland River had used its no-video-underground policy as a pretext to discipline Howard for "subject[ing] the mine to MSHA and public scrutiny."
Through court proceedings it was learned that Cumberland River managers had quickly decided to punish Howard once they learned of the video being aired. In fact, Frazier, the general manager, had spoken the very next day with three managers about how they might be able to discipline him, according to documents.
The judge ruled that Howard had been discriminated against, and the company was forced to expunge the disciplinary action from Howard's file and reimburse him for $155,000 in legal costs, according to a judge's order approving the settlement agreement. Considering Cumberland River had hired the pricey Washington, D.C., law firm of Crowell & Moring to litigate the case, it probably ran up a considerable tab in its failed bid to keep a disciplinary infraction in one miner's record.
For Cumberland River management, there was perhaps one stipulation more bitter than the awarding of attorney's fees. Per judge's orders, the company was also required to post a notice of Howard's exoneration in every one of its mines in Letcher County.
* * * * *
When an explosion ripped through the Upper Big Branch mine in West Virginia last April, 29 workers died, making it the worst mining disaster on American soil in 40 years. Investigators have since found that Massey, the mine operator, fostered a corporate culture that put profits before miners' safety.
Two official probes have detailed a series of glaring safety failures at the mine, from faulty ventilation and equipment malfunctions to poor record keeping and insufficient training. It was even revealed that managers at the mine had maintained two sets of records -- an accurate log that included safety problems, and a separate, watered-down version for federal and state inspectors to see.
Howard believes he has a duty to guard against a disaster like the one at Upper Big Branch, for reasons both moral and economic.
"If you don't give a crap about the miners' lives, then think about the economy here when that mine shuts down," he said. "Lose one life and think about all the lives that affects."
But Upper Big Branch shows just how hard it is for a worker like Howard to blow the whistle on dangerous conditions. According to investigators, the miners at Upper Big Branch were forced to choose between their jobs and their safety, for the unofficial management guide at the mine apparently included the bullying of workers who stepped forward with concerns. An MSHA official has said that one foreman at Upper Big Branch was fired for holding up production for an hour to improve ventilation. The official also said that when Dean Jones, one of the blast's victims, previously raised safety issues at the mine, a manager told him, "If you can't go up there to run coal, just bring your bucket outside and go home."
Howard has heard a similar refrain through much of his career: "The coal must flow, or you must go."
For safety advocates and much of the general public, the findings on Upper Big Branch -- let alone the tragedy itself -- have underscored the need for regulatory improvements. But progress has been slow. So far, the political storyline has followed the same arc of past tragedies: Congressional hearings are held; the formidable coal lobby warns against burdensome regulations; little or nothing is done. The issue typically doesn't arise again until more miners die.
Justin Feldman, a worker safety advocate at the non-profit watchdog group Public Citizen, says the spectacle this time around has been particularly frustrating, noting that the more Upper Big Branch recedes, the less likely Congress is to pass reform.
"Many lawmakers seem to have forgotten about the mine safety issue altogether," Feldman said. "I've spoken with congressional staffers who wrongly believe that a bill has been passed since the Upper Big Branch disaster."
Members of both the House and Senate have reintroduced a broad mine safety bill named after Sen. Robert Byrd, the late West Virginia senator who championed miners and the mining industry generally during his more than five decades on the Hill. If passed, the law would make it easier for the government to shut down mines that demonstrated a pattern of safety violations; boost civil and criminal penalties for dangerous mines; and, most importantly for people like Howard, institute stronger whistleblower protections for miners who stepped forward with safety concerns.
The bill's tougher provisions have little chance of passing through a Republican-led House, where the emphasis is on a lighter regulatory touch for the coal industry. Rep. John Kline (R-Minn.), chairman of the House committee on education and the workforce, has voiced his opinion that the industry doesn't need new regulations -- it instead needs enforcement of the regulations already in place.
Speaking as a witness at a Congressional hearing on May 4, a representative of the coal lobby went a step further, arguing that the industry should instead be allowed to police itself, through voluntary safety programs. Anthony Bumbico, the vice president for safety at Arch Coal, Cumberland River's parent company, testified that "overly proscriptive regulatory requirements" are actually getting in the way of mine safety. (Bumbico's group, the National Mining Association, spent more than $3 million lobbying lawmakers last year, employing 27 lobbyists, according to the Center for Responsive Politics.) Bumbico modeled his argument on a separate "voluntary protection program" already in place with the Occupational Safety and Health Administration -- a program that government investigators and journalists have revealed to be insufficient.
When Bumbico ventured that whistleblowers already have adequate protections, Rep. George Miller (D-Calif.), a staunch advocate for mine safety, asked Bumbico directly about Scott Howard.
"What happened to the person that you fired for showing the video of the leaking water seals?" Miller asked, before quickly answering his own question: "Retaliation against a whistleblower."
Scott Howard, at home more than 400 miles from Washington, was giving Arch headaches on Capitol Hill.
Bumbico told Miller he was "mischaracterizing" the situation. He said that Howard chose to air his video at the MSHA hearing rather than bring his concerns to management -- a claim at odds with the official investigative record on the matter, which detailed how Howard repeatedly noted the seal problems in company records, to no avail.
Miller sent a letter to Arch the following week inviting Bumbico to clarify his "contradictory testimony."
Just days after the letter was sent, Howard was let go. He'd been on leave due to an injury and had just returned for training. A doctor deemed him incapable of working underground. Howard was also informed his worker's compensation would be cut off.
Howard filed a discrimination complaint. Oppegard said that the diagnosis was made after the hearing on the Hill, and that it conflicted with the same doctor's previous determination.
"I think it's well known that Cumberland River doesn't want Scott at its mines," Oppegard said at the time.
* * * * *
Nine months earlier, Howard had suffered a traumatic brain injury while working underground in the mine. A fellow miner found Howard slumped over and unconscious in his mining car, according to an MSHA report. Something had apparently struck him in the head, damaging his hard hat and breaking his false teeth. When he came to, a confused Howard started driving the car erratically. His colleagues helped him out of the car and he was taken to the hospital.
There were no witnesses to the accident, and Howard has no recollection of anything that happened that day. What he does know is that three days earlier he had sent forms to MSHA that would make him a designated miner's representative. A miner's rep is a working miner who accompanies MSHA officials during their inspections, who has the right to point out safety concerns on behalf of his colleagues without fear of reprisal, at least in theory.
MSHA had processed Howard's miner's rep form the day he was hospitalized.
Howard spent the first weeks after the accident in a state of total confusion. For Susie Howard, it was the potentially life-changing injury she'd always dreaded for her husband. "Everyone has their spats, but I never let him leave the house without telling him I love him, just in case," she said. "I don't want him to go to work aggravated or mad and think that's the last thing he knew."
Though Howard is mostly back to normal, there are stretches from last year that he can't recall altogether, including a vacation he and Susie took. Nonetheless, he was cleared for work months ago and had returned for training before the most recent doctor's report made him ineligible.
Last month the Department of Labor filed a discrimination complaint on Howard's behalf, alleging that Cumberland River discharged him not because of his medical problems but because of his safety complaints. The department has asked that the company reinstate Howard and award him full backpay and benefits.
In a testament to Howard's effectiveness as a whistleblower, Cumberland River has agreed to give him temporary "economic reinstatement": they'll pay him in full, plus 20 hours of overtime each week, so long as he agrees not to come into work, or step foot on mine property. He also has the right to work for somebody else as he collects his pay.
Susie Howard said that her husband hasn't changed much since the accident, except that he now has some obsessive-compulsive tendencies. "He still feels real strong about certain things," she said. In fact, "he feels even stronger about them now."
That goes especially, she added, for the few things in this world that seem to bother him -- like, say, the violation of a worker's rights under the Mine Safety & Health Act of 1977. That's why he still aims to suit up and return to work in the mine someday, and why management shouldn't be surprised if he finds a few problems there when he does.
"I've got a purpose in why I do it," Howard said. "And the more kicking they're doing, the more good I must be doing."
CLICK to read about mine disasters. Slideshow by Paige Lavender.