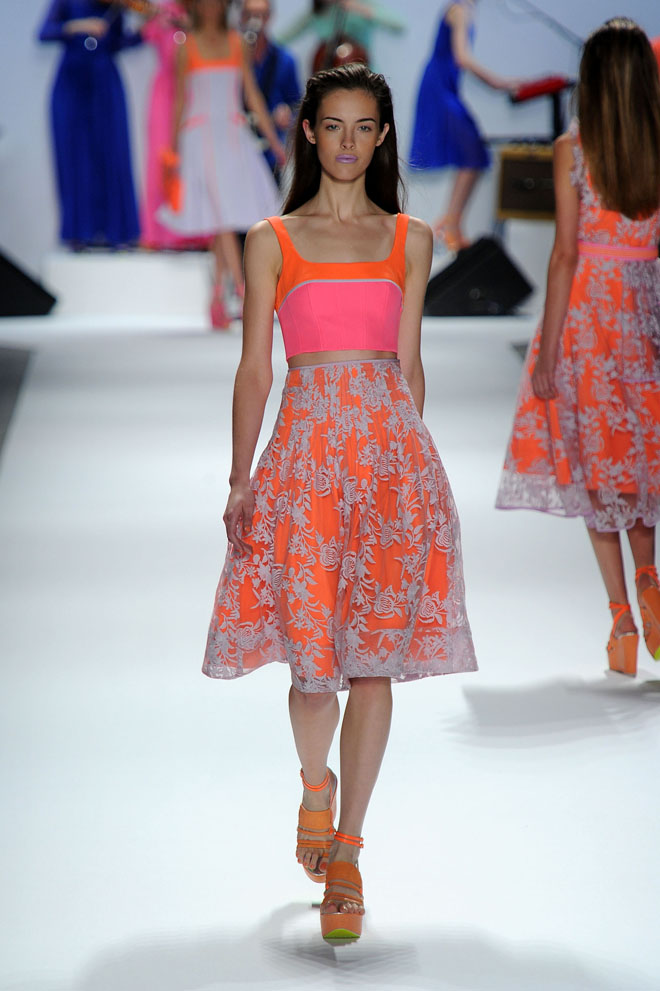 Getty
When we visited Nanette Lepore's studio a few weeks ago, she promised her spring 2012 collection would include "electrifying colors, beautiful silhouettes and lots of texture."
And the designer certainly didn't disappoint. This morning's show featured a heady array of brilliant hues, set to an aural backdrop of live music by Sam Bisbee and his band.
Post-show, we headed backstage to chat with Lepore about her fashion-week routine.
How do you prepare for fashion week?
I plunge in. There's no preparing. I hyperventilate. I don't sleep. And then you're just in it, and you've got to deal with it.
What's the best advice you've received on how to cope with the chaos?
To try to keep myself very calm. Less overtime keeps everyone happier and keeps the creative juices flowing.
What's your fashion-week essential?
This time, we banned junk food, so it wasn't junk food. There are raw almonds around, but not a lot of indulgences.
What's your favorite moment of planning the show, and what's your least favorite?
Fitting models in front of a mirror, when you can't get it right, is awful. And sometimes it's rewarding, because you reach it. It's a lot of love/hate, mixed together.
How are you going to de-stress now that the show is over?
We're going to have a big lunch with a fun group and laugh, and then we're going to go back to work, because we have market in three days. Then I'll de-stress. I'm going to travel a lot this fall—I'm going to go visit all of my shops.
Any tips on how to pull off the neon brights we saw on the runway?
Get something that will mix with your jeans. Buy a gorgeous blazer in a saturated color, but keep it simple. That's why the silhouettes [in the collection] are less fussy. Get one piece that you can mix with neutrals or jeans or black. Dab it into your wardrobe and it will make everything new and fresh and uplifting.