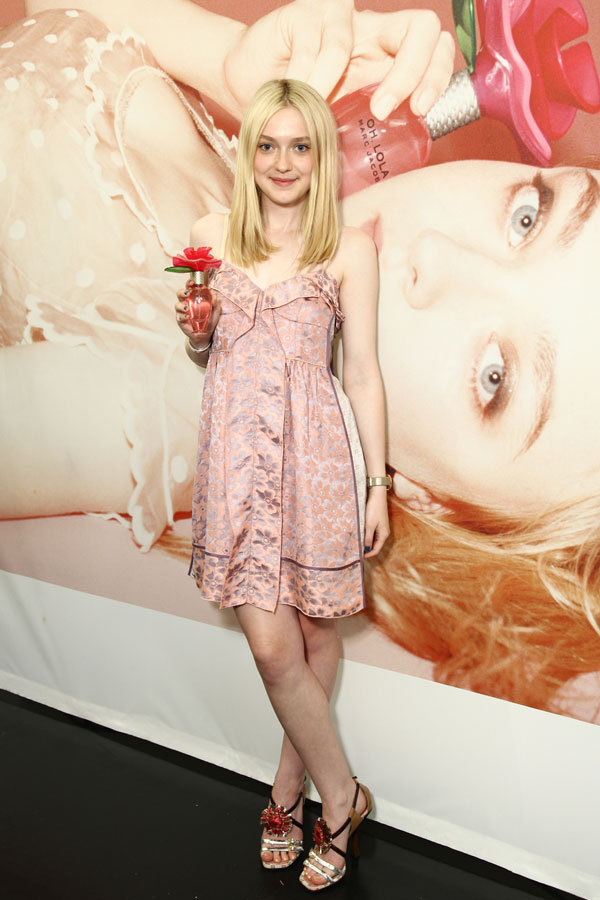 Dakota Fanning wearing a pink frock and strappy sandals from the Marc Jacobs Resort Collection the Marc Jacobs "Oh, Lola!" fragrance launch during New York Fashion Week Spring 2012. Photo Courtesy of Coty Prestige.
Last night, Marc Jacobs shutdown his Soho boutique and invited beauty editors to an intimate evening with Dakota Fanning, the face of his new fragrance, Oh, Lola! And of course, Stylelist was in the mix as the 17-year-old actress wowed us with her charm, chic fashion sense and candid tales.
Fanning, who starred in the designer's apparel ads when she was just 12, reprised her role in front of famed fashion photographer Juergen Teller's camera lenses for the fruity floral fragrance's campaign. The ad garnered much attention as it features the blond beauty dressed in a scalloped, polka-dot dress with an oversized rose-topped bottle of Oh, Lola! between her legs. But she reveals that she knew nothing about the perfume or photo shoot concept before hitting the set.
"I remember I didn't know what the bottle looked like or what the perfume smell liked. You hope it smells good," said Fanning. "And so I got there and it smelled exactly like I'd imagine and it's pink, which is my favorite color!"
She adds, "It's so weird shooting photos with him because he will take a few photos and then step back and you're like 'okay, I'll go with you.' It's just very easy and you're having a conversation with him. It's not setup poses. It's a fun day. There's no pressure to look a certain way or feel a certain way."
While the Conyers, Georgia native has blossomed into someone to watch on the red carpet, Fanning admits that she never wants to place her personal style in one category.
"I think it's the actress in me making me want to portray a certain vibe that day," said Fanning. "I like it to be easy and not try too hard."
She's also managed to always put her best face forward in spite of growing up in the public eye, and we'd like to think her simple beauty regimen is the secret.
"I don't leave the house without a Marc Jacobs fragrance on and now that is "Oh, Lola!" Honestly, that's pretty much all I do. I wash my face and put on perfume," she said.