Family vacations in Tennessee can be rewarding experiences or absolute disasters -- it all depends on pretrip homework. To make planning easier, we've done all the preparation. As part of a Huffington Post Travel series on traveling with children, here are answers to some frequently asked questions about Tennessee family vacations.
Graceland
Located in Memphis,
Graceland
was the home of Elvis Presley. The tour through his old home includes a look at his mansion as an audio-guided presentation leads you through the life of the late musician. Also on display at Graceland is the Elvis Presley Car Museum, which gives visitors a personalized tour of his private jet and a special Elvis-themed pop culture exhibit.
Address: 3734 Elvis Presley Blvd., Memphis, TN 38116
Phone: 901-332-3322
Hours: Open daily except for Thanksgiving Day, Christmas Day and New Year's Day. Operating hours vary, so check the Graceland website.
Price: There are a variety of ticket options, ranging from $70 to $14; children 6 and under are free
The Children's Museum Of Memphis
The Children's Museum of Memphis
offers parents and children the chance to discover and learn together through hands-on activities. While visiting the museum, there is a chance to explore the wonders of science, including the mustard volcano, as well as the Art Zone, the Exploratorium and the National Geographic Kids exhibit. The museum is available for parties.
Address: 2525 Central Ave., Memphis, TN 38104-5926
Phone: 901-458-2678
Hours: Open seven days a week 9 a.m. to 5 p.m.
Price: $10; children under 1, free
Museum Of Appalachia
The Museum of Appalachia
opened in 1969 and showcases thousands of authentic Appalachian items. By 2007, the museum received permanent funding as a publicly supported museum. Collections in the museum include baskets, quilts, toys, pottery, furniture, a war exhibit, guns, musical instruments and much more. The museum exists to keep society educated about the Appalachian way of life.
Address: 2819 Andersonville Highway, Clinton, TN 37716
Phone: 865-494-7680
Hours: Open daily 9 a.m. to 6 p.m.
Price: Adults, $30; children 13 to 18, $15; children 6 to 12, $10; children under 6, free
Country Music Hall Of Fame And Museum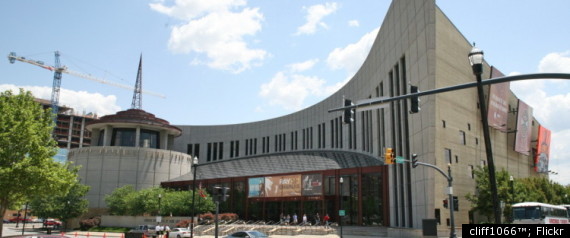 One of the best-known aspects of Tennessee life is country music, and Nashville is widely considered the home of country music. The Country Music Hall of Fame and Museum helps preserve the history of the music and the artists who made it famous. While touring this popular attraction, a number of exhibits exist to educate visitors about the history of country music and the traditions involved in the genre.
Address: 222 Fifth Ave. South, Nashville, TN 37203
Phone: 615-416-2001
Hours: Open daily from 9 a.m. to 5 p.m.
Price: Adults, $30.99; children 6 to 17, $22.99; children 6 and under, free
Memphis Zoo
The Memphis Zoo
opened in 1906 with a black bear. Visitors today tour a zoo that stretches out over 70 acres and houses more than 3,500 animals. A number of travel sites, including TripAdvisor.com, rank the zoo as one of the best in the country. Two stars of the Memphis Zoo are its giant pandas. Ya Ya and Le Le live in the zoo's CHINA exhibit, which includes other animals famous for that region of the world.
Address: 2000 Prentiss Place, Memphis, TN 38112
Phone: 901-333-6500
Hours: October through February 9 a.m. to 4 p.m.; March through October 9 a.m. to 5 p.m.
Price: Adults (ages 12 to 59), $15; children 2 to 11, $10, seniors (60 and up), $14; parking, $5
Dogwood Arts Festival
The Dogwood Arts Festival
begins at the end of March every year and stretches to the end of May with numerous events. Student art exhibits, fine-art exhibits, the Market Square Art Fair and the Dogwood Parade are all events worth checking out at the festival. Other events to consider include quilting, doll making and bluegrass music.
Address: 602 S. Gay St., Mezzanine Level, Knoxville, TN 37902
Phone: 865-637-4561
Hours: Event begins the end of March and continues through the end of May
Price: Prices vary depending on events attended.
Grand Ole Opry
The Grand Ole Opry offers weekly country music concerts in Nashville. Established in 1925, the Opry features the world's biggest country acts, from Garth Brooks and Randy Travis to Carrie Underwood and Brad Paisley. Music stars are officially inducted into the Grand Ole Opry, and these special events are open for viewing. The photos hanging on the Opry's walls and memorabilia from years of country music stars make it worth a visit.
Address: 2804 Opryland Dr., Nashville, TN 37214
Phone: 615-871-OPRY
Hours: Times vary, so check the Opry's website
Price: Prices vary depending on events, ranging from $55 to $18.50
What's your favorite vacation spot in Tennessee?
Lead photo: scottfeldstein; Flickr
Mid photo: cliff1066™; Flickr
Check out more FAMILY TRAVEL GUIDES.