Story has been updated to reflect the latest news.
UPDATE -- The Oviatt Library on CSUN's campus is set to reopen once the bomb-sniffing dog has completed its rounds, reports the Los Angeles Times.
The Associated Press confirms that authorities did not find the suspected gunman.
Cal State Northridge posted this photo of the suspect on their Facebook page, and are calling for anyone who recognizes him to call authorities at (818) 677-2111.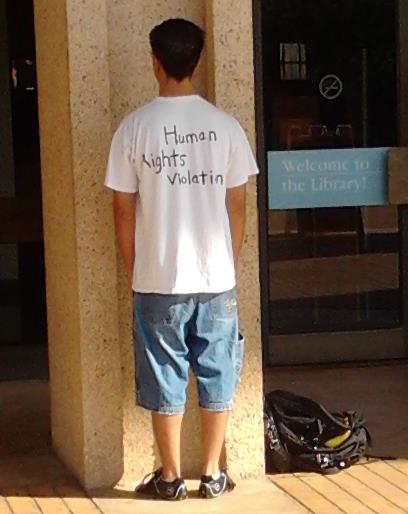 PREVIOUSLY -- A gunman was reportedly seen on the campus of Cal State Northridge. Police are investigating, and the university has issued an emergency notification. From @CSUN_LRC via Twitter:
This is an emergency notification (Oviatt Library) message for the California State University, Northridge community. At 10:27 this morning University police received information of a white male 5'8 wearing a white tee shirt that says "human rights violation" potential middle eastern descent, short spiky hair, short jeans, indicated he had a gun. University police are currently conducting a thorough search of the Oviatt library. Campus is advised to be on the lookout for this individual. If seen - do not approach and contact Police at 818-677-2111. Further information will be released as available.
The man appeared "distressed" and was approached by thoughtful students inquiring about his well-being, reports KTLA. It was then that the man claimed to have a gun, but no one actually saw a weapon.
CSUN spokesperson Carmen Ramos Chandler tells NBC Los Angeles that the library was evacuated as a precaution, and as of 1:12pm, the library is still closed.
LAPD Officer Fred Queto confirmed to the Los Angeles Times that there have been no reports shootings or injuries.
The Daily Sundial reports that the campus is not on lockdown, but the threat is concentrated in the Oviatt Library, located in the heart of campus. The Daily Sundial also notes that a warning email was sent out to students at 11:48am, over an hour after the gunman was reported to the police.
Cal State Northridge posted a note on their Facebook page advising that students and staff should feel free to leave campus if they feel uncomfortable, as long as their supervisor is properly notified.
The Huffington Post made a call to the LAPD at 1:10pm, but the police declined to comment at that time.
According to the Daily Sundial, the search for the alleged gunman has expanded beyond the library: "the perimeter covers Bayramian Hall to the West, the planetarium to the East, Sierra Tower and Eucalyptus Hall to the South, and the Education building to the North." This may be due to the fact that an eye-witness claims to have seen the suspect outside the library before the school sent out a warning alert. These updates were filed at 1:46pm. For more, read The Daily Sundial.