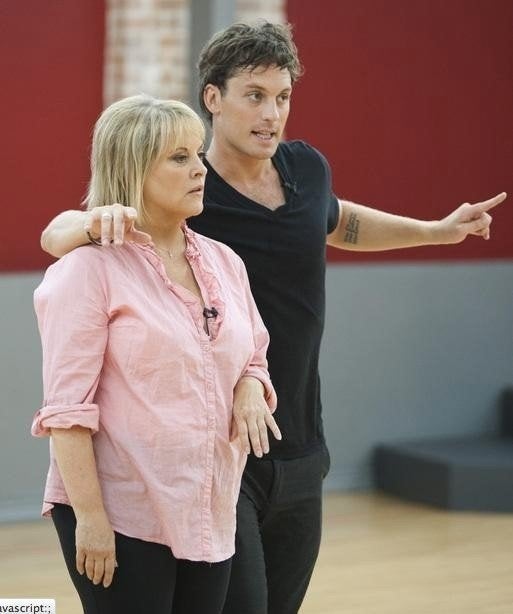 Last week's season 13 premiere of "Dancing With the Stars" was a bit of a hot mess. Between Elisabetta Canalis' lifeless cha cha to David Arquette's nervous waltz, Nancy Grace's all-over-the-place cha cha and Metta World Peace, the new and improved dance floor was a wreck.
That's not to say, however, that there weren't highlights. We learned that Chaz Bono could cha cha, Chynna Phillips, from Wilson Phillips fame, was a natural and discovered war veteran and current soap star, J.R. Martinez could dance -- incredibly well.
After Metta World Peace's elimination from the competition, week two (Sept. 26) kicked off with a battle between two challenging dances, the quickstep and the jive, which had some stars crumpling under the pressure -- and their injuries.
Some impressed the judges, while others were underwhelming, but did they do enough to keep them dancing for another week? Let's discuss.
Nancy Grace is sure to make a few headlines this week -- but not for her quickstep. After Nancy finished her dance, the HLN host had a major wardrobe malfunction. ABC quickly cut away to the audience as Nancy readjusted her dress, and then she buried her face in partner Tristan MacManus' shoulder. It's okay Nancy, a nip slip can happen to anybody. At least you got your groove back on the dance floor.
Meanwhile, Rob Kardashian is on a mission. It seems like the reality star (more like a reality star's brother) wants to become more confident -- oh yeah, and get rid of those pesky "man boobs." You see, he's the shyest Kardashian, so with the help of his pro partner Cheryl Burke, Rob set out on a mission to step out of his sister Kim Kardashian's shadow, and in the realm of 'DWTS,' he may have done just that. Rob's lively jive was a step in the right direction, and judge Carrie Ann Inaba even proclaimed, "Rob Kardashian is a better dancer than Kim Kardashian," in what was probably one of Rob's proudest moments (ever). With a solid score of 21, Rob will certainly make it to week four, and then -- and only then -- he'll be able to say he beat his sister because let's face it, that's a giant shadow to overcome.
Reality star Kristin Cavallari brought old Hollywood glamour to the 'DWTS' stage this week with her quickstep. Yet, I'm going to have to agree with Len Goodman on this one. The dance wasn't as good as Kristin looked. Somehow, it just felt like Kristin was playing dress-up in her mother's clothes and dancing on Mark Ballas' feet. The pretty blonde scored a decent 22, but she's capable of much more.
Last week's golden girl, Chynna Phillips, put in a valiant effort with her jive with partner Tony Dovolani, but compared with her stellar week one performance, Chynna underwhelmed the judges. Maybe she should take a note from Elisabetta Canalis. I thought for sure this pretty Italian would be the first to go during last week's eliminations, but luckily for her, she was saved. For the first time, she actually showed some sign of life! Compared to her awful cha cha last week, anything would have been better, and Elisabetta impressed the judges with her improvements, and she scored a 21, the same score as Chynna.
Yeah, that's definitely not something to brag about, Chynna.
While I personally find Elisabetta completely flat on screen -- and on stage -- the judges see some potential. However, to give her a better score than David Arquette is a little ridiculous. It definitely wasn't a good night for David Arquette, who received a score of 18 for his messy jive. Yet, unlike Elisabetta, David looks like a fan favorite -- and who couldn't love his silly personality. Compared to his stiff waltz last week, David really shined during his jive. Sure, he might have fumbled a few steps and ran into partner Kym Johnson a few times, but at least it looked like he had fun.
Speaking of fun, Carson Kressly is still the most enjoyable contestant to watch, even though he lacks all sense of coordination. Ricki Lake also broke out of her shell this week for sexy jive with partner Derek Hough. She was absolutely on point with her kicks, and judge Carrie Ann even told her it was the best jive of the night. It looks like Ricki has a few things to be happy about this week. Not only did the former television host place first in the leaderboard, but she also has lost 12 inches in just three weeks.
However, unfortunately for Chaz Bono, this might just be his last week on the 'DWTS' stage. After injuring his knee, Chaz was unable to continue the strong momentum from week one. Instead, his quickstep looked more like a slowstep. It was dull, and Chaz looked physically uncomfortable.
And finally, after tying for the number one spot last week, J.R. Martinez had a lot to prove this week. After all, he didn't want to end up like Chynna and disappoint the judges. J.R. gave possibly the strongest performance of the night with his jive. There were swift kicks and to Carrie Ann's dismay, a well executed lift. It was exciting, fun, daring and lively. It's everything 'DWTS' should be and hasn't been for awhile. Jive or not (Len called it more of a lindy hop), J.R.'s performance made me excited for what's to come next week.
But first, we have to get through another elimination. Tune into the results show Tuesday, Sept. 27 at 8PM ET on ABC.
Check out all of the highlights from "Dancing With the Stars" week two below.
Do you want to be the judge? Rate your favorite (and least favorite!) 'DWTS' performances below.
PHOTO GALLERY
'Dancing With The Stars' Season 13