Following the Dallas Cowboys' narrow victory over the visiting Washington Redskins on Monday Night Football, there were only two unanimous points being made by ESPN commentators.
First, rookie kicker Dan Bailey had a heck of a game for the home team, nailing six field goals in six attempts.
Second, Dallas quarterback Tony Romo played through significant pain during the game.
Did Romo play well? Is Chris Cooley a fullback? Were the defenses or offenses most responsible for the lack of scoring? Did Redskins coaches dial up the wrong play in a key moment?
There were varying perspectives on all of these issues. But, Romo's fortitude was considered as straightforward and pure as Bailey's game-winning boot from 40 yards. One can safely assume that Romo ranks among the leaders in whatever metric columnists uses to measure toughness. Conversely, his smile rating is at a career low.
ESPN columnist Rick Reilly believed that Romo shouldn't have been so reckless considering the nature of his injuries. Having suffered a broken rib and punctured lung during the Cowboys' Week 2 win over the San Francisco 49ers, there were doubts that Romo would play against Washington. The lung reportedly had healed, but Romo needed two pain-killing injections before the start of the game for the pain from the rib injury
"We never think long-term in this league, in this day and age. We just think day to day," Romo told Reilly after the game. "Unless I end up in a morgue I'm gonna play,"
Reilly appeared concerned by Romo's old school attitude. He also thought that the quarterback was largely ineffective and that he risked his availability down the line. On the other hand, Reilly's colleague Trent Dilfer, a former NFL quarterback, was thoroughly impressed by Romo's oratory about morgues and day-to-day living, especially as those sentiments related to another high-profile QB.
"So, he didn't sit down and complain about being hit in the back of the head, helmet to helmet, down on that fumble play?" Dilfer asked, clearly making a reference to Eagles quarterback Michael Vick's complaints after suffering a bruised right hand against the Giants on Sunday. "He didn't whine about being on the ground or being hurt?"
At this point, another former quarterback -- one who was far more mobile and successful than Dilfer -- chimed in to defend Vick. But as Steve Young began to temper Dilfer's sarcasm, Reilly confirmed the obvious by responding, "You're talking about Michael Vick? That didn't happen, no."
Dilfer wasn't the only member of the media with a caustic take on Vick's postgame plea for protection in line with his colleagues. FOX NFL rules analyst Mike Pereira also expressed a visceral reaction to Vick's statements. On Tuesday, Pereira appeared on Sirius XM with Evan Cohen and Steve Phillips and cast doubts on Vick's claims, even painting them as part of an institutionalized culture of complaint in Philadelphia.
"I think it was a bunch of bull and it didn't sit well with me and it still doesn't," Pereira said.

Formerly the head of NFL officiating, Pereira admitted that hearing Vick discuss his belief that he is the victim of uncalled late hits did bring him back to his days at the league offices on Park Avenue. That connection perhaps makes his reaction a bit more understandable than Dilfer's
Of course, both men lagged behind the New York Post when it came to kicking Vick while he was talking about being down. The tabloid splashed the headline "Whine And Cheesesteak" across it's back page on Monday, accompanied by photoshopped image of Vick's head on top of a baby's body.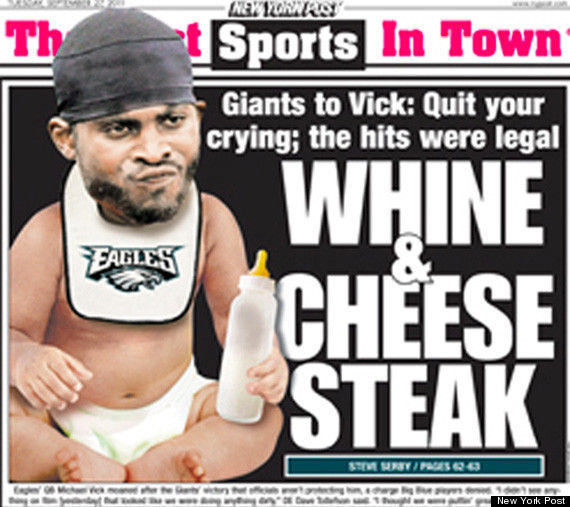 WATCH:
BEFORE YOU GO