Good morning! We are here live at the Amazon Media Event, where CEO Jeff Bezos is widely expected to announce a new Amazon tablet called the Kindle Fire. For a roundup of rumors preceding today's announcement, head on over to Amazon rumor central here.
Follow all the action below. The press conference is scheduled to start at 10AM ET and is being held in New York City in Midtown West.
09/28/2011 11:04 AM EDT
Sorry About the Images, Guys
Well, the images came out gigantic and I have no fast way to get them smaller. Will update with smaller images when I get back to the office. :(
(I would do a frowny face with a tear, but I've forgotten how. Getting old.)
09/28/2011 10:57 AM EDT
A Few Pictures Of The Amazon Kindle Fire Tablet, The Kindle Family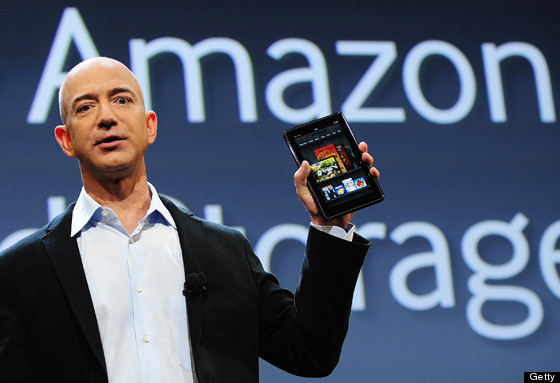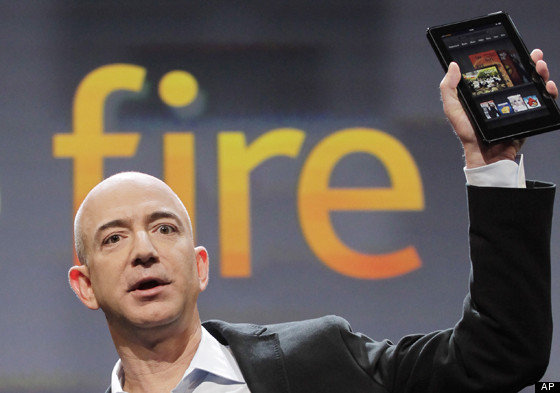 "Premium products at non-premium prices." That's the mantra.
Jeff Bezos has finished his presentation of the new Amazon Kindle Fire tablet and the new Amazon Kindle Touch models. I'm going to go play with them now, if you don't mind. Good chat.
09/28/2011 10:53 AM EDT
Jeff Bezos Announces the Amazon Kindle Fire Tablet Will Indeed Be $199
"Premium Products at Non-Premium Prices," Bezos says. The Kindle Fire will indeed be $199.
Ships November 15, but (surprise!) Bezos urges everyone to pre-order now to make sure they get one.
09/28/2011 10:46 AM EDT
What Is Amazon Silk?
Amazon Silk is a split browser that partially lives in Kindle Fire and partially on Amazon's huge servers. It is apparently a new approach to mobile browsing. It optimizes the power of Amazon's cloud computing center; it splits the work that your device must do between the heavy-duty stuff in the cloud and smaller requests on the device itself. This should make browsing on an Amazon tablet much faster, according to Bezos and Amazon engineers.
09/28/2011 10:41 AM EDT
Picture of the Kindle Fire Tablet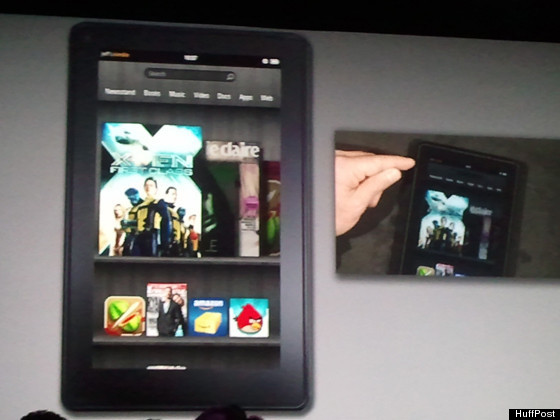 That's Bezos' hand using the Kindle Fire tablet. 7-inch screen,a s said before.
09/28/2011 10:37 AM EDT
Here's the Kindle Fire!
14.6 ounces, 7 inch multi touch display, Android app store, millions of books and songs, a Newsstand with all those magazines they announced yesterday, Free Amazon Cloud Storage. Syncing will be done wirelessly (Bezos shows the iPod/iPhone USB and says that it's stupid, basically). Whispersync, which syncs your content to your device, works with movies to sync to your wireless enabled TV.
09/28/2011 10:31 AM EDT
Meet The New Kindles
Picture says it all.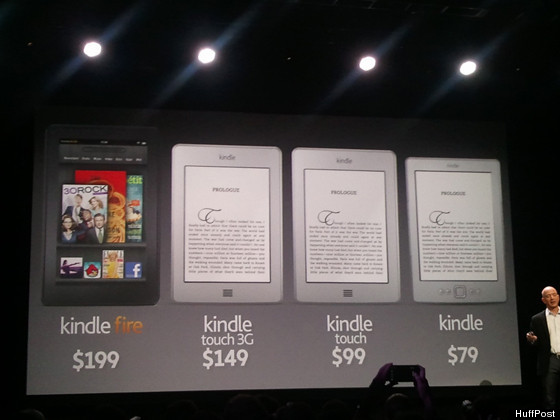 09/28/2011 10:29 AM EDT
The Windup To The Tablet
Bezos pumps Amazon's MP3 store with 17 million songs; movie store with 100,000 movies and TV shows; an Android app store; Amazon Prime, with Free Two-Day Shipping and free movie streaming.
This is certainly the pre-pitch for having a tablet. Here we go.
09/28/2011 10:25 AM EDT
Amazon Announces $79 Kindle
No touchscreen, but only costs $79. Available starting today.
"We're going to sell many millions of these," Bezos proclaims. Um, yes, I would agree with that statement.
09/28/2011 10:23 AM EDT
Bezos Announces Kindle Touch 3G
"We have another device we're releasing today," Bezos teases.
No annual contract, no data plan, no monthly fees, free 3G wireless. Sells for $149. Wow.
"This is the top of the line Kindle," Bezos announces. Looks exactly like the Touch but has free 3G connection on it.
Preorder for both starting today, ships November 21.