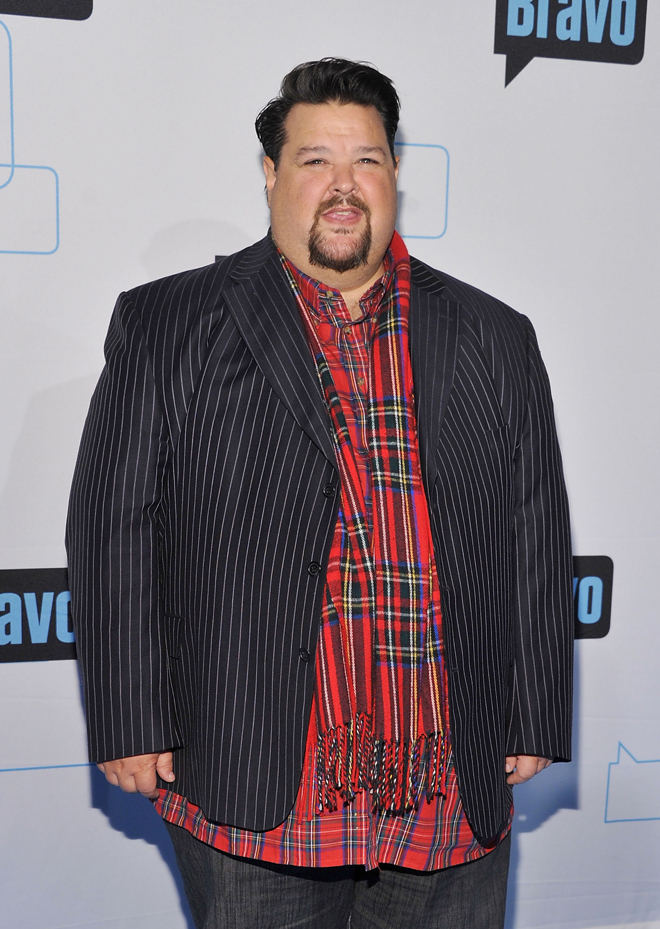 Getty
Life after "Project Runway" has been good for Chris March. The lovable season 4 contestant has dressed a bevy of boldface names -- such as Madonna, Prince and Beyonce -- and is now set to star on "Mad Fashion," which premieres on Bravo October 4th. The new series sees March and his team taking on challenges such as creating a Mardi Gras outfit for Jennifer Coolidge and designing a Met gala gown for Chrissy Teigen. March talked to us about working with Meryl Streep, the appeal of reality TV fare and how to rock a dress made of human hair.
What did you want to share with viewers that didn't come across on "Project Runway"?
It is definitely a lot more fun to do whatever I want to do design-wise, not within the confines of a "Project Runway" challenge. So I get to show a lot more creativity and a lot more of what I really do for a living, which people got maybe a hint of on "Project Runway." It's just really fun to see me and my crew of people figuring out how to make this stuff every week. There are a lot of interesting moments during fittings when they actually see what I made for them.

What was your biggest challenge on "Mad Fashion"?
We made something not only for one particular woman, but we made a matching outfit for her dog. I don't know if you've ever made anything for a pet, but they don't sit still for fittings. It was Maria Sansone, who does the red carpet on TV Guide Channel. She was really great with her charity pet fashion show here in New York.

On "Project Runway," you called your collection "95 percent fashion, 5 percent costume." Is that still true of your designs?
On "Mad Fashion," we're a little more toward the outrageous side, because some of the clients came to me and said they really wanted to make a giant impression at their event. So we went a little more crazy than the 5 percent costumes. Some of the shows are a little more on the tame, classic fashion side.
What was it like to see Meryl Streep in one of your creations at the Oscars last year?
It was a pretty special moment. She was the last person on the red carpet before the show started. She got up on the podium and said my name and my tongue fell out of my head. My phone went crazy with texts and ringing and emails. I couldn't tell anyone I'd done it till it was done, so people were shocked and surprised. And then I started getting calls from all over the world, from magazines and websites wanting me to talk about it.
On "Project Runway," you used real human hair in some of your designs. Have you done that since?
We did. Chrissy Teigen actually asked me if I would put human hair on her dress. She said she was totally into it and loved it when I did it before, so she was like "can we do that?" and I said "sure!" I've made a couple dresses for charity that had human hair of different colors. And now ever since I did it—I don't claim to be the first person to have done it—a lot of people now have worn it. Jennifer Lopez wore a human hair dress. Patricia Field did a human hair dress. Sonia Rykiel did a human hair collection. Now, it's all over the place. Lady Gaga wears human hair all the time.
What's your advice for how to wear a human hair dress?
Bring some hairspray and a comb! I think that they're generally showpieces, so I don't think you need a lot of accessories.
Do you watch a lot of reality TV?
I love reality TV. My TV is usually on Bravo. I'm not just saying that because I'm on it right now. I love watching "Top Chef," and "Tabitha's Salon Takeover," and Jeff Lewis's "Flipping Out." I don't find much in regular scripted television that I really like anymore. I don't know why that is; maybe it's because the focus of television production in general has turned so much to reality TV. It's a little scary—"Bridezillas" and "Bridalplasty." Who ever thought there would be an actual show called "Bridalplasty"? I think that may have gone a little too far.

Didn't I see you on "Real Housewives of New York"?
I made two outfits for Sonja Morgan. I was very surprised at how many people watch that show. I was on it for maybe less than three minutes and the next day everybody was like "Oh my God, I saw you on 'Real Housewives.'" Everybody—every age, every type of person, men, women, children --I had no idea how many people watch those shows. It's the new soap opera. People get addicted and can't stop.

What other celebs would you like to design for?
I've always wanted to make something for Lady Gaga, and I did last week. She just wore an outfit that I made at the "I Heart Radio" outdoor music event in Vegas. So, now I can cross Lady Gaga off my list. I want to make some more stuff for her, actually. I've always wanted to make something for Cher, even if she doesn't seem to go out much anymore. Katy Perry wears a lot of crazy stuff. So does Nicki Minaj these days.
Do you keep in touch with other "Project Runway" contestants?
I have with some and not so much with others. I was really close with Sweet P. and Rami, and I just ran into Ricky walking down the street by my house. Everyone seems like they're doing really well. Some people are happier about the experience than others. We just had a big "Project Runway" designers reunion party this past fashion week, and that was fun. To see a lot of people from all different seasons collide was pretty interesting. We all really don't know each other, but we do know each other because of what we went through.
What's your rule to dress by?
You have to dress for your personality. If you're a shy, tame person, you're not going to be able to carry off something wild and crazy, so don't even try. Some people are very confident and want to wear things that are bright and tight and revealing, and if they can carry it off, I think, good for them.